Nail Your Spartan Race With These Tips From Shaun Stafford
Because turning up at a Spartan Race unprepared is likely to lead to some serious punishment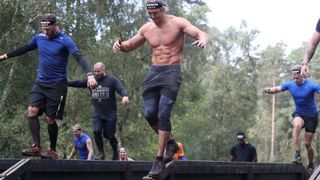 (Image credit: Unknown)
If you can't complete an obstacle at a Spartan Race, you have to do burpees before you carry on to the next one. We're telling you this in the hope it will sharpen your mind and encourage you to put in the proper training before your event. Obstacles are fun, burpees are burpees. We know which we'd rather do.
To help ensure you don't waste your training time (however much you do), Spartan Race has teamed up with gym owner and fitness influencer Shaun Stafford, who has provided five top tips to help you prepare for the day.
1. Get Running
"This might seem obvious, but a lot of people get so caught up in the fun obstacles that they forget about the running in between them," says Stafford. "Whether you are doing the Sprint or Stadion [5K], Super [10K] or Beast [half marathon], you want to make sure that you have the distance in your legs.
"It is also definitely worth trying the hill program on your treadmill. Very few – if any – Spartan Races are flat."
2. Work On Your Pulling Power
"There are some exercises that you can do in the gym that will translate really well to the Spartan course, but some won't," says Stafford. "From my experience, doing a lot of pushing and pressing moves in your training will largely be wasted on a course where your ability to hang tough is more important.
"Make sure you focus on grip, arm and back strength, and build up to being able to hold and lift your own bodyweight. If you have access to monkey bars give them a go and hone your technique – I like going sideways whereas others like to go head-on."
3. Jump Around
"Running on a treadmill or around your local park will help you build up those vital miles in your legs, but there are times on the Spartan course where you'll need to be more dynamic," says Stafford. "This might involve jumping over tree roots, bounding from side to side through bushes, or even taking a run and a jump over small streams and rivers on the course.
"Make sure your knees and ankles can take the impact and perform when you need them too. Practice some standing broad jumps, lateral hops and plyometric bounds as part of your preparation."
4. Teamwork Makes The Dream Work
"You can run the race on your own but it is much more fun in teams, not least because some people need the odd bit of help along the way," says Stafford. "Get used to working in a team by planning a group session or two at the gym, or take your Spartan squad out for some practice runs together. Seeing everyone work hard in the team beforehand will help you get the most out of the day when it comes and highlight where you might need some help."
See related
5. Practise Your Burpees
"It's probably the worst exercise, but burpees are something you might want to practise in case you slip from the monkey bars or can't complete an obstacle," says Stafford. "Getting your body used to hitting the floor and then getting airborne will only help you navigate the course – and prepare you for the brutality of SPARTAN!"
Spartan Stadion is taking place at Twickenham Stadium on Saturday 23rd November. Visit spartanrace.uk to buy tickets
Sign up for workout ideas, training advice, reviews of the latest gear and more.