What to wear for a Tough Mudder
These essential items of kit will keep you as cool, dry and protected as possible and help you get the most out of the event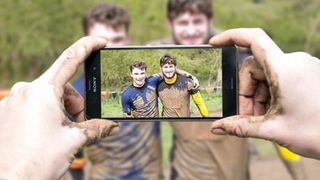 (Image credit: Unknown)
Planning on tackling a Tough Mudder in regular running clobber? It might be time to reassess your wardrobe options. The sheer volume of mud that you have to run, crawl and wade through during a typical event ensures that specialist kit is required if you want to stay on your feet – obstacles permitting – and avoid being hampered by waterlogged gear. Don't know your minimalist footwear from your moisture-wicking fabrics? Don't worry, the MF gear guide below contains everything you need to know to equip yourself for a Tough Mudder event. Whether it's wet or dry, your first obstacle course race or your 50th, we've got you covered.
TECH Monitoring your performance throughout the event requires some seriously hardwearing tech. The waterproof SmartBand Talk from Sony (£130) is more than up to the task, and features a built-in accelerometer and altimeter that will track your advance to the finish line. Likewise, the robust SmartWatch 3 from Sony (£190) offers built in GPS to chart your progress, and is sufficiently waterproof to handle the murky depths of Sony's owned Arctic Enema 2.0. Documenting your day is easy with the XperiaTM Z3+ from Sony a smartphone that allows you to capture your heroic efforts on film, no matter how wet things get, while synching seamlessly with both the SmartBand and the SmartWatch 3 to help you get the most out of the event.
FOOTWEAR Look for a shoe that combines an aggressive, grippy tread with a minimal, lightweight upper to ensure you stay upright without getting bogged down by heavy, waterlogged footwear. The Innov-8 X-Talon 212 (£95) feature a mesh lining that allows water to escape easily after you've conquered the Underwater Tunnels, while the Salomon S-Lab Sense (£150) has a slightly thicker rubber toe cap to provide greater protection for your feet when you're scrambling through the hazard-strewn Cry Baby.
SOCKS There's no way to avoid getting your feet wet on a Tough Mudder course, but if you want to minimise the risk of blisters, pick a thin, skintight sock that'll reduce the amount your foot moves around within your shoe. Better yet, opt for a moisture-wicking option that'll help to wick the moisture away from your feet and allow them to breathe, such as the Vivobarefoot breathable running sock (£7.50) or the Snow+Rock approach sock (£9) which is cut slightly higher to provide greater ankle protection.
SHORTS Designed to keep you cool when it's hot and warm when it's cold, a pair of quality compression shorts such as the Skins A400 ½ tights (£65) will also maintain controlled pressure on the running-sensitive muscles on the outside of your thighs, helping to increase blood flow and reduce the risk of injury. If you want to bring your Mudder-proof smartphone along to document the event – or if you just can't face leaving nothing to the imagination in front of your fellow Mudders – slip a pair of moisture-wicking mesh shorts over the top. The Nike 12.5cm racing (£33) feature minimal extra material to ensure nothing gets caught or snagged as you're crawling through a Birth Canal, while still having one zippable pocket to stash your valuables in.
COMPRESSION TOPS Heavy cotton t-shirts will soak up water, weigh you down and can easily get caught during the Cage Crawl. The Under Armour Tough Mudder long-sleeve compression top (£35) on the other hand is made from moisture wicking materials that dry quickly and allow your skin to breathe. It even features anti-odour technology to help prevent the stench of mud clinging to your clothes. If you're racing in the height of summer and want a short-sleeved option, the Nike Pro Combat Hypercool short-sleeve compression 3.0 (£32) features mesh panels under the arms and down the sides to optimize breathability.
GLOVES While by no means compulsory, a quality pair of mitts will help protect your hands and improve your grip – making slippery obstacles like Funky Monkey and Hanging Tough a lot more straightforward. Fitstream calisthenics gloves (£13) offer plenty of protection from splinters, blisters, rope burns and numb fingers, or if you've keen to deck yourself out in official Mudder gear, you can order the Team Mudder Mad Grip Thunderdome gloves ($25) from the USA.
Find out more about the Xperia Z3+ from Sony and its benefits for your Tough Mudder preparations
Sign up for workout ideas, training advice, reviews of the latest gear and more.
Coach is a health and fitness title. This byline is used for posting sponsored content, book extracts and the like. It is also used as a placeholder for articles published a long time ago when the original author is unclear. You can find out more about this publication and find the contact details of the editorial team on the About Us page.