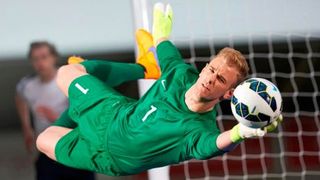 (Image credit: unknown)
What does a typical week of training entail mid-season?
If we're playing one game a week, say on a Saturday, we'll do some recovery work on the Sunday, have Monday off and then train right the way through to the following Saturday. Most of the harder sessions take place earlier in the week so we're fresh and at our peak for the next game.
How much time do you focusing on skills-based training compared to pure fitness?
Fitness-wise the whole squad is at a good level – we get our fitness levels up during pre-season, then it's mostly just maintenance work during the season itself. I spend most of my sessions doing technique work with the other goalkeepers, then I'll do most of my strength and conditioning work after training in my own time. Recently I've been doing lower-body power sessions on a Tuesday at the gym, then some Pilates on Wednesday, with more strength work on Thursday and Pilates again on Friday. I don't like to load too much weight on myself – I need to be agile as a keeper, and strong in flexion, which is where Pilates comes in.
Is Pilates something you've always done or is it a more recent thing?
I only started doing it this season, but I've really enjoyed it – it's definitely something I'll keep doing. I can feel that it gives me a lot more strength in isolated positions and I'm a lot more comfortable when I'm throwing myself around making saves. It's brilliant for my core strength and it makes me more capable of doing certain things on the pitch.
Do other players in the City squad follow a similar programme?
It varies based on everyone's position and body type, and what they want to improve on. Every player has their own individual strength and conditioning plan.
Who is the fastest and strongest player in the squad?
Wilfried Bony is incredibly strong – he's a hard guy to move on the pitch. Jesus Navas is probably our quickest player.
What do you like to eat the night before and the morning of a game?
I like to eat red meat with pasta and salad the night before, then the morning of the game I'll have porridge with plenty of blueberries and strawberries, and an omelette. That puts my energy levels in the right place for the game – the last thing you want is to eat anything too heavy that'll leave you feeling sluggish.
At the end of 2013 you were dropped from the Manchester City first team, but you subsequently reclaimed your place and have had one of the best spells of your career. Do you have any mental tips for overcoming that kind of setback?
The key for me was to step back and work out what I needed to improve on, and use my time wisely to focus on that. If it'd happened a few years ago I would have just gone into overdrive training all the time without really thinking about it, but that isn't always the best approach. I knew I'd get another chance, so I didn't sulk. I kept in regular contact with the manager and tried to establish what he wanted from me, and made sure that I improved at that so that when I did get another opportunity in the team I could get back to performing at my highest level and stay there.
England's number one goalkeeper Joe Hart relies on the UK's number one shampoo Head & Shoulders to feel prepared and confident for the game ahead. www.headandshoulders.co.uk
Sign up for workout ideas, training advice, reviews of the latest gear and more.
Between 2010 and 2016, Ben was the deputy editor of Men's Fitness UK, which predated, and then shared a website with, Coach. Ben also contributed exclusive features to Coach on topics such as football drills, triathlon training plans and healthy eating.