Meet the Real-Life Forrest Gumps
The film may be more than 20 years old, but people are still deciding to deal with their problems by running... and not stopping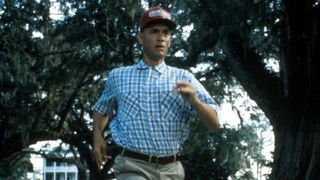 (Image credit: Unknown)
The "Overweight Librarian" Who Became a Triathlete
Andy Holgate, 42, described himself as an "overweight librarian" before deciding to get in shape. He couldn't run very far, let alone swim or ride a bike. Now he's a recognised triathlete
What made you suddenly decide to change your life?
It all started with a throwaway comment from a work colleague, who dared me to enter a sprint triathlon. I hadn't done a lot of running, could barely swim, and the only bike I had was an old battered road bike that had been gathering dust in my garage for about 18 years. It had been that long since I last rode it.
What was your life like before you started training?
I was out of shape. I did a lot of running when I was younger, but then I went to uni, discovered beer, pizza and girls, and lost my way, fitness-wise. Food was my main vice. I was in an unhappy marriage at the time, so I took to comfort eating.
What was the first step on your road to fitness?
I used to live in a terraced house and one day decided to run around the block. I got about halfway before I started dying on my arse. After that, I devised what I called "the lamppost plan", where every night I would run one extra lamppost without stopping. Within three or four months, I was doing 10km.
How long did you train before entering your first full triathlon?
About 11 months. I approached the training in a naïve and unscientific way. I didn't follow a plan, I just got on with it. I lost about three-and-a-half stone [22kg]. It was mostly through exercise, but I also made a mental change and started thinking of food as fuel rather than an indulgence.
Did you ever feel like giving up? What kept you going?
I did the Outlaw Ironman triathlon in Nottingham and during the run I was just swearing at myself, trying to think of reasons to keep going. Then I remembered that my little girl was waiting near the end, and she was going to cross the finish line with me. That gave me a lift. I have a photo of us doing it. It's one of my most treasured possessions.
What was your biggest challenge and how did you overcome it?
The biggest challenge anyone can face is self-doubt. You have to draw inspiration from wherever you can. There's also the constant fear of losing, and the endless physical obstacles. I have bad knees, and had several operations on the cartilage. The surgeon told me not to run but, of course, I didn't listen.
What would you say to someone thinking about getting fit?
Just go for it. It's incredibly daunting the first time you set foot inside a gym, or go outside for a run. You feel self-conscious and think everyone's staring at you because you're overweight or whatever. But the truth is everyone's in their own little world and nobody gives a shit.
The Man Who Sold His Business for £1 and Swam the Length of Great Britain
Four years ago, 34-year-old Sean Conway was an average Londoner who yearned for excitement. Now, he has cycled around the world and become the first person to cycle, swim and run the length of Great Britain, and was named Adventurer of the Year at 2014's Scottish Adventure Awards
Why did you decide to change your life so radically?
I used to be a corporate photographer. I set up a business in 2003 and slogged away for almost a decade thinking that if I worked harder, I'd make more money and, therefore, be happier. But that wasn't the case. So I sold my business for £1, and vowed not to base any of my future decisions on financial outcome.
What was it about your job that made you so unhappy?
I was photographing bankers and babies against a square white background. There was no creativity involved. I was on autopilot. I didn't want to be there, and the people I was photographing didn't want to be there, either. All I was doing was earning enough money to afford to buy a car so I could do a job I hated. It was pointless. My whole world was the size of that white square.
How did starting over again feel?
I was nervous. I was 30, I had no savings and didn't go to university, so I only had the £1 I sold my business for to my name. Actually, I had the pound framed and that cost £4. So I was already minus £3!
What was the first thing you did with your new-found freedom?
I wanted to explore and push myself, not only physically but also mentally. That was when I heard about the first around the world bike race, so I trained hard and eventually found a sponsor. I was doing all right until I got hit by a car in Arkansas. After that, I ended up cycling 12,000 miles with a fractured spine and a torn ligament in my leg. I needed a lot of painkillers to get me through.
What has been your biggest adventure to date?
I think swimming the length of Britain will always be the one that defines me. Doing something that no one else in the world has ever even attempted before is something truly special.
What was the worst thing?
Getting stung on the face by jellyfish. That's why I first grew the beard, just to stop myself getting stung. Maybe even jellyfish are afraid of the beard!
What's been your most terrifying experience?
I got followed by some gangsters when I was cycling across a desert in South America. That was worrying. It was the only time I've had to have a police escort. Cycling alone at night can be pretty dangerous in that part of the world.
How do you keep going?
Fear of failure, as opposed to reward for success.
What advice would you give someone who is unhappy in their job?
There's no point doing something you hate just for the money. You can have a much healthier and happier existence doing what you want, even if it means earning less. You're not doing the world any favours by being miserable. Do what you love doing, and everything else will fall into place.
The Man Who Beat Depression with Jogging
Approaching middle age, university lecturer Doug Richards was miserable and acutely aware of his declining fitness. He decided to kill two birds with one stone and went for a run. Now in his 60s, he runs in events all over the world
What made you start running?
The turning point came when I ran up the stairs to pacify my son after he'd had a nightmare, and when I got to the top, I could hardly breathe. I was only in my mid-30s. So the next day, I decided to go out for a run around the block. It was only about a mile, but it almost killed me.
What did you do next?
You mean when I could walk again? I went out running just a couple of times a week, and gradually increased the distances. Soon I was doing 10km runs and half marathons, and within two years I was entering full marathons.
What were the biggest challenges in the early stages?
For me, there were as many mental challenges as anything else. My marriage was breaking up and I ended up a single parent to my two children. Finding the time was sometimes difficult, and then the depression hit.
How did running help you deal with depression?
I found going out for a run would help me think more clearly. When you're sitting indoors mulling things over, they tend to get on top of you. But if you nip out for a 20-minute run, often the answers to your problems will come to you. You're able to put things in perspective more when it's just you on the road with no distractions.
How has running improved your life in general?
It's certainly satisfied my sense of adventure. I've been running all over the world, and visited places I'd never even thought about. I also have a great sense of achievement. I'm a qualified coach on the Run England project now, and it's wonderful to play a part in setting people off on the same journey as me.
What has been your biggest undertaking?
The Marathon des Sables, known as the "toughest foot race on earth", which is about 250km across the Sahara desert. It took six days. There were times when you're running completely alone through a sandstorm, and can't see anything. At the beginning, you just get some vague instructions and a few diagrams. Most nights we slept in tents, and it got very cold. One chap got lost for nine days, and is supposed to have survived by drinking his own urine.
Do you feel you are in a better place mentally now?
Undoubtedly. If I'm having a bad day, I can look back at some of the things I've done in the past and say, "Come on, if you can run across the Sahara, why are you worrying about something trivial?"
What advice would you give to readers who want to make a healthy change to their lives?
Your life will change dramatically for the better if you are healthier. Being fitter improves your whole outlook on life. It encourages you to do things that you thought were impossible. They aren't. The only thing stopping you is yourself.
What about someone who is just getting into running?
Start slowly and ease yourself into it. The NHS do something called the Couch-to-5K programme. It's a nine-week course that basically gets people into running. Making the first step is the hardest. Once you do that, the rest will fall into place.
This article appears in the new issue of Coach magazine. See where you can get your free copy from here
Can't Sleep, Can't Train, Can't Stop: More Misadventures In Triathlon, by Andy Holgate, is out now
Keep up to date with Sean Conway's activities via seanconway.com
For more about the Couch-to-5K programme, visit nhs.uk
Sign up for workout ideas, training advice, reviews of the latest gear and more.
Coach is a health and fitness title. This byline is used for posting sponsored content, book extracts and the like. It is also used as a placeholder for articles published a long time ago when the original author is unclear. You can find out more about this publication and find the contact details of the editorial team on the About Us page.