Mums Who Train Harder Than You
The fellas at Gym Punk celebrate the hardest-working mums this Mother's Day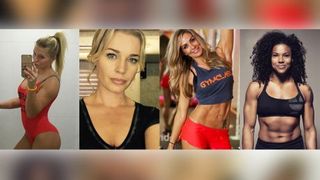 (Image credit: Unknown)
The Fighter
Putting your feet up for a rest because you're just too snowed under to get to the gym? Well, take a moment to think of Stevie Hartley. She attacked training while caring for her newborn baby and battling through post-natal depression. Hartley, 23, started training by sneaking in 45-minute sessions of the Insanity fitness DVD while her daughter slept. Fast-forward three years and she's a sponsored athlete and has even taken part in Men's Fitness FitBrit challenge. Still feel like you've earned that rest?
Instagram: @Steviehartley_thebody (opens in new tab)
The Entrepreneur
So you've done a few workouts and now you're whipping your shirt off at every opportunity… OK, nice traps, but until you've got others paying to come and train like you, rein it in a bit! Someone who's earned the right to strut is Helle Hammonds, the 36-year-old mother of one who founded GymClass. The class, which focuses on a mix of HIIT and resistance training, is all wrapped up in a lunch-hour-friendly 55 minutes. Don't expect a light session – she makes full use of tyre flips, battle ropes and gymnastic rings. Powerful.
Instagram: @HelleHammonds (opens in new tab)
The Lifter
Who cares about wonky weightlifting form? You got the weight up in the end and your back only hurts a bit, right? Well, assuming you want to be able to stand upright at 60, look to 37-year-old mum Elisabeth Akinwale to find out why form is king. She's competed at five CrossFit Games, winning the Clean Ladder event at the 2012 event lifting 107kg. Think about that next time you're trying to deadlift with your lower back.
Instagram: @EAkinwale (opens in new tab)
The A-Lister
Getting ready for training can be a faff but at least you don't have to sit for seven hours while someone paints you blue. That's what Rebecca Romijn had to do when playing azure-hued shape-shifter Mystique in the first three X-Men films. She had to follow a strict diet (cutting out sugar and alcohol) and did Pilates four times a week. She's passed the Mystique mantle to Jennifer Lawrence but the 43-year-old can still be seen on Instagram displaying her workout-honed body – often swimming with her daughters in beautiful locations.
Instagram: @RebeccaRomijn (opens in new tab)
Know a mum you think should be celebrated for her training? Let the Gym Punk guys know on Twitter at @mensfitnessmag (opens in new tab) and Instagram at @mensfitnessuk (opens in new tab).
This story is taken from Gym Punk, the weekly email newsletter from Men's Fitness. Let this kind of goodness into your inbox by signing up to Gym Punk (opens in new tab).
Sign up for workout ideas, training advice, reviews of the latest gear and more.
Matt joined Men's Fitness in April 2014 as features writer after spending several years writing for a luxury lifestyle magazine, swapping champagne and canapés for cardio and leg days.
Matt is a keen Thai boxer and his interest in fitness took off when he made the decision to compete semi-professionally and had to get in shape. Training aside, he says the worst thing about fighting is resisting the urge to apologise all the time.
Oh, and he's still on the look out for a decent fight nickname after being told 'The Best' was reaching a little bit…
Favourite move: Any kind of squat variation
Favourite sport: MMA and Muay Thai kickboxing
Personal best: Competing in a semi-pro K1 bout
Targets: Sub-1hr 40m half marathon and winning a fight by KO
Scariest MF moment: Writing about myself in the third-person for this profile
Favourite MF website story: Spider-Man workout (opens in new tab)
Favourite trainer quote: 'Hands up, chin down' – every striking coach ever
Biggest gym crime: Avoiding the weights and sticking to the treadmill