How Does Cyclist Danny MacAskill Stay Fit?
The trials bike genius on the two-wheeled secret behind his health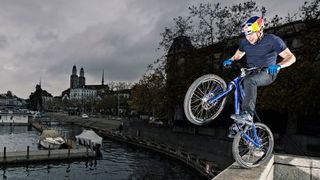 (Image credit: Unknown)
"You'll believe a man can fly" may be the tagline for the original Superman film, but one look at any of the ridiculous stunts that Danny MacAskill can pull on his bike, and it begins to stray from comic-book fiction into real life. To carry out the dizzying array of gravity-defying tricks in his arsenal requires tip-top fitness, but how does he stay in shape when his feet are on the ground, instead of on the pedals?
How would you rate your fitness on a scale of one to ten?
Strength-wise I'm probably up at about a nine or something. I'm about as strong as I've ever been, you know? Fitness-wise or body fat-wise, I think I've still not quite managed to lose the Christmas weight just yet. I've been travelling a lot and the weather's been pretty hellish, so my plan is to shed it all in the next few weeks. Unfortunately, Greggs's Yum Yums are particularly good – there's definitely been a number of Yum Yums eaten when I've been filming before...
What do you do, fitness-wise?
I ride my trials bike, mainly in the weekdays or when I'm home in Glasgow. When I'm not doing that, I also ride my mountain bike a lot, which is more of a social thing, and I go out on my motorbike a fair bit, too. Other than bike-related stuff, I'm actually not doing so much gym work at the moment. It's no excuse but it's actually a lot to do with time, because I'm away a lot and when I'm home all I want to do is ride. The gym work normally comes in when I'm recovering from some kind of break or operation. I spend weeks and months in the gym recovering from the various injuries.
How is your fitness fingerprint unique to you?
I basically get most of my fitness and strength through just riding my bike. I did that all the way up until I was 23, but now, since I've been more professional, I definitely do watch my diet a bit more. I'm more conscious of doing the work that's needed to sort different injuries out, which I would've shrugged off when I was younger. So now I'll take a bit more rest to deal with various setbacks, and I'll learn various exercises to keep myself going for as long as I can.
What will you never do again?
It's not a thing I'll never ever do again, but I'll definitely train before I do it next time: last year I did the Wings For Life World Run without any running training beforehand, not a single step. I ran like 25km and I completely wrote myself off for about two weeks, so this year I plan to don my running shoes and do a little bit more beforehand to stop that from happening. I was absolutely wrecked.
To watch more videos of Danny MacAskill in action go to redbull.co.uk (opens in new tab)
Sign up for workout ideas, training advice, reviews of the latest gear and more.
Gary Ogden wrote for the print edition of Coach between 2015 and 2016, writing features, interviewing celebrities and covering entertainment. He has also written for ShortList (opens in new tab).