Matt Heafy: "I've Pulled Groin Muscles Standing Too Deep on Stage"
The lead singer of metal heroes Trivium on the canned secret to fast-track fitness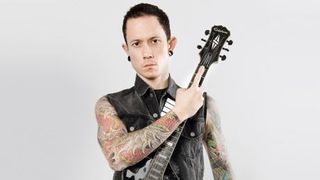 (Image credit: unknown)
What's your most impressive personal best?
I think the fact that no matter what tour I'm on, and no matter the size of the show, I still try to, and typically do, complete my training in Brazilian jiu jitsu. At Bloodstock [Festival] last year, it was the first time we were headlining a UK festival, and even that day I got an hour in of jiu jitsu warm-ups, techniques, drilling and full-on sparring. It's probably one of the most dangerous sports for a singer or guitar player to partake in, but I've got the right partners and they're never disrespectful – we're not trying to kill each other, so it's safer. I definitely perform better if I do it during the day, whether it's a placebo or not, it works.
How did you start your journey towards becoming a martial arts master?
When I was a kid my dad used to take me to pay-per-view parties with his buddies – they'd drink beer, grill burgers and watch UFC, and so my interest started through that at a pretty young age. Being Japanese, typically a kid would do karate, and I did some, but it didn't really stick. Then when we did [Trivium's sixth album] Vengeance Falls, we lived at David Draiman's [from Disturbed] house, and we'd do the same thing: order pay-per-view and watch fights. I realised it was very technical but it also looked really fun. So when I went to Brazil for the first time, I loved the country so much I said, "I want to do what the Brazilians do" and it was either soccer or jiu jitsu, so I went with what I thought was the hardest thing.
RECOMMENDED: Types of Martial Arts to Get You Fit
How often do you take selfies in the gym?
I don't, but today I had to take one because I was wearing the Book Of Souls tour shirt that I bought at the Iron Maiden show, and I sent it to the guy that works at Warner merch. I apologised to him, and I did not post it on anything. Maybe it counts, maybe it doesn't, because it was only to a friend. At jiu jitsu some people have taken selfies with me, but I've never really done one of those "Hey, this is me LIFTING" type ones – I won't do that.
What is a typical Matt Heafy five-minute healthy meal?
The ultimate healthy thing I eat is a microwaveable brown rice packet, and then a can of organic chicken mixed with Greek yogurt, then some soy sauce and Sriracha chilli sauce. It's funny, in the UK they don't have as much canned chicken as we do in the States. When Bloodstock saw it on our rider, they were like, "What the heck is canned chicken?" It's just the white meat in a can. That's my go-to healthy meal if I can't find anything else.
What's the longest you've gone without alcohol in the name of good health?
For years on tour, I wouldn't drink if there was a show the next day, mainly for the sake of my voice. On tour, it's better for me to just wait until I've got a day off coming up. It's more so when I'm home, and this sounds like a funny excuse for alcoholism – I assure you it's not – but I do need one to three beers every night on a heavy training day, or else I'm not getting enough calories…
What do you think about "leg day"?
Man, that's two days a week for me, and as far as jiu jitsu goes it's always 100% leg day. It's funny, people are like, "Ah, the dreaded leg day" but I use the hell out of my legs all the time. I actually prefer doing deadlifts to bench presses, and I prefer doing squats to military presses. I recently started doing box jumps too, and I love them. I'd rather do them all day long, than do biceps.
Have you ever let yourself go at any point in your life?
Yeah, I'd say in 2005. Me and my wife both joke about it a lot – we'll look at pictures of the two of us, and we were eating cake every day at catering and not really working out. I was wearing small clothes, and it looked stupid because I had muffin tops spilling out, it was pretty bad.
Have you ever pulled a muscle in less-than-heroic circumstances?
Oh absolutely, it happens all the time; I've pulled groin muscles standing too deep on stage. Everyone got a good laugh out of this – I was standing way too deep in a "rock pose" when I was playing live once, and I pulled my knee out. It was pretty bad…
What food would you not give up for a million quid?
Even though I do live a very healthy lifestyle on the road, when it comes down to local restaurants with good produce, I don't mind what it is, I'll eat it. So something like deep-fried haggis with fries – if I know it's from a great local place, I will absolutely eat it, and I won't feel guilty about it. Moderation is the key.
One of the coaches at my jiu jitsu school said that I needed to start tracking my calories and monitoring what I eat. Thanks to him I've been able to put on loads of strength and I don't get injured as much any more. So the main thing I was using was MyFitnessPal, I was logging everything I was eating and watching my weight – it was pretty crazy to see the progress over time.
Trivium's new album Silence In The Snow is out now, and they tour the UK from 21st March-1st April. Buy Silence In The Snow on Amazon (opens in new tab)
Sign up for workout ideas, training advice, reviews of the latest gear and more.
Gary Ogden wrote for the print edition of Coach between 2015 and 2016, writing features, interviewing celebrities and covering entertainment. He has also written for ShortList (opens in new tab).