Chris Kamara: "I just get excited in the moment"
The most energetic man in football on the people he owes his enthusiasm to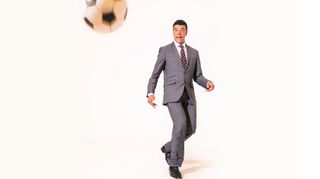 (Image credit: Unknown)
Which footballer was your hero?
I was born in Middlesbrough, and my favourite Boro player was a centre midfielder called Eric McMordie. But I also used to go down to Elland Road to watch Leeds, and my number one there was Johnny Giles. Two wonderful footballers. You could dream of being like them.
What do you owe your parents?
My mum was the type who when I got my school report, she would hide it from my dad. I loved her for that. From my dad, I learnt the virtue of hard work. He made me join the Royal Navy when I was 16. He marched me down to the recruiting office and waited while I signed up because he didn't want me to be a layabout. I can't imagine doing that to my kids these days, but that's how it was.
Did you want to be a famous sailor, like Nelson?
No, I never even went to sea. I badgered the manager of the Navy football team to let me practise with the team. He was worried that a kid like me would get kicked off the park, but I did well enough to get selected for games. No scrubbing the decks any more.
Who helped you make it as a footballer?
I played in a match against a Portsmouth select XI, and I scored a couple of goals. Portsmouth bought me out of the Navy for £200 – and it still goes down as the worst deal in the club's history! The youth manager, Ray Crawford, taught me a lot, and then I was thrust into the first team by the gaffer, Ian St John. Because Portsmouth had no money, he was forced to develop youngsters, and I was in the right place at the right time. Poverty at a club can be a positive thing in some ways.
Which team mate did you admire most?
George Graham was in the team, and he was a genuine star. Very generous off the pitch, too. The culture back then was that you played a game on Saturday afternoon and then went out drinking. I was only on £12 a week, and George subsidised my beer money.
Who is the best club owner?
One of my best friends, who I grew up with from the age of five, is Steve Gibson. As kids, we used to go for a run up in the hills that look down on Middlesbrough. He'd point to Ayresome Park and say, "One day I'll be chairman of that club". Of course, I scoffed and laughed. He's put almost £200million of his own money into the football club, and he's given every manager a proper opportunity. He's never sacked anybody on a whim, like some owners seem to.
Which club has the best fans?
I have to stay neutral because I get treated fabulously by all clubs. But I will say that England fans are best. The last World Cup, people spent their life savings to come to the Costa Rica game and we were already knocked out. I don't know many fans who would be happy with that, but in terms of support for the team, they showed such pride. People always mention the small minority who ruin it, but the truth is that's the same the world over, every nation has its idiots.
Who helped you get into TV?
Rob McCaffrey. He was a reporter for Sky who would interview me when I was manager at Bradford, and he put in a word for me at Soccer Saturday. And, of course, Jeff Stelling. A fantastic man, who is so witty off the cuff.
You are famous for verbal gaffes such as "Spurs are fighting like beavers!"
Look, I just get excited in the moment. I'm a fan. I could try to curb my natural enthusiasm, but I prefer to be me.
You're fronting the One You campaign. What is the most important health tip you've learnt so far?
I am cavalier about my health, certainly not great at going to the doctor. I was climbing Kilimanjaro and needed a health check, so I went to my GP who said, "I haven't seen you in 20 years, so I presume you must be fit". Doing the One You test, and not scoring 10/10, has taught me not to be so blasé. We all need to be aware of our fitness because that can save so many problems in later life.
Chris Kamara supports One You, which has free support and advice to help you make small changes to improve your health now, and in the future. Go to nhs.uk/oneyou
Sign up for workout ideas, training advice, reviews of the latest gear and more.
Grub Smith contributed interviews and features to the print edition of Coach, which ran from 2015 to 2016.