Healthy Specimen: Rob da Bank
The Bestival founder on why older DJs should consider sitting down, and the hazards of meditating on a yoga mat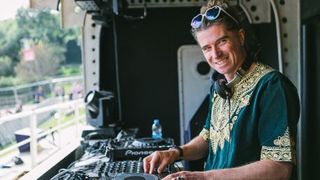 (Image credit: Unknown)
Have you ever bought a piece of exercise equipment and not used it?
Well, my WaterRower's looking a bit dusty at the moment. Don't get me wrong, it's a great piece of kit but when you live on the Isle Of Wight you may as well go out on the real water instead. That's why I do paddle-boarding now. It's a great stress beater – really clears the head.
RECOMMENDED: Stop Ignoring the Rowing Machine
Be honest, have you ever "let yourself go" at any point in your life?
Well, I suppose I did for about 20 years. I was always a really active kid growing up, but when I left home at 18 it didn't seem as important. And the DJ profession isn't exactly conducive to a healthy lifestyle, is it? But I'm 42 now and with three kids and another on the way, you begin to get a sense of your own mortality. I just want to be around and active for them.
Have you ever pulled a muscle in less-than-heroic circumstances?
Not exactly, but I did the London Marathon a few years ago and that was bad. I'm the most flat-footed man in the world and the week before it the base of my back was in bits, too. The podiatrist told me I was insane to even contemplate it, but I'd already raised £5,000 for charity, so I did. After about 16 miles, I'd done about 12 Nurofen. I wasn't even out of breath when I crossed the line, but my back was ruined.
What's your most impressive personal fitness best?
Well, when I was younger I used to do a lot of dinghy sailing and I was pretty good. I even made the Great Britain team. Since we moved to the Isle Of Wight I've started to rediscover my love for it.
Have you ever set out for the gym, walked right past it and gone straight home?
I don't really like gyms. I will go but I really prefer to do all my exercise outside whenever I can. If I feel like I need to put some effort it in, I'll do an Insanity workout or T25.
Does DJing = exercise?
I'm not sure it's exercise but I spent years lugging really heavy boxes of records around each and every night of the week, and then you're hunched over your decks for hours on end, too, before getting in the van and driving off to the next gig. It's not great for the back. Maybe DJs should be seated these days? Well, at least the old ones like me.
Have you ever had a mishap on a yoga mat?
Well yes, but not a bodily one, if that's what you mean. I've fallen asleep quite a few times when I should have been meditating after a yoga session and then had to be woken up by the others there. Does that count?
Which health product would you rescue from a burning building?
There's a lady on the Isle Of Wight called Krista who has a range of raw, cold-pressed juices and shots called Made By Krista. Me and my wife Josie will often have a few days just drinking these when we're on a detox. And they really work. You wake up feeling great.
What would you rather we didn't see in your fridge?
I'm probably painting a picture of this almost monastic life I live out here on the island, but look in the fridge and there'll always be some nice Burgundy white wine in there, and a fair amount of cheese, too. It's not really a guilty pleasure as such – it's just cheese.
Do you ever lose control, calorie-wise, after a gym session?
Not really. We live in the middle of nowhere on the Isle Of Wight so it's a 10-minute drive to the nearest shop, so that kind of stops you from nipping out for a Mars Bar when you're hungry.
Rob Da Bank's Camp Bestival takes place at Lulworth Castle, Dorset from July 28-31. Visit campbestival.net for tickets. Its sister festival, Bestival, is on the Isle Of Wight from September 8-11. Visit bestival.net for tickets.
Sign up for workout ideas, training advice, reviews of the latest gear and more.
Gary Ogden wrote for the print edition of Coach between 2015 and 2016, writing features, interviewing celebrities and covering entertainment. He has also written for ShortList.