Lesser-Known Marathons
Didn't get a place at London? One up ballot-winning bores by signing up for a marathons from around the world you probably haven't heard of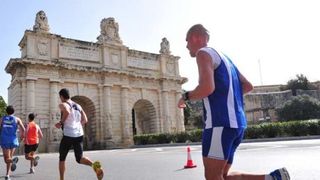 (Image credit: Unknown)
1. The Vodafone Malta Marathon – Malta
Enjoy a gradual 200m descent from start to finish taking in some of Malta's picturesque countryside and historic towns (pictured above) while running in temperatures that should peak at the mid-teens.
2. Geneva Marathon for Unicef – Switzerland
Starting in the Swiss countryside near imposing Alpine summits, you'll race through ten of the city's districts as well as a stretch along the scenic Lake Geneva before completing the course on the stunning Pont du Mont-Blanc bridge.
3. Great Wall Marathon – China
Completing a marathon on one of the planet's most iconic settings must be one of the most memorable things you could ever do. Expect a number of steep climbs and uneven terrain to truly test your awareness and endurance.
4. ASICS Stockholm Marathon – Sweden
Finishing in the legendary 1912 Olympic Stadium, the two-lap course takes in many of the city's landmarks including its numerous waterways and the stunning island of Djurgården.
5. Rio Marathon – Brazil
Hot on the heels of the World Cup, you could sample the sights, sounds and scenery of Brazil's colourful capital while dashing through the city, all under the watchful gaze of the iconic Christ the Redeemer statue.
6. Rock 'n' Roll Montreal Marathon – Canada
If you're after a new PB then this course around Canada's second city could be the one for you thanks to a pancake flat route and pumping live music every mile to keep your spirits up. This marathon's landmarks include Notre-Dame Island and the F1 track before finishing at the Olympic Stadium for a massive rock concert.

7. BMW Frankfurt Marathon – Germany
Forget Berlin, Frankfurt's fast, flat and circular course takes you on a whistle-stop tour of its finest historical and modern buildings, culminating in a red carpet finish at the Festhalle.
8. Beirut International Marathon – Lebanon
Race around the 'Paris of the Middle East' with 30,000 other competitors from more than 70 countries in this increasingly popular event that has a postive theme of unity at its core.
9. Antarctic Ice Marathon – Antarctica
Conquer one of the most remote places on Earth and defeat extreme weather conditions over a course on the seventh continent that will test your resolve and push you to the limit.
Sign up for workout ideas, training advice, reviews of the latest gear and more.
Alex Harris wrote for Men's Fitness, which predated then shared a website with Coach. Alex earned a MA in journalism from Kingston University and after contributing to Men's Fitness worked for Express Newspapers as a journalist and editor for six years.