MF Takes on Haute Route Pyrénées
To complete the Haute Route Pyrénées, cyclists must journey 752km and climb 19,600m. MF's Mark Bailey signs up for a week of pain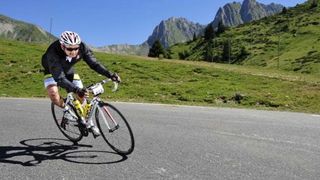 (Image credit: unknown)
It's not easy to keep pedalling for seven consecutive days, when your legs are flaming with lactic acid, your body is consuming over 6,000 calories a day, your mind wants to shut down, and your backside feels like you've just traversed the Sahara on a belligerent camel with a saddle made of stone. Yet that is the challenge facing me and 340 other cyclists in the Haute Route Pyrénées, which takes riders from Barcelona, over the Pyrénées, to Biarritz in France – the kind of journey that normally means a flight.
This is not strictly a venture into the unknown. I know I will have to cycle 752km and endure 19,600m of ascent, which is the equivalent of cycling from sea level to the summit of Mount Everest – twice. I know I will have to battle some of the most fearsome mountains in Tour de France history, including the 2,177m Col du Tourmalet. And I know if I miss any of the daily time cut-offs, my name will be scrubbed from the finisher's list (and I will sulk until Christmas). I just have no idea if I'll make it to the Atlantic coast.
Pro plus
At least I'm not lacking in inspiration from the sweeping Pyrénéen mountain scenery, or in help along the way: at the Haute Route, everything from support cars and feed stations to massages and bag transfers is organised for you, so amateur riders like me can sample the life of a pro cyclist.
Part of that experience, however, involves facing the relentless suffering of a stage race. And from the first stage – an 85km slog over the 1,480m Coll de Jou, the 1,570m Port Del Comte and the 1,668m Coll de Port to the Catalan town of La Seu d'Urgell – it is clear that clever tactics will be crucial. With gradients of up to 12% that leave me wincing and swearing in the Mediterranean sun, I opt to pedal with a high cadence of around 80rpm to ensure I don't burn up my muscle glycogen or release excessive lactic acid. I judge my pace on feel alone – finding the sweet spot where my muscles ache but don't burn - although fellow rider Bryan Hill, from Newbury, is using a heart rate monitor to maintain a sustainable speed. 'My heart rate was no higher than 140bpm and on average about 125bpm,' he says. Many riders suffer from cramp in the scorching heat and I'm relieved to finish snugly halfway through the pack – matching my humble goal for the week.
When I wake on day two to face a 120km ride to Plan de Beret and another 3,500m of climbing, my aching calf muscles remind me that recovery strategies are going to be important this week. I focus on nutrition: the previous day I had guzzled a recovery shake after the stage and spent the evening grazing on nuts and dried fruit but my rumbling stomach demands I up my calorie intake. Nicholas Frank, from London, swears by post-cycle stretches. 'Sitting on a bike for six hours a day is not what the body is accustomed to and so the hamstrings and glutes tighten up, causing pain and a loss of power,' he explains. Other riders strapped on Compex electro-stimulation pads, which use electric pulses to relax muscles, or slipped into recovery tights which compress muscles to reduce swelling.
Gazing saddle
Despite my aches, with the snaking 2,072m Port de la Bonaigua and the rugged 1,904m Plan de Beret, day two proves to be a beautiful stage of extraordinary mountain views. In such scenery it's easy to forget about your technique. For the tricky Pyrénéen descents cycling coach Paul Mill of Elite Cycling had advised: 'Lean your torso forwards so you help to distribute your balance across the whole length of the bike.' As I discover on the Bonaigua descent, the accompanying aerodynamics also speed you up. Bradley Wiggins suggests cyclists relax their muscles on climbs. 'You can't fight a mountain,' he says. 'Relax your body, stay upright and squeeze constantly with every pedal stroke.' It feels counter-intuitive to relax when you're in pain but it works, and sitting upright delivers more power to your legs. When I crawl up the final climb to Plan de Beret, I find that focusing hard on my technique also helps to distract my mind from the jolts of pain in my quads.
Day three features a 120km journey, during which we cross into France, and another 3,300m of climbing. With two long days already etched into the legs and a daunting 'marathon stage' to come on day four, it's vital to get nutrition right today. Bonking on the 1,860m Superbagnères, where British cyclist Robert Millar took the honours on stage 10 of the 1989 Tour de France, wouldn't be much of a tribute to a British hero.
At breakfast, I gobble as much bread, honey, muesli, eggs and yogurt as possible, but I try to get some olive oil too – based on the advice of Team Sky nutritionist Nigel Mitchell, who calls fat 'a great source of fuel for endurance rides'. During the ride, I opt for bars early in the day but switch to more easily digestible gels on the final climb to Superbagnères, when heat, pain and fatigue combine to neutralise my appetite. Nicholas Frank smartly maintains his nutritional discipline with the help of his watch: 'I set an alarm to remind myself to eat every 30 minutes.' My strategy works pretty well, but I still require a hit of sugary Coke at the final feed station to get me up to the top of Superbagnères.
Col burning
With its 4,013m of climbing, four big climbs and a 133km route, the fourth stage from Bagnères-de-Luchon to Argelès-Gazost is the day everybody has been dreading. It doesn't disappoint. If my legs were stiff on the 1,569m Col de Peyresourde, sore on the 1,580m Col d'Azet, and burning on the Col d'Aspin, then by the time I reach the exposed upper slopes of the 2,177m Col du Tourmalet I am in cycling purgatory – tired, dehydrated and mentally and physically frazzled. In moments like this, it's easy for a man to consider trashing his bike and taking up golf.
My mood had plummeted when I suffered a double puncture on the Col d'Aspin, meaning I had to endure a long solo ride to catch up the other riders. But mental strength is the most important weapon on days like this. My quirky personal methods of psychological survival were to use the altimeter on my Garmin to tick off each 100m of climbing and to repeatedly spell out swear words in my head. Mike Gluckman, from London, says he resorted to talking to himself - although he thinks he might have just been dehydrated. And Mike Young, from Australia, recounted Monty Python sketches in his head. Perhaps we were all going a bit mad?
But after six hours of cycling, arriving at the summit of the Tourmalet is a truly satisfying moment. It is hard to imagine the first Tour de France crossing of the Tourmalet in 1910 by French rider Octave Lapize, who faced a 326km stage, travelling on unsealed roads and using a single-gear bike.
Trial run
Next comes the time-trial stage, requiring an intense 13km blast and 1,088m of climbing to the Hautacam ski resort. Halfway up the climb I face an awkward decision when I drop my pump – my caveman brain wants to ignore it and carry on in a frantic bid to save time, while my rational brain realises I might need it. Eventually, I forlornly swing round to collect it. I finish in 1hr 6min, while the winner, Daniel Christen, arrives home in just over 44min.
By stage six, the Haute Route has become more of a mental battle than a physical one. Whether it is from the more intense effort of the time trial, the cumulative fatigue, or the now dark and misty conditions, the 101km journey from Argelès-Gazost to Pau feels almost vindictively cruel. The 1,156m Col de Bordères hides gradients of up to 21% which tear at my tired muscles, and the eerie 1,709m Col d'Aubisque is shrouded in fog which means no amazing views to spur us on. When on the descent I see an injured cyclist in a ravine being tended to by paramedics I quietly reset my personal goal: I am happy to get to Pau in one piece.
Our reward for making it to the final day is the arrival of more black clouds and pelting rain, which soaks my clothes, drips behind my sunglasses into my eyes and somehow creeps into my shoes. It just so happens that today is the longest stage – a 177km route from Arette to Combo-les-Bains, followed by a gentle untimed procession to the official finish in Biarritz. On the first climb up the 1,070m Col d'Ahusquy, every pedal stroke hurts, but the final 50km through the Basque countryside feels like riding through England. The hills are rolling, the roads are wet and slippery, and we're surrounded by tractors and green fields. I half expect to see a sign to Cobham or Guildford, so similar is this terrain to the undulating delights of Surrey. Inspired by the familiar terrain, I gobble up the last 50km as quickly as possible and arrive at the finish line, soaking wet, relieved and proud.
Last resort
When we spin over to the elegant French coastal resort of Biarritz in a celebratory, albeit soggy, procession, it is a chance to try to comprehend the stats of the week. I've cycled for 27 hours, 22 minutes and 54 seconds, conquered 20 Pyrenean cols, burnt over 30,000 calories, and made over 100,000 pedal strokes. But no stats matter more than the six slices of pizza and one beer in front of me when I slump down in the small rain-soaked Biarritz café.
Surviving a mountain bike race requires good planning and training before you've even hit the first slope. Here are four proven lessons from the front line of the Haute Route
Hit the high gears
'You don't need to live near mountains to train for them,' explains Brett McDonald, a two-time Haute Route rider. 'Just try to build strength by riding in a bigger gear than usual.' Performing ten hill repeats in a high gear helps to replicate the muscular requirements of steep Pyrenean climbs – even if you live in a flat part of the UK.
Train your stomach
'Make sure you use all your sports nutrition products in training before the race,' suggests Bryan Hill, who carried his own bars and gels, as well as spare packets of energy power to ensure he didn't have to use unknown energy powder at feed stations. 'This way I knew it all agreed with me,' he says.
Shift blubber
There is a good reason why Chris Froome and Bradley Wiggins look so lean. Power-to-weight ratio is hugely important when fighting gravity on mountainous bike rides, which is why Mike Young dropped from 96kg to 86kg before the race. 'Every extra kilogram that you can lose is a bonus,' he says.
Mix it up
'Quantity isn't necessarily quality, so try to optimise your training time on the bike,' suggests Nicholas Frank. 'Interval training and 60-minute high-intensity training sessions are really worth it.' As well as building cardiovascular fitness, they also condition your body for the constantly shifting gradients of the Pyrénées, which rapidly jump from 6 to 12% without warning.
Sign up for workout ideas, training advice, reviews of the latest gear and more.
Mark Bailey is a features writer and interviewer who contributed to Coach magazine in 2015 and Men's Fitness UK, which predated, and then shared a website with, Coach, until 2019. Mark has also written for national newspapers including The Telegraph and The Financial Times Magazine, as well as magazines and websites such as Cyclist and Bike Radar.