Britain's Most Brutal Race
Could you handle the Spine Race, Britain's most brutal race? Damian Hall lived to tell the tale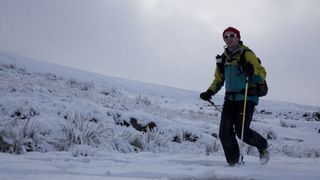 (Image credit: Unknown)
The Spine Race is a winter ultramarathon that follows the 268 miles (431 km) route of the Pennine Way, from Edale to Kirk Yetholm, over seven days. Conditions in January on the exposed mountain trails are savage, ranging from thick snow to fog, high winds and driving rain. Competitors wear GPS trackers in case of emergency. Journalist and author Damian Hall decided to enter the race in 2014.
Several other races have been launched by the Spine Race organisers, including the Spine Challenger (108 miles) the Spine Sprint (43 miles), the Spine Challenger North (160 miles) and – if you don't fancy the midwinter conditions – there are now summer versions of the Spine Race, Challenger, Challenger North and Sprint, all held in June.
What made you think The Spine would be a good idea?
When The Spine started in 2012 and only three people finished, I thought it was brilliantly loopy but probably a one-off. In 2013 however, 11 of 29 starters finished, and I followed it avidly online, then read all the blogs I could find. It was bizarre: people who'd seemed to have had a miserable time were desperate to go back for more. I wanted to understand why. That's why I entered in 2014.
Also, the Pennine Way, England's oldest and toughest National Trail, is a personal thing for me. I've trekked it, written the official guidebook and fallen in love with those lonely, bleak moorland landscapes. And I was clearly having an early midlife crisis.
How did you prepare for it?
I love the planning stage. I obsessed over The Spine for six months, especially equipment (see my Spine Race essential kit list), and my wife soon only allowed one Spine-related conversation per day. The previous two Spines had seen waist-high snowdrifts, frozen water bottles and Mountain Rescue being called out. I would have to stay warm, dry, hydrated and nourished – and be self-sufficient, carrying 5-10kg of mandatory kit – in whatever conditions the Pennines flung at me. Over the seven days the smallest decisions, from socks to snacks, could turn out to be huge ones. Plus I spent most of December running about in woods in the dark.
What was your mindset before the race?
Childish excitement mixed with rising panic. At the briefing we were told, 'Between 10 and 15% of you will get hypothermia or hypoglycaemia', which turned out to be true. My priority was to finish the race, ideally with most of my toes and some sanity left. Troubling the top ten would be a bonus.
How did the race go for you?
On the first day the weather forecast was for sun, but within 30 minutes we were in thick snow. I intended to start conservatively but was so happy to be back on the Pennine Way that I was in eighth place when I stuck up a tent at 2am after about 80km.
The evening of day two was a mini Armageddon, with relentless wind and rain, and icy rocks under sore feet. A lot of athletes dropped out at the second checkpoint, after 174km, where the sight of grown men crying wasn't uncommon.
The third day was gorgeous. Sunshine carpeted the pastel-hued moors and I only saw one runner all day. I started at 3am on day four and found my mojo as it snowed.
I felt mentally tired at checkpoint four near Alston, though, and allowed myself four hours' sleep – I had about 11 in total in the race. By this stage ordinary tasks, such as changing socks, seemed really complicated. Various niggles were flaring up, but the medics were brilliant, taping up my disgusting feet and pouring tea down my neck in the small hours.
I finally finished after 127 hours and 11 minutes – mid-afternoon on the sixth day – in fourth place. That was an extraordinarily good feeling. Only 30 of the 75 starters finished. One was collected by Mountain Rescue.
What were the toughest moments?
The second night was the toughest, because the weather was a real horrorshow – race HQ called it 'absolutely horrendous conditions' on Twitter – and a lot of runners, including the previous year's winner, dropped out. I'll be forever indebted to the heroic David Carr and Mark Berry, who slowed their pace and insisted on seeing me safely into checkpoint two. Sharing my lemon drizzle cake with them beforehand may have been the best decision I made in the race.
It was also surprisingly upsetting when I learned of other athletes dropping out, even if I'd only known them briefly. Everything seems more dramatic when you're fatigued.
The hallucinations near the end were pretty funny, too. In retrospect, that is. Rocks and bogs turned into people and in the big lonely Cheviots, I followed some giant red Chinese lanterns for nearly an hour before I realised that they didn't exist. And that I was lost.
I'm making it sound a bit miserable, but it wasn't at all – I had the time of my life. Spells of euphoria would last for hours. Because of the live tracking, I was getting text messages of support from people I didn't even know had my number. Although, looking at it another way – you're lost in the dark, you're exhausted and you know your mates are probably looking at your zigzagging route on the internet and laughing. Er, what's not to love?
Check out Damian's essential Spine Race kit if you're feeling brave enough to give it a try.
Would you do it again?
I can't wait to do it again. The Spine takes over your mind. It's not just the challenge and the wild landscapes – the staff are amazing and really want you to finish, and the atmosphere is something special. People who've dropped out hang around to help because they just want to be a part of it (big thanks to the legendary Andrew Burton!). I also loved the simplicity of my days of running and discovering that you don't need to go all the way to Antarctica or even the Alps to have a genuine adventure. Anyway, I need to go back to see if the Chinese lanterns are still there.
Do you have any tips for future competitors?
It's best to see it as an expedition rather than an ultramarathon and good hill skills are invaluable. For training, a night out navigating in unfamiliar (and ideally wet and cold) hills is better than a 50km run. During The Spine, your priority is to look after yourself (which sounds simple but becomes harder the more tired you get) and especially your feet.
After that it's just a competition of who can go the longest without sleep. The extraordinary 2014 winner and current record-holder Pavel Paloncy only had five hours' sleep in five nights. You can't eat too much food – use pubs, shops and cafés en route (in fact in some ways The Spine is an epic eating contest). And remember to share your cake around.
The Spine Race takes place in mid-January on the Pennine Way. More info and race dates at thespinerace.com
Sign up for workout ideas, training advice, reviews of the latest gear and more.
Damian Hall is a journalist, author and ultra runner. In 2014 and 2015 he contributed to Men's Fitness UK magazine, which predated and then shared a website with Coach. Hall went on to write for publications such as The Guardian, The Telegraph, Runner's World, Men's Health UK, Men's Running among others, train as a UK Athletics coach, author numerous walking guide books and running memoirs, and chalk up Fastest Known Times for storied routes including the Pennine Way and Wainwright's 185-mile Coast to Coast.