The Spine Race Essential Kit List
The Spine Race is one Britain's most brutal challenges. Here's the kit you'll need if you're crazy enough to take it on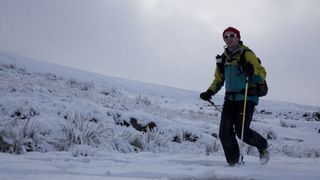 (Image credit: Unknown)
Two pairs of waterproof trousers, four pairs of gloves, 12 pairs of socks... I'd signed up to Britain's most brutal race and I was panic-buying like Harry Redknapp in the January transfer window.
The Spine is a 268 miles (432 km) foot race along the Pennine Way in January and competitors must carry 5-10kg of mandatory kit. England's toughest National Trail is renowned for its unfriendly weather and hypothermia is common, so I needed to be prepared for anything – but at the same time not be weighed down by too much gear.
I obsessed over kit, from socks to hydration systems, for months, drawing on my experience of trekking the Pennine Way, previous Spiners' blogs and my ultramarathon running.
I sourced items as early as possible, so I would know how they worked (which included two nights camping in the garden, much to my wife's mockery and my neighbours' curtain-twitching), where in my pack to put them, and what it was like to run long distances with the weight. Ultramarathon runners obsess over weight, but I tried to ignore that and instead be sure I wouldn't be wet or cold, without torchlight or GPS, or short of food. My pack was about 7-8kg, without water.
The Spine Race: Compulsory Equipment
The Spine Race rules stipulate that these items "must be worn, carried or in your pack at all times" and there were spot checks. Competitors were also allowed a drop bag (weighing no more than 20kg) they could access at five check points.
Backpack
The OMM Classic 25L (£65, 540g) proved the ideal pack. It's designed so that weight sits at the bottom of your back and doesn't swing about. External pockets and mesh make it easy to access items on the go. I attached an OMM map case on the front and two OMM bottle holders, one with a bottle, the other for my GPS unit.
Waterproof jacket
Berghaus is always my first stop for waterproofs. A jacket with holes in may sound a bit Emperor's New Clothes, but I've been using the Berghaus Vapour Storm (£250, 329g) for 18 months, always stayed dry and never got too sweaty. No matter how good a waterproof, if it rains for days on end the wet stuff will get through eventually. So I also took a Berghaus Vapourlight Hyper Smock (£100, 107g). It's the world's lightest waterproof jacket and packs up to fist size – perfect for trail or ultrarunning.
Waterproof trousers
Berghaus Vapour Shell Overtrousers (£140, 255g) are reliably waterproof and highly breathable. They were a good windshield too and, conversely, the leg-length zips meant good ventilation when it warmed up. A last minute panic meant I squeezed a pair of RaidLight UltraLight Rain Pants (£139, 150g) into my drop bag, too. They are ultra- light and may look like something even Vanilla Ice wouldn't wear, but they're also breathable and kept me dry during the worst weather on the Spine.
Hat and gloves
A Buff (from £15, from 35g) can be a scarf, hat, balaclava, headband/ear-warmer or nose wiper. I took an Original (perfect most of the time), a merino Wool Buff (that bit warmer), a Polar Buff (that bit warmer again) and a Balaclava Buff (for extra face protection). They all got used.
The OMM Overnight Beanie (£10.99, 45g) is a snug fleece with extra material for the ears. I wore it about 80% of the time and my bonce was never cold. A SealSkinz Waterproof Beanie (£25, 68g) claims to be waterproof, windproof and breathable, and it certainly felt that way – it was my apocalypse option.
Four pairs of gloves sounds like overkill but I used them all (not because I lost three – although, er, I did lose one). I used SealSkinz Ultra Grip Gloves (£32.50), which were waterproof and warm even if they seemed to soak up the wet stuff, as my default pair. When it wasn't raining I often used a pair of Berghaus Touch Screen Polatec Gloves (£22) which kept me warm enough and made using the GPS easy. I also had a similar eTip pair from The North Face (£30), which had a bit more grip. My heavy-duty pair, which got good use, was SealSkinz's Winter Gloves (£35). They're very warm, rugged and waterproof and large enough to fit a pair underneath.
What else did I need?
That's the compulsory kit sorted, but what else was on my essentials kit list for the Spine Race?
Read more on the next page of my Spine Race essential kit list: Appropriate clothing for mountain running. Or skip straight to camping equipment and rations.
Sign up for workout ideas, training advice, reviews of the latest gear and more.
Damian Hall is a journalist, author and ultra runner. In 2014 and 2015 he contributed to Men's Fitness UK magazine, which predated and then shared a website with Coach. Hall went on to write for publications such as The Guardian, The Telegraph, Runner's World, Men's Health UK, Men's Running (opens in new tab) among others, train as a UK Athletics coach, author (opens in new tab) numerous walking guide books and running memoirs, and chalk up Fastest Known Times for storied routes including the Pennine Way and Wainwright's 185-mile Coast to Coast.