The Spine Race Essential Kit List: Camping Equipment And Rations
From sleeping bag, tent, food and water storage options to torches, maps and medical supplies, here's what you need for this brutal winter race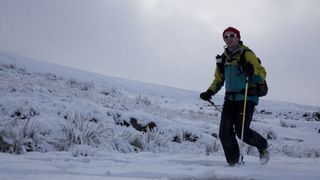 (Image credit: Unknown)
When tackling the UK's most brutal race, a seven-day ultramarathon on the Pennine Way in the depths of winter, having the right kit is essential. My Spine Race essential kit list includes all the compulsory kit for the race and my Spine Race essential kit list continues with appropriate clothing for mountain running, which details all the clothing I knew I would need, from waterproof socks to base layers and top layers.
Then there's all the camping equipment and rations, torches, tools, water containers and other essentials. Here's what extra equipment I took with me.
Sleeping bag (Extreme Rating -10c)
I could have taken something lighter and smaller than the super-warm Rab Neutrino 600 sleeping bag (£420, 1030g), but a good sleeping bag could save your life. At 800-fill hydrophobic goose down, it's very snug indeed (Extreme rating -26˚C) and I had no trouble sleeping on frozen ground on a very cold night. It also has a water-resistant shell. I also took a Rab Silk Liner (£40, 123g) for extra warmth (between 5-10˚C) and a mandatory survival bag (aka a space blanket).
Sleeping mat
This was one of my cleverest kit choices. Not only is the KLYMIT Inertia X-LITE mat (£75) super-light at 173g – reportedly the world's lightest – but it packs up to the size of a Red Bull can, offsetting any excess from my sleeping bag choice. It's full of holes, but there's cushioning in the right places and the gaps are designed to become pockets of warmth. Quick to inflate too.
Tent / shelter / bivi
I slept out the first night in my Vaude Power Lizard Ultralight tent (£385, 1.05kg), which is very light, reliably waterproof and as it's a two-man it gave me plenty of room to spread kit out and cook up a little feast in comfort. The zip can be a faff, but it's also stable in strong winds. When not carrying the tent, I carried a Rab Alpine Bivi (£185, 495g), which has proven to be thoroughly waterproof and impressively breathable – unlike some lighter bags I tested beforehand. It also has a reinforced base.
Stove and pan
The Optimus Crux Lite Solo Cook System (£60, 200g) was the lightest I've found and includes a pan and lid. It's easy to operate, gets a boil on in no time and packs away neatly inside the pot.
Water carrying system
Previous Spiners reported water bottles freezing, so I took a slosh-free Salomon 1.5-litre Soft Reservoir (£35, 119g) and a Salomon Insulation Hydration Kit (£20, 90g), both of which functioned very smoothly. However I also wanted a water bottle for quick refills. I tried out a wide-mouthed, Nalgene bottle (from £9) with an insulated case (£19); and two excellent brushed metal options (the Classic and a vacuum-insulated model) from Klean Kanteen which is very environmentally friendly. However, those options didn't fit well in my OMM pack. So I went with an OMM Ultra Bottle (£4), which is cleverly designed for easy refills and liquid doesn't slosh about.
Two day's rations
I took Trek'n Eat dehydrated meals (main meals £6.50, desserts £4.50), which were a revelation. My dining varied from beef stroganoff followed by chocolate mouse to venison stew and caramel-amaretto cream with amarettini. Dishes weigh around 160g and offer upwards of 600 calories. Ingredients are all natural, with no preservatives, colours or flavour enhancing additives. They taste fantastic and regularly transformed me from shuffling zombie to post-spinach Popeye.
Head torch
With up to 16 hours of darkness in each 24 a dependable, powerful headtorch was crucial. I tested five before settling on the brilliant Petzl MYO RXP (£75, 175g). It lasted nearly two long nights on lithium batteries without a charge. It's comfortable, clever and was the brightest torch I tested, with up to 141 lumens (plus a 205-lumen boost button) and a claimed distance of 90m. You can alternate between a spotlight range or wide-angle and it's good at warning when batteries are wearing out. I also carried a SILVA Trail Runner II (£60, 118g), which likewise boasts 140 lumens, though only up to 50m distance. It's comfortable and has a claimed 90-hour battery life on the minimum setting. I also took the adorably tiny Petzl e+LIGHT (£25, 27g). It doesn't give enough light (26 lumens; 29m) to use for long, but is handy for changing batteries or emergencies.
Compass and maps
I took a SILVA Ranger compass (£24.99). Rather than the nine Ordnance Survey maps you would need to cover the 432km, Harvey Maps (£35.85) cover the route in three excellent maps (at a scale of 1:40,000). Plus they're waterproof.
GPS
The Garmin Oregon 600 (£319 plus mapping, 210g) has a ridiculous amount of features, many of which I didn't use or understand. But the touchscreen made zooming in and out much quicker than most GPS units, even with gloves on, often getting me out of a pickle quickly – especially in the dark. With the official Spine GPX files downloaded it can be programmed to beep every time there's a change of direction.
Batteries
I used lithium batteries on all my electronic devices because although they cost more, they're noticeably lighter, last longer and, crucially, less likely to fail in the cold. Two AAs lasted nearly 48 hours of regular use on the GPS. I relied on one-use batteries rather than rechargeable as I didn't want to stay longer than necessary at check points, recharging them.
Whistle
Supplied on OMM Classic pack
Eye protection
Designed for mountaineering, the Julbo Explorer glasses (£130 with polarising and photochromatic Cameleon lens) are pleasingly light and rugged, have great clarity and an anti-fogging system. A big asset in the snow.
Knife or multi-tool
The Black Fox knife (£19.95, 30g) is light but functional: a strong, stainless steel, 57mm blade with a serrated section for sawing plus a carabiner clip. It also locks open to avoid unpleasant mishaps.
Mobile phone
Instead of my heavy, battery-zapping smartphone, I bought a super-cheap, old-school Nokia. I was feeling all clever about that, but the cold would wipe out the battery at times.
Medical kit
As well as the mandatory items, I used plentiful Natural Hero Cool Peppermint Muscle Spritz, designed to 'freeze and ease' sore muscles (applied before a rest) and Hot Ginger Muscle Rub, designed to combat muscle fatigue (applied before setting off again). Normally in an ultramarathon my quads are trashed after a day's running. At the end of The Spine I had almost no muscle soreness. These creams brought my quads back from the dead – amazing stuff.
I also took a Care Plus First Aid Kit Walker (£19.95), full of useful items such as talcum powder, blister-specific plasters, the magical Camphor Spray and thorough information on blister care.
Optional equipment
The excellent aluminium Black Diamond Distance FL trekking poles (£99, 460g) fold into three pieces. They're light but tough, quick to erect and store away and I wouldn't contemplate walking or running the Pennine Way without them.
To be doubly sure kit remained dry I used Exped dry bags (£34 for pack of four). They have loops for fast emptying, come in bright colours so you don't leave them behind and are dependably waterproof.
My Spine Race Kit: Verdict
I got most things right somehow – and most crucially, my footwear. My biggest error was simply taking too much stuff – that panic-buying – which meant finding things in my drop bag could be a right kerfuffle, especially when I was knackered and fighting to zip the ruddy thing up again.
The 2012 and 2013 Spine Race had colder conditions (ie lots of snow) than in 2014, so some of my warmer equipment went unused but I'd still take almost all of it – bar a few layers – again.
[NOTE] Damian Hall was given some of this equipment for free, but would like to point out that so were some other items that ultimately weren't up to the task and got left behind.
Check the Spine Race website for more information about the race and dates of winter and summer editions.
Sign up for workout ideas, training advice, reviews of the latest gear and more.
Damian Hall is a journalist, author and ultra runner. In 2014 and 2015 he contributed to Men's Fitness UK magazine, which predated and then shared a website with Coach. Hall went on to write for publications such as The Guardian, The Telegraph, Runner's World, Men's Health UK, Men's Running (opens in new tab) among others, train as a UK Athletics coach, author (opens in new tab) numerous walking guide books and running memoirs, and chalk up Fastest Known Times for storied routes including the Pennine Way and Wainwright's 185-mile Coast to Coast.