The Spine Race Essential Kit List: Appropriate Clothing For Mountain Running
What to pack for one of Britain's most brutal challenges, from waterproof breathable socks to non-chafing underwear, windproof tights, insulating layers and jackets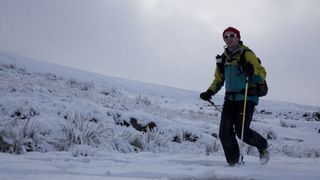 (Image credit: Unknown)
Having signed up to Britain's most brutal race, and sorted the Spine Race essential kit list of compulsory items, I still had a lot of kit to source. So what were the essential items I reckoned I needed for a seven day ultramarathon in the harshest imaginable weather conditions?
Appropriate Clothing For Mountain Running
Feet
The importance of foot care can't be overstated. I knew it would be boggy and wet feet deteriorate quickly, plus trench foot is a genuine likelihood on The Spine. I opted for SealSkinz Thin Mid Length Socks (£28), which are consistently waterproof and breathable and include Merino wool for warmth. Underneath I wore Injinji toe socks (from £10.99), which delay blisters by eliminating skin-to-skin friction. Their Trail Running model is my favourite as they're more comfy, but I took a pair of each thickness they have – including a knee-high compression version – to offset my feet as they swelled. I changed socks at every check point – moisture leads to blisters.
I sprayed Care Plus Camphor Spray (£5) on my feet daily for a couple of weeks before the event, which gave me an extra layer of protection and worked amazingly well.
I wore my all-time favourite running shoe: Salomon Speedcross (£95). This is an extremely breathable shoe and importantly allows water to pass straight out again. It's deceptively stable and rugged with excellent grip. I had a second pair a size bigger – to cope with swelling feet – which I was glad to change into on day three.
I also wore Salomon Trail Gaiters Low (£20) to keep stones and mud from getting into my shoes. I was very thankful not to get any blisters – in fact that was probably the biggest factor in completing the race. I never had cold feet and only once, on the last day, did I have wet ones, thanks to a very deep bog.
Hillsound Ultra Trail Crampons' (£50, 450g) stainless steel spikes provide excellent grip, but they're heavy. So I also took Yaktrax Pro Ice Grips (£16.95, 150g), the lightest I've found, they're metal coils rather than spikes. The Yaktrax are effective on frosty flagstones, but if it'd been as cold as previous years I'd have been very glad of the Hillsound crampons for ice.
Legs
I started in OMM Flash Tights 1.0 (£40), which are made of comfy stretch material. They wick and ventilate well, while being quick-drying and tight around the ankles to keep out mud.
I also took SmartWool PhD Run Wind Tights (£95), designed for winter running. Merino wool in the inside keeps them lovely and warm, while nylon on the outside rebuffs gusts. They're so comfy they feel like a second skin, and I saved them for when the mercury dropped.
The über-comfy, sci-fi-feeling X-Bionic Running Pants RT 2.1 (£99.99) are packed with technology – compression and wicking/cooling works especially well. I feel stronger in them and saved them for the final run in.
2XU Compression Tights (£75) were my back-up pair. I grew to enjoy these lightweight, comfy and breathable tights on training runs.
I've learned the hard way that cotton underpants mean chafing in the bathing suit area. So I wore SmartWool NTS Light 195 Boxer Briefs (£36), which are warm but breathable and kept my absolutely essential kit chafe-free.
Upper body – baselayers
It's not designed for winter running specifically, but I've been using a Berghaus Long-Sleeve Zip-Neck Technical T-Shirt (£32) for 18 months and it's the best wicking, non-whiffy top I've worn. The Argentium material feels silky and somehow keeps me cool when I'm going for it and warm when I'm not. The zip is great for temperature regulation.
X-Bionic kit isn't cheap, but always comes packed with technology and always impresses. The Effektor Running Powershirt (£99.99) supports posture and made me feel strong when I was fatigued. It wicks and ventilates brilliantly (crucial when wearing a pack), aids sore limbs with compression and is warm too.
Whenever I need warmth next to my skin I turn to SmartWool. The NTS Mid Pattern Zip T (£85) top doesn't wick as well as the two above, but it's warmer and as it's Merino wool it stays warm when wet. I used it when I knew I'd be moving slowly and not generating much heat.
The North Face Hybrid Long Sleeve Zip Neck Shirt (£60) has a body-mapped design, meaning it keeps the key bits warm and has mesh where airflow is important. It's a comfortable performance fit, quick dry and good at wicking.
Upper body – mid-layers
Most of the time, either a Berghaus Smoulder Hoodie (£90) or Salomon Fast Wing Vest (£60) was my default second layer – sometimes both. The Smoulder looks great – it's a hoodie I also wear to the pub – and is a clever combination of breathability and lightweight insulation, with excellent cover for neck and chin. Vests or gilets let armpits breathe while keeping key organs warm and I use the Salomon vest year-round. A Berghaus Pravitale Hooded Fleece (£75) was an alternative hoodie, but though it works well out hill-walking as both a mid-layer and outer shell, it remained unused on The Spine.
Perhaps the best bit of kit I took was the OMM Rotor Smock (£110). The PrimaLoft is incredibly light (260g) for the warmth it offers – which is a lot. Even in gales in the Dales and on Cross Fell this and three lightweight layers kept me warm. It's windproof too so works as an outer shell, has a water resistant coating, quick drying and still works well when wet. It has a nice big pocket and the zip meant I could regulate heat and wear it all day rather than stopping to swap layers.
I thought the Rab Microlight Vest (£100) would be excellent for running in cold, dry conditions – as the 2013 event had been – but it didn't get cold enough in 2014. I have however been wearing it almost constantly since – it's warm and light (310g), with big pockets for hand warming and good neck coverage too.
I chucked in an OMM Sonic Smock (£60) windproof shirt at the last minute and it proved a wise addition. At just 60g is super-lightweight and packs up to sub-fist size. It's a very effective wind shield and offers another layer to trap warm air between.
I love down – it's natural, warm and light, but it performs badly when wet, compared with heavier synthetic materials. However, the Berghaus Llama Hydrodown jacket (£240) is a game-changer – its hydrophobic down has water resistant treatment that means it maintains more warmth in damp conditions and dries more quickly. It uses bodymapping and is amazingly light (320g) for the warmth. I always felt safe from the threat of hypothermia when I had it with me.
What other supplies do you need?
From sleeping bag, tent, food and water storage options to torches, maps and medical supplies, find out what else you need for this brutal winter race over on the following page: the Spine Race: camping equipment and rations
Sign up for workout ideas, training advice, reviews of the latest gear and more.
Damian Hall is a journalist, author and ultra runner. In 2014 and 2015 he contributed to Men's Fitness UK magazine, which predated and then shared a website with Coach. Hall went on to write for publications such as The Guardian, The Telegraph, Runner's World, Men's Health UK, Men's Running among others, train as a UK Athletics coach, author numerous walking guide books and running memoirs, and chalk up Fastest Known Times for storied routes including the Pennine Way and Wainwright's 185-mile Coast to Coast.