Tough Mudder challenger Sophie Anderton
Sophie Anderton proves she's a fitness buff ready to take on her next Tough Mudder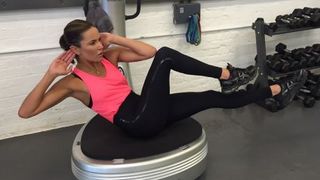 (Image credit: unknown)
She's best known for modeling brands such as Gossard, Maxim and La Senza, but Sophie Anderton is actually quite the fitness guru. Currently gearing up for her second Tough Mudder challenge this September, she discusses her training regime and the obstacles she's dreading.
What made you take the challenge on?
I did Tough Mudder in 2014 and it took me just over three hours. I love to challenge myself and I find that life can get a little dull if I'm not pushing myself to achieve a mental, physical or emotional goal that takes me out of my comfort zone. I have always loved extreme sports like rock climbing, white-water rafting, abseiling… the list is endless.
What do you normally do to keep fit?
I really enjoy exercising so I try to do a workout for about two hours, five days a week with my trainers Lee and Claire at Transition Zone. I like mixing up what I do so I often rotate between kickboxing, circuit classes, power plate classes, kettlebell training and TRX. If I can't get to the gym I like to go on speed walks or do some yoga.
Do this circuit workout with a TRX trainer
Is there anything you're looking to improve this time around?
Last time I struggled getting over the high walls [Berlin Walls], I really want to work on my strength so that I can smash it this time around. I also want to try and overcome my fear of small spaces so that I can improve my time on a few of the crawling obstacles.
Have there been any surprises in your training so far?
None so far, but I have been told that there are some surprises to come so I'm very intrigued!
What's been the toughest part of training?
Kickboxing and some elements of the anaerobic training have been really intense! Also, mentally preparing for the Arctic Enema 2.0 – the ice bath. I'm absolutely dreading that obstacle.
Have there been any highlights?
So far I've loved every minute of it! Challenges come very naturally to me and I hate to be defeated.
Do you do any pre-race rituals?
I like to mentally prepare by laughing a lot. Once you're in that mindset nothing seems out of reach.
How are you going to celebrate when you're done?
I'm going to have a long Epsom salts bath and an extravagant dinner at Heston's Fat Duck with friends and family.
Apart from training for Tough Mudder, what's been your most grueling experience?
Living for three weeks with the forgotten tribe of Madagascar for the charity Fresh2o (water for life charity). It was gruelling, but a life-changing experience.
Sign up for workout ideas, training advice, reviews of the latest gear and more.