The Beer Mile: Middle-Distance Drinking
One of the more curious events in the athletic calendar is coming to London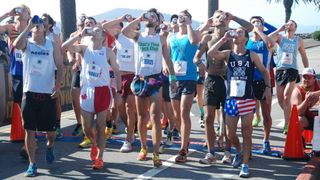 (Image credit: unknown)
If you've ever run a mile for time, you've probably got some appreciation of how hard it is to bring it home in under seven minutes. Sub-6:30 is considered respectable among half-decent amateur runners, and under six is where things start to get serious. So how fast, do you think, could you do four 400m laps of a standard athletics track, downing a bottle of beer at the start of each one? Because, right now, the world record is 4:47.
The UK has long-boasted a "Chunder Mile", where competitors sink an entire pint every lap, and there's a "Vodka Steeplechase" that involves seven shots of vodka and a 3,000m run – but the Beer Mile, the most popular, was invented in Kingston, Ontario, by a group of Canadian university athletes who ran the first events in the early '90s.
The rules are simple, but strictly enforced: the beer has to be at least 5% ABV and must be drunk in a 10-metre transition zone. No bottle-tampering or shotgunning (jabbing a hole in the side of the can) is allowed, and vomiting earns a 400m penalty lap. Excessive spillage causes disqualification, and competitors are "strongly encouraged" to tip their empties over their head to verify that they've finished their drink.
In the dark ages of beer miling, runners had to congregate at night or in secret to perfect their technique, filming runs for YouTube, but since The Washington Post ran a piece on the event it's become more widely accepted, with less of a stigma attached for people competing in high-level running. Today beermile.com has more than 114,000 entries and 7,230 races in its database, including at least one Olympian – Nick Symmonds, who competed in the 800m in Beijing and London for the US.
The sport's signature race is the World Classic – the 2015 race, held in San Francisco, was viewed more than 3.5 million times, or more than any single day of the IAAF World Championship. This July, it's coming to London – and for the first time, it'll be run on a proper athletics track.
Andy Norman, team captain for the English Men's Elite Beer Mile boasts a 4:14 "regular" mile, but Lewis Kent, the holder of the current record and the sport's only professional athlete, will be the man to overcome, and he's got a secret weapon. Though he's not the fastest man in the field, the Brooks-sponsored runner's 5.15-second "chug" might be unbeatable – he practises constantly with bottles of water or non-alcoholic beer, and always drinks Canadian Amsterdam Blonde for races ("It goes down easy, and tastes great").
Since the body can't actually absorb enough alcohol in five minutes to get drunk, the real problem is carbonation: even the best athletes can throw up at any time. Kent uses tricks from competitive eating, including stretching his stomach by eating huge pasta dishes and then drinking water, or overloading on sushi (former record-holder James Nielsen, also an NCAA 1,500m champ, trains by eating an entire watermelon as quickly as possible).
And for the runner who just enjoys a tipple? It's worth pointing out that no doctor is likely to actually recommend running a beer mile, since it takes you halfway to the NHS-recommended weekly booze limit in under 10 minutes. But if anything can convince you to get out of bed for a few more 400m repeats on an otherwise rainy morning, it has to be worth a shot. If you do fancy giving it a go, start on the water-and-runs, then work your way up. Cheers!
RECOMMENDED: Running Events in the UK
Beer Mile Tips
Choose your "fluids" carefully. Lagers, stouts and IPAs are all beer-run legal, but it's not about taste – it's about ease of chug. Budweiser is the most popular tipple, because it's easy to drink and comes with the twist-off caps that are a prerequisite for speed.
Your chug is all-important. Head tipped back, bottle vertical is the way the pros do it, but best avoided until you've already got a few practice laps under your belt.
Expanding your stomach will help. Canada's Lianne Girard, currently ranked 6th female in the world with a time of 6:42, trains by (among other things) chugging two litres of water in under a minute and doing drink-and-run 400m interval sessions with non-alcoholic beers.
Of course, nothing else works if you're not a decent runner. UK hopeful Andy Norman keeps training sessions around a mile in length, but changes the intervals: 4 x 400m is a punishing session, but mix it up with the odd 2 x 800m or 1,200m all-out. Record holder Lewis Kent started his beer-mile career with a 75-second 400m average – he's now down to 66.
Beer Mile World Classic, Saracens Stadium, Edgware, Sunday 31 July, 2016
The event is an all-day festival with open entry beer mile races, team relays and fun runs. Events will start from about 9am but the partying will go on until late into the evening. Race/relay entry is £15-£30, depending on the event, beer included. Pre-registration recommended for those who wish to compete. Free admission for spectators. beermileworldclassic.com
Sign up for workout ideas, training advice, reviews of the latest gear and more.
From 2008 to 2018, Joel worked for Men's Fitness, which predated, and then shared a website with, Coach. Though he spent years running the hills of Bath, he's since ditched his trainers for a succession of Converse high-tops, since they're better suited to his love of pulling vans, lifting cars, and hefting logs in a succession of strongman competitions.