The Best UK Running Events To Sign Up For Right Now
Looking for your next finisher's medal? We've got a winning line-up for you to consider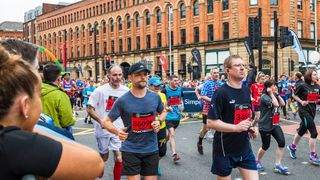 (Image credit: PR)
In This Series
We love running races here on Coach. They give your training a focus and the event itself is a great day out to boot. For those like us, the lack of running events was another reason to curse the last two years, so we are enjoying seeing the racing calendar return to some kind of normality in 2022.
If you've got itchy running-shoe-clad feet and want to sign up for something right now – this very instant – this round-up should help. We'll highlight the events that you'll need to start training for ASAP (choose from 10K training plans, half marathon training plans and marathon training plans for every level) – along with the popular ones which usually sell out months before race day.
And do keep checking this page because we'll update it with new races at the start of every month.
London Winter Run 2022
Date: 13th February 2022
The route of this popular central London 10K takes you past a host of landmarks and entertainment zones laid on by the organisers, with live music and people kitted out in fancy dress to suit the wintry theme. There's even the chance you'll get a high five from a penguin if you want it – and who doesn't want that? The race raises money for Cancer Research UK and starts in Trafalgar Square before finishing on Whitehall, heading to St Paul's and the City of London in between.
Sign up | £42
Local Landmarks 10K
Date: 20th February
The Local Landmarks 10K is a partner event to the London Landmarks Half Marathon, which is a tricky event to secure a place in because of its huge popularity. Everyone can enter the Local Landmarks 10K, however, since you plot your own 10K route near you to show off the landmarks in your neighbourhood. All profits from the event go to baby charity Tommy's, and although the 10K is planned for 20th February, you can also run on another date to earn your postbox-themed medal.
Sign up | £17.50
Kew The Run
Date: 9th-10th April
A new event with a 10K on the Saturday and a half marathon on the Sunday, Kew The Run takes place in Kew Gardens, which proved its credentials for runners by hosting the Olympic Marathon trials in 2021. The 10K is entirely contained within the gardens, while half marathon runners have an out-and-back section along the Thames in the middle of their course. The routes are flat and fast, though a little twisty, and both runners and their supporters (up to two adults, and two children under 16) get free access to Kew Gardens afterwards.
Sign up | £39.50 10K, £47.50 half marathon
Great Birmingham Run
Date: 1st May 2022
This event features a 10K and a half marathon that start and finish in central Birmingham. Both races take place on the same day and the 10K follows a similar route to the start and finish of the half marathon. That means you can expect the excitement and feel of a large-scale event and – hopefully – the crowds will come out in great numbers to cheer you on.
Sign up | 10K £31, half marathon £39
Hackney Half Marathon
Date: 22nd May
It's worth signing up as soon as you can to secure your spot in this extremely popular event, especially since you can get an early bird discount. Crowds and musicians line the streets of the borough as you pound past local landmarks like Hackney Downs and the Olympic Park, ensuring a brilliant atmosphere throughout the race. If you do miss out on a spot in the half marathon you can still get involved in the festival weekend by running a free 5K on the Saturday.
Sign up | £49 early bird
Asics London 10K
Date: 10th July
This landmark-laden 10K winds its way around the streets of central London, and while it doesn't take place until the summer, it's worth bagging your entry soon to take advantage of the early bird discount. The route is flat and reasonably fast, though there are a fair few twists and turns, and there are musicians at regular intervals to keep you entertained without the need for headphones.
Sign up | £40
Richmond Runfest
Date: 10th-11th September
Places at this London running festival seem to sell out quicker every year, so if you're keen to run in any of the races at Richmond Runfest it's worth booking a spot now. On Saturday there's a flat and scenic 10K set entirely inside Kew Gardens, along with a 5K and a kids' mile race, and then on Sunday there's a half marathon, a marathon, and a family fun mile. The marathon starts in Kew Gardens and follows the Thames to Hampton Court Palace before returning to finish in the Old Deer Park.
Sign up | £44.50 10K, £47.50 half marathon, £49 marathon
Great North Run 2022
Date: 11th September 2022
The Great North Run went virtual in 2020, owing to the COVID-19 pandemic. The live event returned in 2021, with an adjusted route, and in 2022 the route is set to return to normal. The ballot for the race is currently open and will close on 21st February, so if you want to be part of it you need to move fast. With a field of 57,000 runners and incredible support lining the route from central Newcastle to South Shields, the Great North Run boasts one of the best atmospheres of any event in the world, so it's certainly worth trying to bag a spot if you can.
Enter ballot | £59 (charged if successful)
London Marathon 2022
Date: 2nd October 2022
It's never too early to start thinking about grabbing a spot in the London Marathon, and since the ballot for the 2022 event has already been and gone it's worth looking into charity spots ASAP. Like the 2021 event, the 2022 London Marathon is being held in October rather than the event's usual April berth owing to the pandemic. While some runners will lament the break with tradition, it does mean you get to train for the marathon during the long, balmy days of summer rather than ploughing through your runs during the cold, dark, wet British winter. So that's a big plus in our book.
Loch Ness Marathon
Date: 2nd October
Falling on the same day as this year's London Marathon, the Loch Ness Marathon offers a compelling alternative. It's a very different but no less brilliant experience from London, with a stunningly beautiful point-to-point route that mostly runs alongside the world's most famous loch before finishing in Inverness. There are some hills along the way, but it's still a fairly fast course by virtue of the fact it's net downhill, with the first half in particular containing a lot of descents. Just keep some energy in the tank for the big climb out of Dores at around 29km and you'll be golden.
Sign up | £62 | Seven Things I Learned Running The Loch Ness Marathon
Sign up for workout ideas, training advice, reviews of the latest gear and more.