10K Training: Free Plans, Tips, Advice And More
Successfully take on a 10K with our guide, which includes free training plans, tips and running gear recommendations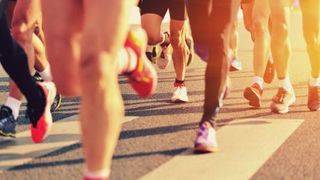 (Image credit: Unknown)
If you've started running and reached the first milestone of completing a 5K, then setting your sights on 10K is a great next step. While it's double the distance, if you already have the fitness to run 5K, it's not as hard as you might imagine to push on to 10K.
It's certainly a far more accessible distance than a half marathon or marathon, which require many months of training, plus a nutrition strategy for the day. And, of course, you also have to run a half marathon or a marathon, which is a long old way.
There are 10K running events available to enter practically every weekend. They're often cheap to enter or if you get a place through a charity, the fundraising target will be much smaller than for a marathon place. You also recover far more quickly from a 10K than a longer race, so you can do more of them without putting your body under undue strain.
In summary, 10Ks are great, and we want to help you run your best one with training plans for all levels and plenty of tips. We can help whether this is your very first 10K, in which case a PB is guaranteed and you're more focused on building the fitness required to complete the distance comfortably, or your tenth, so you're all about getting faster to set a new PB.
10K Training Plans
We have two 10K training plans for people who are just looking to complete the race, perhaps through a mixture of walking and running. This ten-week plan is aimed at people with little running experience who can run a mile (1.6km) continuously.
Our second plan is aimed at beginners who have given themselves more time to train ahead of the 10K. Having 16 weeks available means you should be able to go from couch to 10K, but it's best if you can already run 1.6km continuously.
For more experienced athletes looking to smash their 10K PB, we've enlisted running coach Ed Kerry (therundoctor.co.uk) for a plan that contains a mix of sessions to ensure you have the speed and endurance to fly through the race.
One of the great things about a 10K race is that if you are a regular runner – two to three times a week – you can jump into a race at a moment's notice. Even so, if you'd like to impress at the event try this six-week plan to set you up for race day.
See related
Jo Pavey's Training And Racing Advice For A 10K
Jo Pavey is UK athletics royalty, a five-time Olympian currently in training to qualify for her sixth Games, having astounded the sporting world when she won gold in the 10,000m at the 2014 European World Championships at the age of 40. So on a running trip to Pavey's home turf in Devon as part of the launch for Saucony's Triumph ISO 5 and Guide ISO 2, we weren't going to miss the opportunity to ask her for her advice on training for a 10K.
"If you're a beginner it's just about getting consistent running in and being able to run continuously," says Pavey. "As you get more advanced you have to think about the key things in your training week which are your long run, your tempo run and your interval session.
"Your long run is where you're running further than your race distance. Your tempo run is where you warm up, then run a bit slower than race pace but comfortably hard for 15 or 20 minutes. You're working on your sustained endurance at a fast pace and that's really really key to good running. When I made the Sydney Olympics I was running the 5K, but I was only doing one intervals session a week and one tempo as the quality work – the tempo was the really serious part of my training and gave me that sustained speed."
Pavey stresses the importance of the third pillar of 10K training – the interval session. "If you haven't run quicker than the speed you're trying to race at, that's going to make it tough. I have a session that I've done over the years of ten 800m efforts. I do five with only a minute's recovery, then a five-minute recovery, and then I would do another five off a minute.
"Interval sessions can also give you information about what you might be able to sustain in a tempo session. Do a set of five 1km reps with two or three minutes of rest in between. That can give you an idea of what you might sustain for a 5K and – if you make it a bit slower – a 10K."
That's the training nailed. So what tried-and-tested tips does Pavey recommend for the race itself?
"When you go into a 10K race you have to be quite clear about what time you're aiming for," she says. "It's natural to go off quick to begin with, but you have to be really quite strict with the kilometre splits you've set and settle down or your lactate will accumulate quicker than you can clear it. You won't be able to recover from that and you'll suffer through the rest of the race. Then, obviously, for the final push in the last 800m or so, give it all you've got for a sprint finish!"
Jo Pavey is a Saucony UK Ambassador.
How To Avoid Injury
You run the biggest risk of picking up an injury when dramatically increasing the amount of running you do, which is obviously more likely to be a concern when training for longer distances than a 10K race. However, it is still wise to increase your training load slowly. If you've got it logged somewhere, or can work it out from memory, look at your average weekly distance for the past month and aim to increase that by around 2-4km per week as a maximum. Following a training plan closely will help to keep the workload manageable.
You can also reduce the chances of developing common running injuries like plantar fasciitis, runner's knee and shin splints by strengthening your leg and core muscles, which will have the added benefit of improving your running too. Leg exercises like calf raises, squats and lunges will bolster your lower body, and always remember to stretch after your runs.
If you are struggling with injuries it's also worth having your gait analysed to see if you're wearing the wrong kind of running shoe for you. If you overpronate (roll your foot excessively inwards when landing), for example, a stability running shoe could do wonders for you. You can get gait analysis for free in many specialist running stores but if you are having persistent trouble with injuries, it's best to see a physio to check on your running form.
The Running Gear You Need For A 10K
Running shoes are naturally the most important bit of kit for your 10K and if you're looking for the very best available, prepare to spend big. Carbon plate racing shoes like the Nike Vaporfly or Asics Metaspeed Sky will generally set you back more than £200, so it's quite the investment, especially as these shoes are built primarily for racing and you'll need a training shoe as well.
You don't need to spend nearly so much money to get a great 10K shoe, though, and if you're new to running, your best bet is to get a comfortable cushioned shoe that will work for all your training and the race itself.
As mentioned, if you are new to running or have had injury issues it's worth getting your gait analysed to see if you overpronate or underpronate or are a neutral runner, because this will help determine which is the best shoe for you. However, if a shoe feels good, it's probably the one to stick with, so don't feel pressured to change to a completely new style of shoe that doesn't feel right on the basis of gait analysis alone.
Other than shoes, you don't have to worry too much about the rest of your running gear for a 10K, because the distance isn't long enough for chafing to be a massive issue. It's still worth having a T-shirt and shorts that are designed for running, if only to make you feel like a pro on race day, and if you're training through the winter then a jacket, base layer and tights will come in handy too. Just get the stuff you like and avoid wearing new clothes on race day in case they annoy you in unforeseen ways.
How Can Tech Help You?
If you just want to track your runs and review them afterwards, there are several excellent running apps you can download for free that will do the job. Pick up a running belt or phone armband to safely stow your phone in and you're all set. If you go down this route, also look into running route planners which will help you get more out of your sessions by taking you through new and/or running-friendly locations.
If you don't want to carry your phone with you or are keen on having your running stats available at a glance during your training, then look into trackers with GPS for accurate distance recording and pace stats.
If you're on a budget it's wise to look at watches from established lines that have been replaced by new generations, like the Garmin Forerunner 35 or Forerunner 45, which will provide you with all the key stats you need. The Forerunner 45 also has the Garmin Coach feature which will provide you with a 10K training plan (5K and half marathon distances are also available), customised to your current running ability.
If you're looking for more advanced running watches, the Garmin Forerunner 55 and Coros Pace 2 are strong options that both cost less than £200. The Forerunner 55 has a nifty feature called PacePro that can help you pace your race, while the Coros Pace 2 has a complete set of training analysis features, plus a long battery life.
You can also track your runs and see your stats without a running watch using a fitness tracker band like the Fitbit Charge 5 or Huawei Band 4 Pro, both of which even have built-in GPS for outdoor tracking. If you want a smartwatch that also does a great job of tracking running then the Apple Watch Series 7 is a fantastic option (top tip: get the WorkOutDoors app to track your runs), and Android users will be well served by the Huawei Watch GT 3 or GT Runner.
If you're looking for even more impressive running watches that pack in smart features as well as navigation and the most insightful training analysis, we have recommendations for mid-range and top-end trackers in our best running watch round-up.
Latest about 10K Training
Sign up for workout ideas, training advice, reviews of the latest gear and more.
Thank you for signing up to Coach. You will receive a verification email shortly.
There was a problem. Please refresh the page and try again.