What It's Like To Run The London Marathon For A Charity
Does all that fund-raising take the fun out of a marathon? We spoke to one man who's been there, done it and raised £2,000 in the process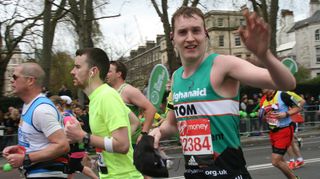 (Image credit: Unknown)
Getting a place on the starting line of the London Marathon is almost as difficult as running the distance. Six out of seven would-be racers are met with disappointment each October as they get the news that their entry in the ballot scheme has been unsuccessful.
It's easy to think that's the end of the dream for another year, but there is another, arguably more fulfilling, way to find yourself amongst the 30,000-plus racers – charity placements. That's how 22-year-old Tom Barron bagged a starting place with humanitarian aid charity Afghanaid. He raised an impressive £2,000 in sponsorship to boot. Here's how he did it, what it entailed and how a couple of home-cooked curries helped him reach that finishing line.
Why did you want to run the London Marathon?
I wanted to take a step out of my comfort zone. I was studying for my Masters at the time and felt like I'd challenged my work ethic and willpower academically, but I wanted to put those things to the test in an environment I wasn't used to.
Can you remember how you felt when you didn't get a ballot place?
I'd applied through the ballot just as I'd turned 18 and didn't get it. I knew the ballot was intensely competitive, but that didn't stop me feeling a bit annoyed for not getting in. I guess, this time around, my thought process was slightly different. I felt that given the huge undertaking training for and running a marathon would be, it'd be a missed opportunity if I didn't raise a bit of money in the process.
RECOMMENDED: 14-Week Marathon Training Plan
Why did you select Afghanaid?
My Masters degree is in International Development so I'm very aware of Afghanistan's unfortunate history. It's been battered by 30 years of war and is one of the poorest countries in the world. I went to one of Afghanaid's talks and learnt about the opportunities to run for them.
What did you have to do in order to get a place?
I had to fill out a form and answer a few questions about why I wanted to run for Afghanaid in particular, then I got invited to the office for a face-to-face chat. After that, it was all about hitting their £2,000 sponsorship minimum, which was quite a daunting prospect!
Did you have a sponsorship strategy?
Charities are, obviously, very well versed in raising money and Afghanaid gave me a lot of advice for how to reach £2,000. I also got some cool ideas for fundraising from my team-mates, for instance cooking Afghan curries for friends and getting them to all chip in £10 for the meal. I know a lot of other guys did pub quizzes which seemed to work brilliantly. They had a treadmill set up in their pub and would run on it while the quiz was happening.
How did you use social media and were there any grouchy reactions?
There's definitely a balance to strike. Instead of constant status updates – I'd do that maybe once a month – I set up a group and invited people I wanted to donate and kept that filled with posts about my progress. After most of my big training runs I'd upload something about how it went and emphasise how hard it was. It worked well, especially because a lot of my friends didn't have me down as the most athletic of people.
Did the pressure of the charity and sponsorship help keep you motivated during training?
It was a huge motivator, especially with Afghanaid – it didn't take much to remember that there were people going through a hell of a lot worse than I was. There was one day when I had to complete a 15-miler in the rain while carrying a tiny injury… I would've probably stayed in bed for if I hadn't had the charity behind me.
Did the charity element mollify friends that may have been upset about you prioritising training over socialising?
A bit, yeah. I always told my mates that for every pint they would have bought me, they could put the equivalent money into my fundraising page. There was definitely some pressure, but I got off lightly. People know how challenging a marathon is and you can't argue with someone doing it for a good cause.
Were there any unexpected bonuses that came with running for Afghanaid?
I had no idea how much help they could offer a fledgling marathon runner like me. Put simply, they do a heck of a lot to make it less daunting. The weekly training guide that their expert marathon runner made for me became my bible and the runs with him around sections of the London Marathon route were incredibly beneficial to my mental preparations.
RECOMMENDED: London Marathon Tips From People Who Have Actually Run It
We also had monthly meetings for all the Afghanaid runners where we'd catch up on how training and fundraising was going. It was reassuring knowing that I was on the right track. Running can be very lonely, so it brought a community feeling to my training that I wouldn't have had if I'd got my place through the ballot.
Do you think running for a charity affected your overall time?
I hit a real low point at the 22nd mile of the race. I was struggling a lot. But I remember looking up and seeing 30 or so green Afghanaid shirts in the crowd all cheering me on. That was such a well-timed pick-me-up.
Does the pressure of running for a charity take away any of the fun at all?
Definitely not. It wasn't pressure. It was more an added perspective – showing me how lucky I was to be there and how minimal my upcoming struggle with the marathon would be in comparison with the daily life of someone I was raising funds to help. And knowing that I'd see Afghanaid cheering me on around the course definitely upped the fun for me. Running that marathon was both the hardest and most enjoyable thing I've ever done.
To apply to run the London Marathon with Afghanaid, visit afghanaid.org.uk. For more information on charity entry to the London Marathon, visit virginmoneylondonmarathon.com.
Sign up for workout ideas, training advice, reviews of the latest gear and more.
Craft beer drinker, Devonian, fisherman and former content director of Coach online, Chris contributed style coverage and features between 2016 and 2019.