The Only Running Music You'll Ever Need with Trevor Nelson
The master of the radio airwaves gathers his friends from high places to bring us a megamix of 17 tunes to blast while working up a sweat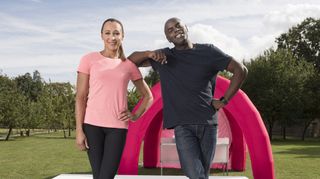 (Image credit: Unknown)
If you stumbled into Trevor Nelson's home gym on any given morning (look, we've got no idea why you're there either, but let's not dwell on it), chances are you'd find him pounding his rowing machine or cross-trainer with the volume on his stereo turned up to 11. And although you may expect him to be spinning R&B, you'd actually be met with something far more soothing.
"I'm a jazz guy," the 52-year-old tells us via video call. "That's what I use for my rowing and cross-training cardio. Can you even begin to imagine exercising without music? I find the hardest thing, with any sort of sport, is actually starting to do it. The first ten minutes of exercising for me is agony because I'm more than likely to have been out the night before. But when I press play on some music, that's my cue – I'm off. Soon my body takes over, muscle memory kicks in, I'm warm and I'm floating. And the buzz afterwards… I don't think enough people in the country have felt that buzz. I don't think they know what it's like. It's better than drinking, smoking, anything. It's a rush. But it all starts with that play button."
Who better, then, to ask for a killer megamix of tunes that'll motivate any runner to get out the door and running harder, faster and stronger than ever? So we did. Not only did he pick a selection of massive tunes himself but he went the extra mile, roping in world heptathlon champion and national hero Jessica Ennis-Hill (with whom he's currently working on new running and music event series VitalityMove) as well as BBC reporter and dedicated runner Vassos Alexander to tell us their go-to beats too. The result? The only running playlist you'll ever need.
RECOMMENDED: The Best Workout Music
Kanye West – "Stronger"
Trevor says: "This is definitely one from Jess. Lyrically, it's a really motivational one, and I know how important song lyrics like this are to her when she trains. It's an all-out banger. There's no two ways about it."
Lethal Bizzle – "Fester Skank"
"This one's here purely for the energy and tempo. It's quite a silly tune – sometimes it's good to not take yourself too seriously when you're training."
Justin Timberlake – "Can't Stop The Feeling"
"I'm not sure if that came from Vassos or Jess, but I suppose it's a massively feelgood tune. Those lyrics are real uplifting."
Drake – "Too Good"
"Ah, this is one of my picks. It's got a real Afrobeat feel to it, and Afrobeat is just so sexy, man. It's rhythmic. With this, your shoulders are relaxed, and you're running on good feelings. It's without doubt the most uptempo song on his album Views."
Jamiroquai – "Cosmic Girl"
"Never forget about Jamiroquai. I love the organic feel of acid jazz and this one is perfectly uptempo with such a great vibe about it."
The White Stripes – "Seven Nation Army"
"Phwoar, it just pounds over and over again. It's pounding the whole way through. I love it. You can run or work out to this one."
OutKast – "The Way You Move"
"Haha, I think the reasons for this one are pretty obvious. It's bumpin'!"
Whitney Houston – "It's Not Right But It's Okay"
"Yes, I know it's your auntie's favourite. But, but, you listen to this tune and you cannot sit still. I don't care who you are. If this is on, then you're moving."
Bodyrox – "Yeah Yeah"
"I think Jess picked this one again, and I've gotta agree – this is a tune I used to really like back in the day. The production is brilliant."
Skrillex and Diplo with Justin Bieber – "Where Are U Now"
"No matter what you think of him, whether you hate or love him, you cannot deny the power of Bieber right now. We all thought he'd be gone. We all hoped he'd be gone! But he's grown through puberty and he's still doing it! You can't deny it. It's a bit of a tune, this."
Missy Elliott – "Get Ur Freak On"
"Funnily enough, it's much slower, but somehow feels much faster, if you get what I mean. Your producer here is Timbaland. And Timbaland… man, his beats. The beats he comes up with are ridiculous. He's the closest it comes to drum and bass for an R&B producer."
Eminem – "Lose Yourself"
"Classic, right here. What a massive motivation tune. I think Jess threw this into the mix. Like I said, she really likes words and totally taps into what an artist is saying. This is what made me realise just how genuine she is and that she's not faking anything – she really does pick tunes in which the lyrics really mean something."
Sia – "Cheap Thrills"
"Definitely Vassos. Without a shadow of a doubt."
Taylor Swift – "Shake It Off"
"All I'm saying is, I can't remember if this was Vassos or Jess, but it definitely was not me. I can't deny it works, though. Big pop tune."
Pharrell Williams – "Happy"
"Another real obvious choice here. I didn't pick it, but I can see why it made it in. When I first heard it I thought it was amazing and it does what it says on the tin."
Kaiser Chiefs – "I Predict A Riot"
"Vassos runs to this all the time. It's his go-to, tried and tested."
Led Zeppelin – "Rock And Roll"
"I dare anyone to put this down their headphones and just not want to get up and run. You have to run to this."
Trevor Nelson is musical director for VitalityMove, two running events taking place at Chatsworth House in the Peak District and Windsor Great Park in 2017. Purchase tickets at vitalitymove.co.uk
Sign up for workout ideas, training advice, reviews of the latest gear and more.
Craft beer drinker, Devonian, fisherman and former content director of Coach online, Chris contributed style coverage and features between 2016 and 2019.