What Is A Good 5K Time?
We gathered data from parkrun, Strava and others to identify average 5K times by location, sex and age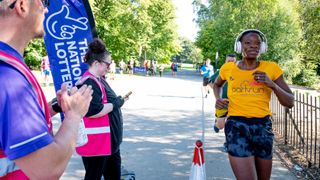 (Image credit: Shirlaine Forrest/Getty Images for The National Lottery)
"Remember: it's a run, not a race," can be heard every Saturday morning in parks across the world, and the parkrun mantra is one of the major reasons the weekly 5K is such a fantastic event. But when your recorded time hits your inbox a couple of hours later it's hard not to be excited if you have achieved a personal best (PB), placed well in your age category or moved up the overall rankings.
We feel a similar way about running in general. Every 5K you run is a good 5K, and breaking the 30-, 25- or 20-minute barrier is a great achievement, even if your time isn't anywhere close to the world record.
But it can be helpful to know how quickly people like you tend to run 5K, so we gathered information published by parkrun, Strava and Running Level to identify the average 5K training and race times arranged by age and sex.
Want to know how quickly you have to run to achieve certain times? Our collection of running pace charts lays it all out, and we've included the 5K pace chart at the bottom of this article.
And if you are looking to get closer to – or under – the average time for your age and sex, then follow this 10-week 5K training plan. It's structured in such a way that you can tailor it to your level so you're not thrown in at the deep end. We also have a couch to 5K plan for beginners to follow.
What is the average 5K time in the UK?
Analysing the results of parkrun is a good benchmark because every course is 5K (apart from the 2km junior version) and more than 2.7 million people in the UK have taken part. That's a lot of data since it began in 2004, and despite its mantra to the contrary many people do race the event, getting faster at each attempt – parkrun UK has now logged seven million PBs.
Despite this, we are becoming slower at parkrun as a nation – which, hear us out, is a good thing. For 16 consecutive years, parkrun has seen the slowing of average finish times, as a result of encouraging participation by people who wouldn't consider themselves runners, or who walk the course. In 2005, the average finish time for completing a parkrun was 22min 17sec. In 2020, it was 32min 30sec.
Running Level holds data from over 50 competitive UK races between 2016 and 2020. It calculates a good 5K time as 23min 58sec across all ages and genders.
What is the average 5K time by sex?
In 2022, the average time recorded on Strava for a British woman to run a 5K was 31min 50sec. Meanwhile the average British man took 27min 16sec to complete the distance. Bear in mind these figures are a mixture of training runs, parkruns and races.
Running Level calculates (opens in new tab) that a good 5K for a woman is 26min 7sec. This is the average across all ages. And for a man a good time is 22min 31sec.
What is a good elite 5K time?
The fastest female parkrun time is 15min 25sec, set by Olympian Isobel Batt-Doyle on 31 December 2022 at Aldinga Beach near Adelaide, Australia. Meanwhile the male record of 13min 48sec has stood since 11 August 2012 and was logged by Team GB runner and Olympic finalist Andrew Baddeley at the location of the first parkrun, Bushy Park.
On the outdoor track, the men's 5,000m world record is held by Uganda's 5,000m Olympic champion Joshua Cheptegei in 12min 35.36sec. The women's record is held by 10,000m world champion Letesenbet Gidey of Ethiopia in 14min 6.62sec.
5K Pace Chart
Swipe to scroll horizontally
| | | |
| --- | --- | --- |
| Finish time | Min per-km pace | Min per-mile pace |
| 35min | 7:00 | 11:16 |
| 30min | 6:00 | 9:39 |
| 25min | 5:00 | 8:03 |
| 20min | 4:00 | 6:26 |
| 18min | 3:36 | 5:48 |
| 15min | 3:00 | 4:50 |
Sign up for workout ideas, training advice, reviews of the latest gear and more.
Lily Canter has worked as a journalist for more than 20 years and currently specializes in running and fitness. She regularly contributes to Coach as well as Runner's World, Well+Good, Fit&Well and Live Science. Lily is a UK Athletics running coach, the founder of the Great Bowden Runners club and a participant in multi-day ultra races. Her biggest racing achievement to date is placing second at the Ultra Challenge 100km in the Lake District. She has a BA in English Literature, an MA in Print Journalism and a PhD in Journalism Studies. She is also co-host of the award-winning podcast Freelancing For Journalists and teaches feature writing, podcasting and freelancing to university students.