Quinton 'Rampage' Jackson UFC 114 pre-fight quotes
Hollywood hasn't diminished his ability to stir things up.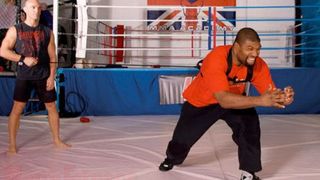 (Image credit: Unknown)
ON RASHAD EVANS
He's not great. I've fought great and I've beaten great, and he is not great. He can't take me down – his cardio is crap. He says I wasn't in shape when I saw him in Sydney [in February], and no I wasn't. But I am now and I will be in the fight. He was huffing and puffing in his last fight in the third round. He hits like a kid, like all silly, swinging his arms. And we've all seen that glass jaw. What's he gonna do? He's got nothing for me. This KO will be for my fans that have supported me through everything. I have been underestimated all through my career. People say I have gone Hollywood… I fight because I am good at it and I knew I could get so good at it I could buy my mother a car that doesn't break down and take care of my family. I didn't do it so I could get free drinks from strangers in bars. I was picked on a little at school and I had to learn how to talk [smack] and fight. I do this because I am good at this. This isn't the only thing in my life, and nothing is important to me as my family, but this sport is what I am good at and I got plans to knock a lot of people out yet.

ON RASHAD TRAINING WITH KEITH JARDINE (WHO RAMPAGE BEAT BY DECISION AT UFC 96)
What's Jardine gonna tell him? 'Hey – don't get beat up for three whole rounds?' Even Rashad can figure out that. I train with Michael Bisping, he's my friend. Bisping went to a split decision with Rashad and I thought he should have got the decision. If anyone is getting good inside information, I am. I was ring-rusty against Jardine, and I may be again in this fight in Las Vegas. That gives Rashad a teeny-tiny chance. Not a good chance, just a teeny-weeny chance. Like 0.05 per cent. If I had fought more recently he'd have no chance – he wouldn't need to show up. He'd faint in the hotel room and we could send the referee with room service to wake his ass up and call that a KO. But don't go crazy and bet money on Rashad. Don't do that to yourself.

ON TRAINING IN ENGLAND
I miss my family, but I love coming to England. I don't like the cold or the wet so much but the team here are my people. They know I don't like training but they know they have to push me and make me do it. Everyone in this gym [Wolfslair in Widnes] works damn hard. And they make me work damn hard, which is why you're gonna see the fittest Rampage ever this month. Last time they had me swimming. How many black people you see swimming at the Olympics? This time they had me running five miles at a time in the rain. I've never done that. But I did it because I could never, ever accept Rashad beating me. That can't happen. I am lucky I got guys around me who help me train, who got my back and push me. Bisping loves training. He has fights with the coaches at the Wolfslair because he wants to train more and they won't let him. Mike is a little crazy like that.

ON THE NEW LIGHT HEAVYWEIGHT CHAMPION SHOGUN RUA
I am happy Shogun won. Now after I get a nice warm-up fight against Rashad, I get my belt back and pay Shogun back for the nap he gave me. Then I hope Forrest Griffin gets back healthy and gets winning, and I will set that one right. That would be a good three fights. I will beat Rashad's ass – or arse as they say in England – then get my belt back with some payback, and then I want to retire Forrest. Shogun is a good fighter, he's got the belt, but it is still my belt. I never should have lost that and I should have got the title rematch instead of Rashad getting it. But once I beat Rashad, it is on.

ON GETTING RESPECT AS AN MMA LEGEND
I don't think I get credit for doing what I've done in my career. Who knocked out Chuck Liddell like I did before I did it? Who got Wanderlei Silva with one shot like that? Most people don't even seem to know I'm the very first undisputed champion. I am the first guy to win the UFC belt and then the PRIDE belt, but I don't get the credit for that. Anderson Silva gets credit for that but look at the record – I did it first.

Check out this exclusive Quinton 'Rampage' Jackson workout we shot at the Wolfslair, and what happened when Rampage powerbombed MF's Nick Hutchings.
Sign up for workout ideas, training advice, reviews of the latest gear and more.
Coach is a health and fitness title. This byline is used for posting sponsored content, book extracts and the like. It is also used as a placeholder for articles published a long time ago when the original author is unclear. You can find out more about this publication and find the contact details of the editorial team on the About Us page.