TUF 12: GSP vs Koscheck
To celebrate the start of The Ultimate Fighter 12, we're recapping on the stellar careers of rival team coaches – GSP and Josh Koscheck.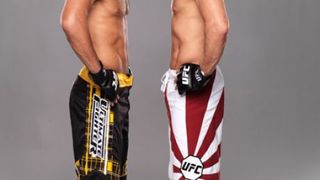 (Image credit: unknown)
With UFC welterweight champion Georges St-Pierre and mouthy top contender Josh Koscheck coaching opposing teams on the 12th series of the UFC's reality fight show The Ultimate Fighter [then squaring off for the title], we're taking a look back at some of the most memorable UFC bouts of their careers:

Georges St-Pierre's top 5 fights
GSP vs Matt Hughes at UFC 65
GSP wins by TKO (headkick and elbows) in Round 2
What happened:
Rising welterweight star St-Pierre defeated the long-time champion Matt Hughes to capture the welterweight (170lbs) title. After dropping Hughes with a superman punch towards the end of the first round, the challenger went one better in the second, knocking him down with a left headkick before finishing him off with a frenzy of unanswered punches and elbows.
GSP vs Matt Serra at UFC 69
Serra wins by TKO in Round 1
What happened:
One of the greatest upsets in UFC history – St-Pierre was the heavy favourite going into his first title defence against The Ultimate Fighter 4 winner Matt Serra, with nobody giving the challenger more than a puncher's chance. But that was all Serra needed, as he proceeded to drop St-Pierre with a big shot in the first round and capture the title.
GSP vs Josh Koscheck at UFC 74
GSP wins by unanimous decision
What happened:
To the surprise of many, St-Pierre – who had no formal wrestling background – was able to outwrestle Koscheck, a former NCAA collegiate champion, for the duration of the fight, stuffing takedowns and scoring his own at will. The result reaffirmed St-Pierre's divisional credentials and showcased the lay and prey style he'd been developing.
GSP vs Matt Serra at UFC 83
GSP wins by TKO (knees to the body) in Round 2
What happened:
St-Pierre was ready for redemption in the form of a rematch with welterweight champion Matt Serra. Fighting in front of a hometown Canadian crowd for the first time in his career, St-Pierre dominated Serra, taking him down early in the fight and battering Serra's body him with a barrage of fight-stopping knees.
GSP vs BJ Penn at UFC 94
GSP wins by TKO (corner stoppage) in Round 4
What happened:
In an unprecedented clash of divisional champions, St-Pierre squared off with the then-lightweight (and former welterweight) champion BJ Penn for a second time, having beaten him via a close split decision earlier in his career. There was no mistaking the outcome this time, however, as St-Pierre used his wrestling skills to take Penn down repeatedly and dominate him from top position for four rounds before the Hawaiian quit.
Josh Koscheck's top 5 fights
Josh Koscheck vs Diego Sanchez at UFC 69
Koscheck wins by unanimous decision
What happened:
Having lost to Diego Sanchez in the semi finals of The Ultimate Fighter 1, Koscheck was hungry for revenge. The tension boiled over at the pre-fight weigh-ins, where Sanchez lost his temper and shoved Kos during the staredown. But on the night Koscheck was the more aggressive - he outstruck Sanchez for the full 15 minutes to secure a unanimous-decision victory.
Josh Koscheck vs Thiago Alves at UFC 90
Alves wins by unanimous decision
What happened:
Stepping in on only two weeks notice for the injured Diego Sanchez, Koscheck took a beating at the hands (and legs) of fearsome Muay Thai striker Thiago Alves. The Brazilian dropped Koscheck several times during the fight and battered him with punishing leg kicks before securing a unanimous-decision victory.
Josh Koscheck vs Yoshiyuki Yoshida at UFC Fight For The Troops
Koscheck wins by KO in Round 1
What happened:
Koscheck bounced back from the Alves loss in emphatic fashion with a resounding first-round KO of Japanese superstar Yoshiyuki Yoshida, exploiting his opponent's wide stance to catch him flush with two straight punches in the opening minutes, leaving him sprawled out unconscious on the mat. The highlight-reel finish earned Koscheck Knockout Of The Night honours.
Josh Koscheck vs Anthony Johnson at UFC 106
Koscheck wins by submission (rear naked choke) in Round 2
What happened:
Despite having a clear advantage on the ground against the much larger Anthony Johnson, Koscheck chose to stand and trade with him. There was controversy, however, when he recoiled in pain after Johnson appeared to land an illegal knee, but subsequent replays seemed to suggest that there had been minimal (if any) contact. In the end it mattered little, as Koscheck took Johnson down in the second round and submitted him with a rear naked choke.
Josh Koscheck vs Paul Daley at UFC 113
Koscheck wins by unanimous decision
What happened:
After months of trash-talking, fans were eager to see if Koscheck would indeed stand and bang with Daley, a knockout artist with notoriously shaky takedown defence. But with The Ultimate Fighter 12 coaching slot and a long-awaited title shot on the line, Koscheck played it safe and went back to wrestling, controlling and dominating Daley from top position for the entire fight. Frustrated with his performance (and Koscheck's verbal taunting during the final round), Daley sucker-punched him after bell, getting himself thrown out of the UFC in the process.
The 12th series of The Ultimate Fighter – Team GSP vs Team Koscheck - is being shown in HD on Sky Sports 2 from 21st September 2010. Look out for 'Iron' Mike Tyson who's appearing in the third episode. Is he going to be the next boxer to test himself in the Octagon? Tune in to find out. If you want a bit more Tyson, look out for the documentary on him Tyson: Unleashed, which is out on 8th November.
Sign up for workout ideas, training advice, reviews of the latest gear and more.
Coach is a health and fitness title. This byline is used for posting sponsored content, book extracts and the like. It is also used as a placeholder for articles published a long time ago when the original author is unclear. You can find out more about this publication and find the contact details of the editorial team on the About Us page.