Michael Bisping on Akiyama, bad drugs and beastings
We speak to Britain's UFC middleweight contender Michael 'The Count' Bisping as he prepares for UFC 120.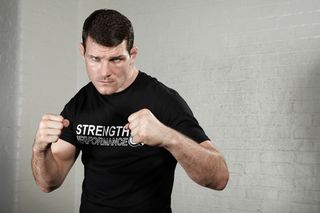 (Image credit: Unknown)
You're fighting Yoshihiro Akiyama at UFC 120 in London in four weeks. How are you feeling?
Good. Tired because the training at Strength & Performance in Stockport (opens in new tab), where I've been doing my conditioning, is pretty intense, but I'm good. My weight is on target and I'm feeling very confident.

Are you fitter than you've been for other fights?
In terms of cardio I'm always pretty good but people seem to think it comes easily to me and it's not the case. I work hard and put a brave face on it when I'm struggling. My fighting technique gets better during every camp but this time what's improved is my speed, power and raw strength.

What have you done here that you haven't done before?
Sitting on a stool then jumping onto tyres, hurdles, Zercher squats, pushing the Prowler around [a sled-like weight contraption]. I come down here and get beasted for an hour and a half. If you're in the UFC, you're an elite-level athlete so you have to put yourself through the conditioning wringer.

Who coaches your stand-up and ground game?
Where boxing's concerned, I work with Mark Kinney, the British Olympic boxing coach. He' really improved my footwork and punching power. I could go out and win pro boxing matches now, easily. I spar pro boxers all the time and I give them a hiding. The head trainer at the Wolfslair [the Widnes gym where Bisping works on his technique], Mario Sukata, is my wrestling coach. After five or six years of working with him there's still so much I have to learn from that guy.
How has being knocked out by Dan Henderson at UFC 100 affected your career?
It was the best thing that ever happened to me. Before that I thought I was invincible. I remember saying, 'I could fight anyone and not get hit with a big shot' but obviously I got knocked out by a big shot so I had to go back to square one. I had to look at the areas where I was weak and work on them. When I fought Henderson, I went into the ring looking like a heroin addict, I was so skinny it was ridiculous. I'm a different fighter to the Michael Bisping of one year ago. I train, eat and rest smarter now, which has made me athletic and more powerful.

And you've also got the experience…
Exactly, experience is invaluable – you can't teach that – and now I've fought some of the biggest names in the sport. I've had mixed results, but I've learned from those experiences. I believe these next 12 months are going to be my time.

The training camp for UFC 120 is the shortest you've ever had, right?
Yeah, it's only been eight weeks long, I used to train for 13, 14 weeks, and five weeks out from the fight I'd think, 'I feel amazing, I could fight this weekend' – but the fact was I wasn't fighting that weekend, and five weeks later I'd have gone off the boil a bit. If you're already in reasonable shape seven and a half weeks is plenty to get you peaking for your fight.

You're the guy who put the UK on the MMA map. Do you think that's a great achievement?
I'm very proud of it. I see it written on the internet sometimes, 'Oh he's jealous 'cos other people are coming through' but that's not the case at all. I'm pleased with the way my career is going – I'm headlining events – and I'm very happy that there are now a lot of talented UK fighters out there doing well in the UFC.
And what does it mean to you to be in the main event?
It's fantastic but I realise it can all end just like that, which is what keeps me working hard.

Do US fans treat you differently to UK ones?
I've become the guy they love to hate in America, which is great because I'd rather get a reaction from people than them not care. I play up to that role – giving them things to boo. The last time I was on the scales there they were all booing so I stuck two middle fingers up at them. Probably not the classiest thing to do but it keeps people interested.

Earlier this month, your fellow middleweight Chael Sonnen reportedly tested positive for performance-enhancing drugs and faces a ban. What's your view?
Bottom line is that he's getting them off someone and the people around him will know what he's doing so that means his team are helping him make bad decisions. He had a great fight against Anderson Silva at UFC 118 but what people are going to remember from that fight is that he failed his drugs test.

Are you annoyed because he's tarnished the sport?
It's a shame, but it's nothing new to sports in general. I think it tarnishes his reputation, and the great performance he put on that night.
Now that the chances of getting caught are pretty high, isn't it crazy that elite fighters would take such risks?
Yeah, but they want to get that edge don't they? Performance-enhancers help you train harder and recover better. Plus there's a lot of money on the line.

There's internet chatter about a beef between you and Dan Hardy. Is there anything to it?
When I first got into MMA me and Dan used to train together in Nottingham, so I've known him for ages. Dan's all right, we have a good laugh when we see each other. It's not like we're best friends but there's no beef between us. Also, we fight in different weight classes so there's no competition. If he wanted to come up to my weight class it would be different but until that happens, if it ever happens, I wish him all the best. He's an exciting fighter and I think he's going to put on a good performance on 16th October.

The last person to beat Akiyama was Chris Leben. You beat him at UFC 105. What does that do for your confidence going into the fight?
It's easy to get suckered into thinking that because Leben beat him and I beat Leben, I should be able to steamroll Akiyama, but it doesn't work like that. Fighters match up differently and anything can happen on the night. Stylistically they're both quite similar, and I beat Leben by just having a crisper, sharper striking style and being more technical. I want to finish Akiyama and I think I will because during this camp I've been knocking down lots of big guys – heavyweights. That never used to happen so it's a sign that my boxing has come on a lot. Yeah, I want to knock out Akiyama. That's what everyone wants to see and that's what I'm aiming to do.

Here's some of the conditioning Bisping does before a UFC bout. (opens in new tab)
Sign up for workout ideas, training advice, reviews of the latest gear and more.
Jon Lipsey worked for Men's Fitness UK, which predated, and then shared a website with, Coach. Jon was deputy editor and editor from 2007 to 2013. He returned as editor-in-chief from 2016 to 2019. He also co-founded IronLife Media (opens in new tab) and the New Body Plan (opens in new tab).