Ryan Bader - ready for spinning back elbows
Ahead of his UFC 126 bout with Jon Jones, Ryan Bader tells MF why his opponent's flashy moves won't work.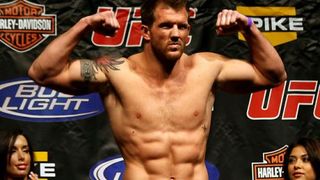 (Image credit: unknown)
How's your training going?
Really well actually. For my last couple of fights I was jumping around from gym to gym and I wasn't able to reach my full potential. But now we've moved into our new gym, Power MMA & Fitness in Arizona, I've had all my coaches and training partners under one roof for a whole training camp and it's been one of the best I've ever had. I'm going to need it too because I'm fighting a tough guy.
Is there anything you've been doing differently in this camp?
We've been bringing in taller, lankier guys who are a bit more flashy, throwing spinning back elbows, spinning back kicks and all that kind of stuff to try and emulate Jon Jones a bit. Other than that, I'm really working on my conditioning because that's maybe been lacking a bit so far in my career. The one thing that's going to be much improved for this fight is my cardio.
What was the main cause of your cardio issues in the past?
I think it's just a case of being more experienced now, learning and being smarter about where I use my energy. In the past I'd spar boxing and kickboxing separately in a training camp, but now I spar MMA three times a week and it's really helped me. You've got to feel that stress, pressure and body to body contact of MMA sparring, as it's a different animal when you put it all together.
How have you adapted your wrestling style for MMA?
Just because you've got a good wrestling pedigree, that doesn't mean it will cross over too well into MMA, but I feel like my wrestling is a tough style. My shot's a little different to the knee-down double-leg takedown you see a lot of guys doing. I tend to shoot higher without hitting the knee, more like a tackle, so there isn't a risk of getting guillotined or stuck underneath if they sprawl. If I don't get it right away I just give it up and punch out of it.
How do you think your approach measures up to Jones's wrestling?
Jon Jones has very good MMA wrestling. He uses his leverage really well to throw people and he uses his long arms and legs to keep people at distance. I've wrestled my whole life so I know those positions, but it's totally different in MMA where people use kicks and punches to set up shots and vice versa, anybody can take down anybody else.
Early in your career you went down to Mexico with CB Dollaway and Cain Velasquez to fight vale tudo style [literally, anything goes]. What was that like?
I think it was the second or third fight of our careers. We took a bus down to the border, got through customs, walked about half a mile then caught another bus that took us to a bullfighting ring. They had a three-sided ring and the floor was as hard as concrete, I was glad I was a wrestler at that point! CB fought first and choked a guy out. I ended up fighting a decent guy and I had his arm trapped, so I picked him up and slammed him on his shoulder on the hard surface, knocking him out. The guy who was supposed to fight Cain backed out when he saw him hitting pads. At that point Cain wasn't able to get fights at all, and he ended up doing a private practice in front of Dana White before signing for the UFC.
How has winning The Ultimate Fighter (TUF) helped your career?
Being in the public eye helped my career from a fan standpoint, but the most important thing was to get a lot of fights in a small amount of time and get that Octagon experience before moving on to the big stage, which I really needed. Also, I learned a lot working with coaches like Antonio Rodrigo Nogueira and Anderson Silva.
You fought Nogueira's brother Antonio Rogerio after the show. Did that affect your relationship with Antonio Rodrigo?
At the end of the day, it's just business and we're all professionals. I'd only met his brother once or twice before we fought, so it wasn't really that weird for me. I actually had to fight a good friend of mine to get on TUF and we're a lot closer now.
You're one of the few TUF winners in recent years to force his way into title contention in the UFC. Do you think the standard of contestants has dropped?
I think that the competition as a whole has got tougher rather than TUF contestants getting worse. The UFC's stacked, everyone's well rounded and I think it's going to continue to get tougher and tougher as the sport progresses.
Would you ever prioritise finishing a fight over winning a decision?
It's hard for fighters – we've got to win and we've got to be entertaining. I try to do both, but my number one priority is to go in there and win, it's been ingrained in me since I was a little kid. I'm always looking for the finish, but when you're fighting top-calibre guys it's hard. Your career is on the line and the UFC is always looking for new talent so the number one thing is to win and keep your job.
Jones has dismissed your fighting style as double-leg diving with sub-par boxing. What say you to that?
I'm not a big smack-talker, but I don't have any animosity towards guys who need to do that to get themselves up for a fight. At the end of the day, you can talk all day long up to the fight, but when you're in the Octagon you've got to fight and back it up.
What did you make of Thiago Silva drumming on Brandon Vera's back at UFC 125?
Brandon was just kind of laying there and Thiago was maybe looking to open him up, piss him off a little bit and make him make a mistake. I don't really get too emotionally involved in that kind of stuff unless it's overtly disrespectful, but I don't think it really was, so I don't really care.
Do you think a victory over Jones puts you in line for a title shot?
I think I'm getting there. If I can go out and beat Jon Jones and make a statement I'm definitely in the mix, but it depends on how the rest of the division plays out.
If you could fight anyone, past or present in any weight division, who would it be?
Fedor Emelianenko, so I can say I fought one of the legends of the sport.
For more UFC interviews and workouts, subscribe to the magazine. We'll give you five issues for £5.
UFC 126 is showing on ESPN on 5th February. Go to espn.co.uk for more information.
Sign up for workout ideas, training advice, reviews of the latest gear and more.
Sam Razvi wrote for Men's Fitness UK (which predated and then shared a website with Coach) between 2011 and 2016.