UFC star Dan Hardy on fighting for his place in the UFC
MF talks to British welterweight Dan Hardy about his upcoming clash with Chris Lytle.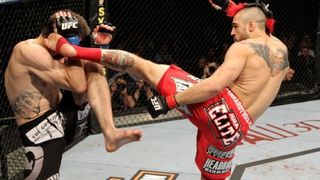 (Image credit: Unknown)
You recently tweeted that your current training camp has been your most productive ever. What have you been doing differently?
Earlier in my career I was travelling around and training in lots of different combat styles and I had a real hunger for knowledge and new techniques to add to my game. But then I reached a point where I felt like I had most of the tools I needed and it was just a case of becoming more athletic to make them work at the highest level. So I started focusing much more on my size and strength, on being an athlete rather than a martial artist. Looking back I think I made the wrong call. Now I'm much more focused on the technical side of the sport again, on being a better fighter and immersing myself in the martial arts. I've even gone back to all my old Bruce Lee books and kung fu movies to help keep me in that mindset.

How will this change affect your fighting style?
In my last few fights I've been a lot bigger and stronger and I've been very heavy on my feet. I've been marching forward trying to throw big punches and knock people out and it just doesn't suit me. My natural gifts are my speed and my reaction time and I need to get back to using techniques that are more suitable to those athletic abilities.

What techniques in particular are you referring to?
I spent many, many years doing tae kwon do and that used to be a big part of my game, back when I was knocking people out with head kicks and doing all kinds of crazy stuff in my Cage Warriors days. I've been inspired recently by guys like Jon Jones, Lyoto Machida and Jose Aldo using really unorthodox techniques in the cage. I know I can use a lot of those techniques - I've just chosen not to. I'm hoping I can use some of those moves to become a bit more dynamic. I'm aiming now to throw fast combinations and land five, six or seven shots at a time rather than just looking for that one big shot.

You're fighting Chris Lytle at UFC Live 5 on 14th August. What kind of threat does he pose you?
He's a good boxer with great Brazilian jiu jitsu and some slick submissions, so I've got to be on my guard wherever the fight goes. I think he's going to come out and swing for the fences and try to take me out before the final bell and obviously I'm going to do the same thing, so it's going to be an exciting fight. I'm ready for whatever he brings and it's going to a barn-burner, I'm sure of it.


You're coming off three straight losses for the first time in your career. Does that play on your mind coming in to this fight?
I've had two back-to-back losses before and that was a very strange feeling, but three in a row is new territory for me. Obviously the pressures of losing a fourth fight in a row and the possibility of getting cut from the UFC are in the back of my mind. But at the same time I'm not in this just to win a decision and get my win bonus. If I wanted to make money I wouldn't be in mixed martial arts. I'm here to fight and I'm here to test myself and I think Chris Lytle is a good guy to do that against. I want to learn from this fight, whether I win or lose. Obviously it's difficult having my back against the wall, but sometimes when you corner an animal that's when it's at its most dangerous and that's how I'm feeling now.

Carlos Condit, who defeated you via KO at UFC 120, scored another impressive KO over Dong-hyun Kim recently at UFC 132. What did you make of the fight?
It was a good win for Condit over a top-flight opponent so I can't take anything away from him, but he's definitely someone I want to fight again. Personally, I don't like the guy and I don't think he's as good as he thinks he is. I know he thinks the same about me and unfortunately he's got a win over me, so I owe him one. It was a slip in my attitude towards the martial arts that cost me in that fight. You've always got to respect your opponent and you've always got to be on your guard. Going into the fight I had no respect for him, his power or his striking. I was coming off a five-round fight with GSP [at UFC 111] where I didn't really feel threatened – apart from a couple of submission attempts – and I didn't think that I had that much work to do before I'd be able to challenge for the belt again. I caught Condit with a good shot in the first minute or so and I could see that I'd hurt him, so I got into a kind of arrogant pub-brawler mindframe and started marching forward throwing left hooks. But he caught me clean when my right hand was down and it cost me. It was a harsh lesson to learn, especially in front of 16,000 British fans.

Nick Diaz will be the next fighter to challenge GSP at UFC 137. How do you see that fight playing out?
It's a really interesting fight. Nick Diaz is technically very skilled on the ground and very aggressive with his boxing. He's not bothered about getting taken down or taking shots and he's not concerned by anybody else's jiu jitsu. I actually don't think GSP has that kind of confidence in his own skills - he likes to have a solid game plan that he can rely on and that's where he builds his confidence from. But GSP is a better athlete for MMA, he's stronger, more explosive and has better wrestling. I think Diaz's aggressive style is going to push GSP and make him dig deep and possibly make some mistakes. It'll be interesting to see how GSP deals with that kind of pressure, because normally he sets a very comfortable pace and just maintains it throughout, outworking his opponents slowly in their weakest areas. Ultimately I think athletic ability is going to prevail and GSP will grind out another decision like he usually does, but for the first few round I think it's going to be really interesting to see what kind of pressure Diaz can put him under.

There's been a lot of publicity recently surrounding UFC fighters failing drugs tests because they're undertaking testosterone replacement therapy. Where do you stand on the issue?
It's such a grey area in the sport. Everyone knows that using steroids is illegal and it just seems like there's some people who have found a loophole in the rules and they've managed to get these performance-enhancing drugs prescribed to them by supposedly legitimate doctors. Obviously we know that Nate Marquardt's tested positive [for steroids] in the past and because of that it makes it very difficult to see his testosterone prescription as legitimate. [One possible reason for requiring testosterone replacement therapy is steroid use, because it can lower testosterone levels – Ed.] At the end of the day, if people need that kind of crutch to get in the cage and fight then so be it. I've always had naturally high testosterone levels and been a very aggressive person, but maybe some people aren't like that and they need an extra kick in the gym. It's just difficult because in a competitive sport, fans want to see fair fights, so it needs to be an even playing field.


In your experience, how common is the use of performance-enhancing drugs in MMA gyms?
Anyone who's using them will keep it fairly close to their chest - it's not something they're going to be proud of. Most natural athletes who train without steroids would look down on them and they'd be quite ashamed if people found out. I actually heard a story this morning about a local 28-year-old guy who died because he was using a massive amount of synthetic testosterone. This sport is dangerous enough as it is without putting all kinds of toxins in your body before you even get in the cage. Some people want to do the least work possible in the gym but get the most out of it, to get the benefits without putting in the hard work. For me, I want to earn my victory in the gym.
Check out our interview with Hardy's Rough House stablemate Strikeforce welterweight Paul Daley who's fighting Tyrone Woodley 30th July (opens in new tab). (opens in new tab)
Sign up for workout ideas, training advice, reviews of the latest gear and more.
Coach is a health and fitness title. This byline is used for posting sponsored content, book extracts and the like. It is also used as a placeholder for articles published a long time ago when the original author is unclear. You can find out more about this publication and find the contact details of the editorial team on the About Us page.