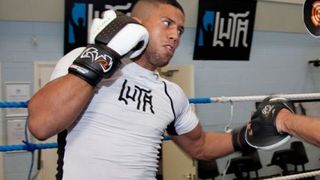 (Image credit: Unknown)
How did you first get into MMA?
When I left school I started getting into trouble and hanging out with a bad crowd. I had a few street fights and I got arrested and I realised that I needed something to occupy my time. If I hadn't started training in MMA, I would've ended up being a very different person from who I am today, so in a way you can say that MMA has changed my life. Getting from where I was to fighting in the UFC is pretty crazy and it still feels very bizarre to me.

You recently made your UFC debut, losing against top ten-ranked featherweight Dustin Poirier at UFC 131 in June. How did you get that fight? And were you ready for it?
I was coming straight off a victory over Jorge Britto in Toronto in April [at the Knockout Canada event MMA 1: The Reckoning] when the UFC offered me a contract to fight Poirier on just six weeks' notice. I'd already been training nonstop for the previous few months and I felt like my energy levels were low towards the end of the training camp. There were days where I was getting taken down and beaten up by guys who shouldn't be able to do that to me. At the end I cried my eyes out and thought, 'I'm just not ready for this', but then my friend and training partner [UFC bantamweight] Brad Pickett sat me down and explained that it's natural to reach that point. By your last sparring session you're tired and hungry and emotionally you just break down. It's important to have people like that around you to make you feel comfortable and take your mind off things when you've got a fight coming up.

Wasn't it also your first fight at featherweight?
The UFC offered me the contract at featherweight because I told them I could make the 65kg limit, but I'd never actually tried to do so before. Apart from one catch-weight [non-official weight limit] fight at 68kg, all my previous fights had been at the lightweight limit of 70kg. When they phoned with the contract offer I knew I had to completely clean up my diet straight away to get down to 65kg.

What did that involve?
During a typical day in camp I would eat porridge with pineapple for breakfast instead of McDonalds and chicken with a handful of rice and salad for lunch instead of KFC. For dinner I'd have a lean bit of rump steak with chopped peppers, tomatoes and onions, all lightly fried. As soon as I cleaned up my diet the weight started coming off really naturally and I ended up making weight much easier than my opponent did.
You're scheduled to fight Michihiro Omigawa next at UFC 138 in November. How's your preparation going?
I've actually been working full-time as a plasterer since my last fight to save money for my training camp. I'm going to be flying out to Canada to train with [UFC fighters] Sam Stout and Mark Hominick at the Adrenaline Gym in London, Ontario. I like their style – they're standup guys like me, but they can also wrestle, so I'm going there to work on my ground game.

Is it hard working full-time and training as a professional fighter?
Right now, I'm trying to balance full-time work with training and a home life where I've got a mortgage to pay and girlfriend with a two-month-old baby to look after. It's definitely the hardest I've ever found it, but I don't want to get cut from the UFC because I didn't try hard enough. With the money I'm getting now I don't think I could be trying any harder – I don't think it's physically possible. But if you really want something you'll work hard to get it. I wasn't given much when I was younger, and everything I've got now has been off my own back. I've just got that type of mentality.

What threats does Omigawa pose you in the fight?
He's a good boxer and a black belt in judo, but I think I'm a better fighter than him. I've got a weight, height and reach advantage over him and I think I'm stronger than him. And that's not me being big-headed – I stood next to him at the weigh-ins for UFC 131 [where Omigawa lost on a controversial decision to Darren Elkins] and I actually thought he was a bantamweight.

You're known for your Muay Thai skills but Omigawa is an accomplished judoka. Are you prepared to clinch with him?
In the clinch I think I'd be stronger than him, but I'm still going to be careful and not let him get in close. To be honest, I'm planning to strike with him and keep him at distance and then take him down to score some points. That way, if the fight goes the distance I'll have a much better chance of winning, which is the most important thing – especially coming off a loss in my debut. If I want to better my future and further my career, I have to win.
Jason Young is an ambassador for LUTA Clothing. LUTA uses the most advanced performance fabrics and technology to meet the needs of multi-disciplined fighters and those serious about getting fit. Find out more at luta.co.uk
For more interviews with top MMA fighters and coaches, subscribe to Men's Fitness. We'll give you five issues for £5.
Sign up for workout ideas, training advice, reviews of the latest gear and more.
Sam Razvi wrote for Men's Fitness UK (which predated and then shared a website with Coach) between 2011 and 2016.