UFC champion Georges St-Pierre on his comeback
MF caught up with UFC welterweight champion Georges St-Pierre ahead of his long-awaited return at UFC 154 this Saturday.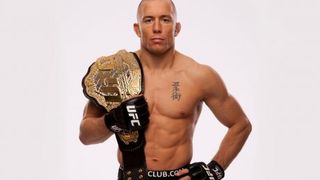 (Image credit: Unknown)
How does it feel to be back after such a long injury lay-off?
It's very exciting. This is the longest I've ever been out for during my career, so I'm very happy to be back and healthy. I can't wait.

A torn ACL can be a career-threatening injury. Were you ever worried that you wouldn't be able to come back from it?
I always had faith in myself. There were hard moments where I was scared, but I always had confidence that I was going to be back. Now all the hard work is done and I know that I'm back 100% and mechanically everything is perfect.

Having been on top of your game for so long, what was the hardest thing about having to start from scratch again the gym?
It was especially hard for my ego, getting beaten up by guys who I would normally do very well against. I'm a very proud person, so it was hard for me to go back and climb the mountain again.

Carlos Condit scored big first-round knockouts against Dan Hardy at UFC 120 and Kim Dong-hyun at UFC 132, but fought far more conservatively against Nick Diaz at UFC 143. Which version of him do you expect to see on Saturday?
Carlos is a counter-puncher and a very clever fighter. Of course he adapts how he fights, but overall I don't think he changes his plan that much. Hardy came out very strong against him and got countered, and that's how he got knocked out. Dan actually told me that he was too excited because he was fighting in the UK, and if he could have the fight again he'd fight how he normally does instead. Nick Diaz is a slow starter, so Carlos came very hard at him.

How do you think he'll try to fight you?
I believe he's gonna be aggressive and move a lot to avoid the takedowns. If I take him down I think he's gonna try to use the fence a lot to get back to his feet. He throws a lot of spinning punches so I've been training a lot for that, and he likes to create opportunities from the chaos, so I'm ready for that too.

Do you see any holes in his game that you could exploit?
He's very well rounded, but I believe I'm better than him at pretty much everything and if I fight at my best I'm going to win. I just need to focus on the main thing – on him. If everything goes like it's supposed to, I'm 100% confident that I'm going to win.

The co-main event at UFC 154 features a potential welterweight title eliminator between Johny Hendricks and Martin Kampmann. How do you see that fight playing out?
I believe that Hendricks has the ability to finish the fight early, but if Kampmann can weather the storm I think he'll take the decision.

There's been talk of a potential 'super fight' between you and UFC middleweight champion Anderson Silva – presuming you beat Condit – to establish the best pound-for-pound fighter in the world. In your opinion, who currently holds that title?
I believe that [former UFC lightweight champion] Frankie Edgar is the best pound for pound fighter in the world. I don't think he should have lost his last two fights against Benson Henderson, I think they were mistakes by the judges, and he was the champion fighting in a weight class where he was smaller than all the other guys. It depends how you look at it of course – but in my opinion, it's Edgar.

UFC 154 takes place on Saturday 17th November, and will be shown live on ESPN from 1am. Check out the UFC website for further details.

Sign up for workout ideas, training advice, reviews of the latest gear and more.
Sam Razvi wrote for Men's Fitness UK (which predated and then shared a website with Coach) between 2011 and 2016.