Kurt Angle interview
TNA Wrestling star Kurt Angle talks to MF about his training as he tries to qualify for Team USA for the London 2012 Olympics.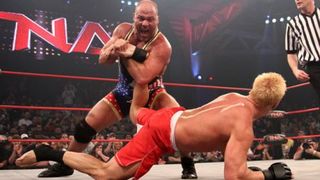 (Image credit: unknown)
You've been in London to promote the TNA Wrestling Tour of the UK that's been announced for next year. How do you find the British TNA fans?
They show us so much love and respect by making us the number one rated wrestling show in the UK. That means a lot to us because we trail the WWE in ratings over in the States, so it gives us much more appreciation for the fans. I'm really looking forward to the tour in January because of the big crowds we attract. To perform in a packed arena is amazing because back home we only really manage to do this at the TNA pay-per-views and the tapings of our weekly show, iMPACT Wrestling.
I couldn't do it last year because of the complications during labour my fiancée had with our little girl. It'll be two years since performing in the UK by the time of the tour.
Some athletes have rituals to psyche themselves up for events. What pre-show rituals do you have?
Generally I like to let my moves do the talking. But I always get nervous before shows. I have more than just a responsibility to the fans to perform – they demand and expect a five-star match so that is something I try to give them every single time. I get real nervous especially when performing over here because of the number of fans that come and see the show. I just don't let those nervous feelings get the best of me so I can give my best. The day you stop feeling nervous is the day you really don't care anymore.
Outside the ring you have launched your own brand of food, Angle Foods. How did that come about?
Because of the obesity and diabetes problem in the United States, I helped create a company that has changed the way people eat. We tried to come up with great-tasting foods to not only make you look great on the outside but make you feel great on the inside too. The food contains an ingredient called Ultra Fibre DX, which helps you lose fat, lowers insulin spikes for diabetics, lowers blood pressure, cholesterol and generally helps your digestive system regulate normally.
You have announced you'll try out for the USA team for the London 2012 Olympics. What has motivated you to make a comeback to Olympic wrestling?
I'm very competitive and the challenge of the Olympics is something that I missed [Angle won gold in Atlanta 1996 but has not competed in the Olympics since]. I've also looked at the prospect of competing in MMA but the timing was just never right. At one point I had agreed terms with UFC but they wanted me ready in four and a half weeks but I wanted more time to prepare my body so I could give it a real shot. So it never happened. I am really excited about the Olympics and this time it will be a lot more fun. I put a lot of pressure on myself last time to make sure I would win. I overtrained and because of that I made a lot of mistakes in my matches and caused a few injuries. Now I'm older I realise what my body's limitations are and how to train properly. I'll be a lot more selective of what I do in my matches as well. I think I can be a better wrestler even at the age of 42.
How did your gold medal at the 1996 Olympics change your life?
It defined me. When people hear the name Kurt Angle most think first of what I accomplished at the Olympics. Even as a character on TV I portray myself as the Olympic gold medallist. That one moment – well, those five matches I wrestled and everything leading up to it – has defined what people think of me.
At the 1996 Atlanta Olympics you were considered an underdog because you were competing with a two fractured vertebrae in your neck. Do you feel 2012 would be another underdog story because of your age?
If I make the team I am definitely not going to be one of the guys picked to win a medal. Actually when I was in the Atlanta Olympics I was already a world champion so there were high expectations when it came for me to perform. A lot of people didn't know about the broken neck because I didn't want anyone to know about it. But I'll be 43 by the time of the London Olympics next year. It's kind of like a Rocky Balboa underdog story, because if I get to the Olympics I have nothing to lose.
In what way will your current fitness regime change to make it into the USA Olympic team?
I did everything for ten hours a day first time round. I made sure back in 1996 that no stone went unturned when it came to my training. But that is something that I just can't do this time because I am older and my body is not the same anymore. I need to be very specific in my training. There will be dedicated days in the week where I will focus on an area of my training in specific such as cardio or conditioning.
How do you rate your chances at becoming a double gold medal Olympian?
I can't rate my chances. It is just so competitive - and I still need to make the team first of all. But if I do make the team then I have every chance of winning a medal. For a lot of people it will be their first Olympics where as I know how it works, I've been through it before.

Kurt Angle's Olympic site will be tracking his progress. For more interviews with top sports stars, subscribe to the magazine. We'll give you five issues for £5.

Sign up for workout ideas, training advice, reviews of the latest gear and more.