Olympic Boxing Champ Anthony Joshua Interview
Anthony Joshua, fresh from his gold medal win at London 2012, talks in this exclusive interview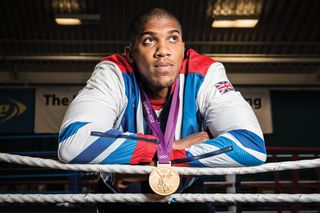 (Image credit: Unknown )
What went through you mind after you won Olympic gold?
So many thoughts! After you've won there are so many people coming to you saying 'do this drug test', 'stand in front of this photographer', 'meet this person'. It's only now that things have calmed down that I can embrace the fact that I'm the champion. It feels good.

Are there any boxers who have inspired you?
I'd say take the style of Lennox Lewis, the determination of Mike Tyson and the heart of Evander Holyfield. I like Joe Louis a lot too.
What's do you find harder – mastering the boxing skills or completing the gruelling conditioning?
The boxing skills because you have got to get it right. You do the same thing 1,000 times for it to work once in a fight. It's mastering the technique through repetition until you've got it perfect before you really move on. It has to become second nature. Where fitness is concerned, I don't think that anyone can top me. I know that no matter what happens I can give a good account of myself because I'm fit enough to. It won't ever be my fitness that lets me down in the ring.

What about nutrition? Do you have to be strict with what you eat?
I'm learning more about nutrition, it's so important for recovery and feeding your muscles, especially as a heavyweight. You've got to eat and drink to keep your weight up because you lose weight through sweaty training sessions.
Did you have to give up the beer as well?
You don't have to but it depends on how hard you want to make it for yourself as a boxer. I'd advise giving up the beer. Some people call boxing a sport but other people call it a lifestyle – when it becomes your lifestyle, going out at the weekends doesn't fit in with it. You have to pick one or the other.

Sign up for workout ideas, training advice, reviews of the latest gear and more.