Gym ball exercises: Georges St-Pierre's secret weapon
How the former champ stays in shape using gym ball exercises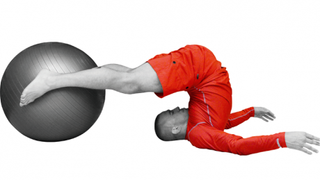 (Image credit: Unknown)
It's easy to dismiss the gym ball as the soft option in the gym – until you see how former UFC welterweight champion Georges St-Pierre uses them. To cope with the demands of the Octagon, GSP devised a sequence of moves that challenge his core, isometric strength and balance – all with nothing more than an inflatable ball. 'When you've mastered these moves, try combining them in different ways,' says GSP. 'Think of it as a game where you can play and flow, and have fun.'
BODY ROLL
Holding the ball between your feet with your arms above your head, roll from your back to your stomach, without letting the ball touch the floor.
OBLIQUE TWIST
Starting in a press-up position with your hips on the ball, twist to one side and point your top leg towards the floor.
V-SIT
Holding the ball between your feet, V-sit and pass it to your hands, then lower. Do another V-sit to pass the ball back to your feet.
COMPASS DRIVE
Holding a ball between your feet, picture your head as 'north' and touch the ball to north, south, east and west.
Sign up for workout ideas, training advice, reviews of the latest gear and more.
From 2008 to 2018, Joel worked for Men's Fitness, which predated, and then shared a website with, Coach. Though he spent years running the hills of Bath, he's since ditched his trainers for a succession of Converse high-tops, since they're better suited to his love of pulling vans, lifting cars, and hefting logs in a succession of strongman competitions.