Charlie Leary interview
MF talks to UCMMA lightweight champion Charlie Leary about going from football to fighting and how his rivals can't take the heat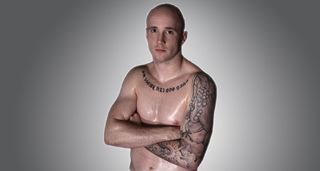 (Image credit: Unknown )
How did you get into MMA?
I always loved watching MMA when I was younger – I was a huge Tito Ortiz fan, he was the man when he was in his prime – but I didn't actually start training till I was 25, because there weren't any local gyms. My brother was a good amateur boxer, so I'd done a bit of that with him, but I'd always played football. I was on the books at Watford from the age of nine to 13, and I played at a semi-professional level through throughout my teens and early 20s. Then one day I was lifting weights at the gym, wearing an Affliction T-shirt, and a random guy approached me and put me in touch with David Lee, who runs the Crossface Training Center in Harrow. I've been training with him ever since.
What does a typical week's training entail?
I still work nights, doing 40 hours a week. It works well for my training, because I can go to daytime classes, but it's terrible for my sleep. Monday, Wednesday and Friday I'll train strength and conditioning first thing in the morning, then do an MMA sparring class straight after that, go home and sleep in the afternoon and come back early evening to do a jiu jitsu or a striking class. Then I work from 9pm till 7am. Tuesdays and Thursdays I'll do jiu jitsu in the morning and submission wrestling in the evening. It's really hard trying to balance everything – it takes a lot of dedication. I'm really lucky, because I've got such an understanding girlfriend, and my mum still does everything for me, all my washing and my cooking. They know it's my passion and what I love to do.
What's the best exercise for MMA?
If you only ever do one exercise, do the deadlift. It's brought my strength on leaps and bounds and it really, really helps – I can't say enough good things about it. I used to just go to the gym and use standard stuff like the bench press and the lat pull-down machine, but now deadlifting is always my top priority. It helps you build full-body strength and explosive power.
What's the key to cutting weight before a fight?
I just clean my diet up, cut out carbs and eat a lot of chicken, protein and veg. It helps that we've got a big industrial heater at Crossface that's on all the time – the temperature gets as high as 90˚F [32˚C] sometimes – so I'm always getting a sweat on. It's like training in a sauna, and it also boosts my cardio massively. When guys from other gyms come down to spar, the heat kills them. But I can go all day in there.
What does it mean to you to be UCMMA's lightweight champion?
I can't describe how good it feels. I suffered some losses earlier in my career when I wasn't really putting enough effort into training. After my last loss, I had a talk with my coach, who told me I was going to turn into a journeyman if I kept taking silly fights and not training properly. I had to decide whether I really wanted this and if I had what it takes to make it to the top. I decided that I did, and I've gone from strength to strength ever since. Cage Rage [UCMMA's previous incarnation] was the first live MMA event I ever went to, and it's one of the best MMA organisations in Europe. I remember sitting in the crowd, thinking 'this is it – this is what I want to do', so to actually be their champion and achieve that dream has been phenomenal.
What are your goals?
Like most people in this sport, I want to fight in the UFC. It's the pinnacle of MMA, and with the amount of shows they're doing now – especially in Europe – I think it's a realistic possibility. I'm concentrating on this fight, but after that I want to go unbeaten for the rest of the year, and keep defending my title and put on impressive performances. Then hopefully next year or the year after I'll get a phone call from the UFC and I'll be able to go and show what I can do on the world stage.
Charlie Leary fights Maksym Matus at UCMMA 39 on Saturday 3rd May at The Troxy in London. Buy tickets here.
Charlie Leary trains at the Crossface Training Center and is sponsored by Sweet Sweat.
Sign up for workout ideas, training advice, reviews of the latest gear and more.
Sam Razvi wrote for Men's Fitness UK (which predated and then shared a website with Coach) between 2011 and 2016.