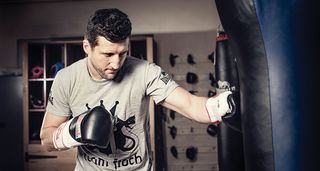 (Image credit: Unknown )
In This Series
Carl 'The Cobra' Froch has had many highlights over his 13-year top-level career, from making his debut in March 2002 (beating Michael Pinnock in the tiny York Hall) to knocking George Groves off his feet in front of 90,000 fans inside a sold-out Wembley stadium in May 2014. In the same year Froch was named best British boxer by the British Boxing Board of Control for a third year running and an unprecedented fourth time overall. Now the Nottingham fighter has announced his retirement, MF looks back at the five best fights of his career.
5. Froch vs Kessler II
Date: 26th May 2013. Venue: O2 Arena, London, England. Attendance: 20,000
Froch's rematch against vs Denmark's Mikkel Kessler – Kessler had previously beaten Froch in his home country – had all the makings of a fantastic fight. It turned out to be one of the most brutal fights to ever take place inside a British ring as these two warriors went toe to toe over a brutal 12 rounds, with Froch throwing nearly 1,000 punches. At the end Froch took a unanimous decision, retaining his IBF super middleweight title and winning the WBA middleweight title, in front of almost 20,000 roaring British fans.
4. Froch vs Pascal
Date: 6th December 2008. Venue: Capital FM Arena, Nottingham, England. Attendance: 10,000
One of the biggest nights in Froch's history saw him become super middleweight champion of the world for the first time in his career – in his home town. It wasn't easy by any means as Pascal fought back against Froch's early onslaught, but in the end the Canadian couldn't overcome the Cobra's will to win. Froch later told the press that he went into the fight with a perforated ear drum and a cracked rib.
3. Froch vs Hague
Date: 24th September 2004. Venue: Capital FM Arena, Nottingham, England. Attendance: 10,000
Froch made his name with a career-defining performance as he beat fellow Midlander Hague, challenging for Froch's Commonwealth super middleweight title, in just 2min 10sec. Hague was knocked down twice inside two minutes before referee Mickey Vann called off the bout, Froch retaining his Commonwealth belt and winning the vacant British and super middleweight title. This was the fight that introduced Froch to the British public and demonstrated the power he was capable of producing.
2. Froch vs Bute
Date: 26th May 2012 Venue: Capital FM Arena, Nottingham, England. Attendance: 10,000
When Froch took on Lucian Bute in May 2012, the Romanian was unbeaten in 30 pro fights. What followed can only be described as one-sided. Shaking off his underdog status, Froch battered Bute inside five rounds to secure the IBF title. Rattled after his defeat by Andre Ward, Froch returned with arguably the most spectacular performance of his entire career picking apart Bute with accuracy and power. Froch admitted that if he had lost, he would have retired. Instead he won the IBF and was on track to win the WBA from Kessler a year later.
1. Froch vs Groves II
Date: 31st May 2014. Attendance: 80,000. Venue: Wembley Stadium, London, England
The fight that made history – the biggest attendance at a postwar British boxing match – and ended one of the biggest feuds in British boxing history, Froch's rematch against Geroge Groves involved everything from mind games to near-fights outside the ring. There had been bad blood between the two even before their first fight in November 2013 but the rivalry heated up when Froch won a controversial initial victory, Groves's camp claiming the referee had stopped the fight prematurely (see below). Six months later 80,000 fans witnessed Froch dismantle his opponent at Wembley Stadium. The fight was close until Froch landed a stunning straight right hand, leaving Groves senseless. The punch that ended this feud was described by BBC commentator Mike Costello as 'the best punch you will ever see in a British boxing ring'.
Carl Froch interview - May 2014
Ahead of his rematch with George Groves, Froch reveals how his training will keep him swinging for the full 12 rounds
'It was definitely a robbery,' 
says Carl Froch of his successful world title fight against George Groves in November 2013, 
which was stopped in the ninth round. 
'But it wasn't Groves who was robbed. 
The referee stopped the fight too early 
and that robbed me of my glory.'
The decision and the subsequent criticism Froch received for defending it clearly still bothers the man known as 
'The Cobra', as does Groves's attitude and penchant for talking trash. 'He's got a lot to learn,' says Froch when MF meets him at the Phoenix ABC boxing gym in Nottingham where he trained as a youth.
'He's a young kid and he's arrogant and disrespectful. I'm man enough to admit that he put me over in round one and threw everything but the kitchen sink at me for a few rounds after that. But that's only a third of the fight. In round nine I was hammering him. I was gutted when it was stopped because I don't like him and I wanted to finish strong and give him a good thrashing.'
Strong to the finish
Finishing strong has been a recurring theme throughout Froch's career, from his first title defence – when he rallied to knock out Jermaine Taylor having been behind on points and knocked down in the fourth – through to his fight with Groves. So how does he account for his durability? 'I train hard,' he says, simply. 'Rounds nine to 12, those are the championship rounds. If a fight goes the distance that's where it's won, and it's obviously a massive advantage to be strong then.' His powers of recovery are clearly helped by an evidently granite chin, but Froch believes that his fitness levels are just as critical.
'Conditioning plays a massive part in punch resistance. If you've got strong legs and a hard core and you've put the work in, you'll be far more solid getting back to your feet when you're hurt.' Durability isn't just something you have or don't have – it can be developed, and Froch can spot fighters who have worked on it. 'Amir Khan's been flattened a couple of times in his career and everyone says he has a glass jaw,' he says. 'But when he fought Marcos Maidana, he managed to hang on at the end when he was getting clattered, and that's down to his fitness levels and putting the work in at the gym.'
Target acquisition
One of the key factors in Froch's success is his meticulous approach to tracking his training. 'I've kept a training diary ever since I turned pro,' he says. 'It gives me targets, and when I hit them, that gives me confidence going into a fight because I know I'm fit. I set most of my personal bests in my mid- to late 20s, but I'm still hitting a lot of them now at 36 years old, so I know that physically I'm still on form. When I can't hit those targets any more, then it's time to retire. That's your body trying to tell you something.'
It also helps that Froch trains like a maniac. 'Training is supposed to be hard,' he says. '"No pain, no gain" is a cliché but if you want to be successful you do have to constantly push yourself, and that's going to be painful. When you wake up in the morning and your body's aching and you feel fucked, you're forcing it to adapt.' This mentality is reflected in his gym work, where Froch consistently trains for 15-round fights, even though he'd never have to box more than 12 in a professional bout. 'I deliberately condition myself to go an extra three rounds,' he says. 'It's why I always finish fights strong. I wish all fights were 15 rounds – if they were, I think I'd still be undefeated. The only guy who's beaten me [Froch doesn't count Mikkel Kessler, whose 2010 points win was controversial and whom Froch beat in a rematch] is Andre Ward [who took Froch's WBC title in 2011], and he was hanging on at the end. I don't think he could have gone another three.'
In addition to endless rounds of pad work, bag work and sparring, Froch enhances his conditioning by sticking to a varied daily running routine (see box right) and working full-time with a strength and conditioning coach. 'I do everything from bodyweight circuits with pull-ups and dips to more explosive, plyometric moves such as box jumps and medicine ball slams,' he says. 'I take training seriously. It's all about being professional.'
Sweet spot
Another area where Froch maintains these high standards is the kitchen. 'I've always been pretty strict with my diet,' he says. 'I've got a sweet tooth and I love cheesecake but you've got to cut that shit out, especially as you get older and your body naturally tries to hold on to more weight.' The super middleweight limit is 76kg, and Froch – unlike some boxers such as former lightwelterweight world champ Ricky Hatton – is careful not to balloon up between fights. 'I never let myself get heavier than 82kg,' he says. 'If you don't make weight, you don't get paid. If you want to get fat and compete, take up darts.' During the final weeks of a training camp, Froch lowers his carb intake and increases his cardio training to get down to fighting weight. 'That's the proper way to do it,' he says. 'Some fighters sit in a sauna and dehydrate themselves to make weight, which is dangerous. George Groves said he lost four kilos doing that for our last fight, which is cheating as far as I'm concerned.'
Second thoughts
With the rematch fast approaching, Froch will finally get a chance to silence both Groves and his critics. But what will he do differently second time around? 'It's always tempting to step in and have a bit of a tear-up with somebody, especially if you don't like them,' he says. 'That's what I did wrong in the first fight. I was catching Groves quite comfortably with my jab, being patient, but then I caught him on the way in with an uppercut and thought, "Right, he's fucking having this" and I reached in, stepped in and half hit him, half missed. It left me square on to him with nowhere to go. That's when he dropped me with the right hand.'
Froch has never been knocked out, and says his willingness to stand and scrap means his durability has to get him out of tough spots in fights. 'It's part of my mindset and my style,' he says. 'I know people are paying a lot of money to come and watch me, and if I'm bored and not enjoying it, I know they won't be either. It's not always a good thing – my coach has gone mental at me because of it in previous fights – but I get away with it because of my fitness and my chin.' While Froch will be aiming to triumph on 31st May at Wembley without testing the depths of his conditioning, regardless of how the fight plays out he's confident of the result.
'At the end of the day, George Groves had a couple of good rounds against the champ first time out then got hammered, and he can't live with it,' Froch says, smiling. 'This time the outcome will be exactly the same: he'll be crying himself to sleep after the fight because he lost, and I'll be waking up the next morning looking at my world title belts.'
Sign up for workout ideas, training advice, reviews of the latest gear and more.
Between 2010 and 2016, Ben was the deputy editor of Men's Fitness UK, which predated, and then shared a website with, Coach. Ben also contributed exclusive features to Coach on topics such as football drills, triathlon training plans and healthy eating.