Upgrader diary: rugby – part 2
With mobility issues fixed and injury prevention improved, Niall Moody is stepping up his rugby pre-season strength and fitness training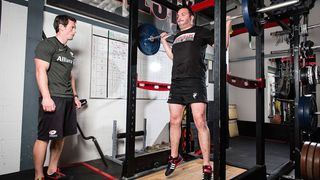 (Image credit: Unknown)
The Upgrader – Niall Moody
I'm almost two months into my training and starting to reap the benefits of weeks of hard graft. Most of my training has involved lots of mobility moves and lifts to undo the damage I'd been inflicting on my body on the rugby pitch and in the clubhouse bar after games.
Andy Edwards, my trainer and S&C coach of Saracens RFC – who since we began has celebrated helping Saracens RFC clinch the Aviva Premiership in their Twickenham win over Bath – has moved me onto bigger lifts to work on improving my strength.
This was the last week in my strength phase. I started out benching 80kg for four sets of five reps but am now hitting 100kg and feeling great. My squat and deadlift numbers are also going in the right direction too.
Of course it's not so I can gloat about my max squat and bench press in the changing room, but so I have rock solid foundations that I can start adding power to that will help me punch through the opposition come the new season.
Next up I'll be moving onto the power phase of my training and I can't wait to start charging around the gym. In the park, however, I've been struggling slightly. I'm getting treatment on an ankle problem which is restricting my running (see the box below for what Andy's set me).
My physio thinks it's tendinitis, which, although sore, should clear up soon. And as Andy has told me, my cardio will return quickly once I'm back on my feet so he's happy to focus on improving my mobility further. Shame I'm missing out on all those lovely sprint sessions for now…
In terms of diet I've steadily been building changes in so I'm more likely to stick to them. This week is the first time I've really started considering macros. I don't want to get too bogged down by the detail – I'm thinking more Rocky than Ivan Drago – but planning my meals and considering the balance of proteins, carbs and fats means I train better and have more energy.
On training days I'm scoffing 3,536 calories, cut down to 3,200 calories on rest days, including delicious Optimum Nutrition Gold Standard 100% whey protein shakes after training to help my aching body recover. On top of these I'm taking Optimum Nutrition Creatine and Optimum Nutrition Amino Energy – like a refreshing, mind-focusing coffee but tastes like a sports drink and is packed with vitamin C for energy – which I've noticed mean I can really attack every workout with everything I've got
Despite the limitations to my cardio I've started to notice positive changes to my body due to my improved dietary choices. I've got a little more muscle on my shoulders and thighs and my wife, my biggest critic, certainly seems happy. Long may that continue.
The coach – Andy Edwards
'Now that we're six weeks in, Niall's range of motion and confidence with the exercises has improved. His movement is more efficient, meaning he can recruit more muscle and lift more. Previously he was doing lots of unilateral moves, such as Bulgarian split squats but now he's incorporating more bilateral lifts such as barbell back squats and we should start seeing some real strength gains. Injury prevention is still the priority so the focus is still on mobility over strength and, as always, if Niall can be disciplined with his diet and lifestyle choices he'll continue to improve.'
SPRINT TRAINING
To encourage further fat loss and build a tank that lets him keep running hard for the full 80 minutes each match Niall is using these sprint sessions twice a week
ROUND 1
On the start of each minute:
Run 200m then rest for around 20 seconds
Run 100m then rest for around 40 seconds
Repeat five times
Rest for three minutes
ROUND 2
On the start of each minute:
Run 150m then rest for around 30 seconds
Repeat five times
Rest for three minutes
ROUND 3
On the start of each minute:
Run 100m (aiming for around 15 seconds) then rest for around 45 seconds
Repeat five times
Edwards says 'These intervals are a tough aerobic workout but they are the best way to build a running base that will prepare him for matches. High intensity intervals are far more effective for boosting cardio than simply plodding around a park. By training above what's required in a match, he shouldn't run out of steam in a game and will be better at making decisions when fatigued.'
Sign up for workout ideas, training advice, reviews of the latest gear and more.
Coach is a health and fitness title. This byline is used for posting sponsored content, book extracts and the like. It is also used as a placeholder for articles published a long time ago when the original author is unclear. You can find out more about this publication and find the contact details of the editorial team on the About Us page.