Bank Holiday Weekend Adventures: Last-Minute Things to Do
The UK's finest adventurers are here to help you plan a bank holiday weekend worth talking about on Tuesday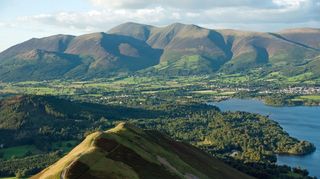 (Image credit: Unknown)
Ah, bank holidays. A time for Bond films, a trip to Homebase, or – if the weather is on your side for once – a swift barbecue and a lapse in your three-pint Sunday night booze limit. But is that the limit of what's possible? Not if you're prepared to put in some legwork.
"Nowhere in Britain is more than an hour from somewhere that feels remote and wild, whether your inclination is to run up a big hill, challenge yourself to swim in a cold lake, or just escape from death-by-email for a while and go for a beautiful walk somewhere that doesn't have 3G reception," says Alastair Humphreys, author of Microadventures: Local Discoveries, Great Escapes. "A big city like Manchester can feel very removed from the great outdoors, but in fact it's less than a couple of hours from north Wales or the Peak District. You might think those spots would be hellishly crowded Hades on a bank holiday, but it's actually pretty easy to escape the madding crowds." If, for example, you've assembled a team of some of Britain's best adventurers to guide you to the country's lesser-known locales. Oh, you haven't done that? Well, it's your lucky day, because we have.
Hike the Lake District
Madness? Not if you go venture off the tourist track. "Steer clear of the honeypots of Ambleside and Windermere, pick an alternative to the most famous fells likee Scafell and Helvellyn, and you'll be able to bag a glorious mountain summit without seeing a soul," says Humphreys. "Google the Bob Graham Round, pick one of the 42 summits and get hiking. You never know, that first hill climb may even draw you into the allure of training towards tackling the Round in its entirety next year. Oh, and check out the Rattle Gill Cafe for post-hike refuelling." Get the teacakes in.
RECOMMENDED: Great Running Challenges
Paddleboard the Thames
Because let's face it, you don't want to swim in it. Adventurer Dave Cornthwaite has made a career of tackling long-distance journeys via improbable transport, and this is one of his favourite trips. "Stand-up paddleboading from Thames Head to the Thames Estuary lets you explore the UK's most famous river without having to swallow a load of it," says Cornthwaite. Active360 runs plenty of sessions and, if you become qualified, maybe one day you too can be one of those smug paddleboard commuters that everyone secretly wants to fall in.
RECOMMENDED: Try Kayaking on the Thames
Walk the Welsh Coast
Sean Conway is the only man to swim from Land's End to John o' Groats and, unsurprisingly, he's a fan of the long-distance trek. "The Welsh coastline has a footpath along the entire length of it," he explains. "It opened in May 2012 and is something that's surprisingly rare across the world." At 1,400km it'll take longer than a weekend to cover, so you might want to aim for the bit around the Llyn Peninsula - yes, there's a pub.
RECOMMENDED: Walking Holidays in the UK (and Abroad)
Go Canyoning in Cumbria
You don't need vast Arizona-style gorges – there's top-flight canyoning in the north of England. "There are these amazing, unknown, magical worlds with plunge pools to jump into and chutes to slide down – if you don't mind wearing through the seat of your Gore-Tex trousers," says Ed Stafford, the first man ever to walk the length of the Amazon. "No adventure theme park could match the extensive wild routes that can be followed for mile after mile. Like anything that's this much fun, it comes with a certain level of risk – always go with at least four people so that you can organise an evacuation if required." Health and safety definitely aren't dirty words when you're dangling off a cliff.
Climb a Mountain in the Highlands
Yes, it's a bit of a trek, but the views are worth it. "Three wild and remote mountains that hold many memories for me personally are Ben Stack, Arkle and Foinaven," says Ben Saunders, who skied solo to the North Pole in 2004. Stack is probably the easiest and has the best view, while Arkle and Foinaven are for more seasoned trekkers. Remember to leave plenty of time for getting up and down, and pack sensibly – you don't want to be the man calling out mountain rescue.
Kayak to a Knoydart Pub
Knoydart's a western Scottish peninsula and the home of the UK's most remote pub. The (traditional, wooden) Western Isles ferry sails several times a day from the nearby fishing village of Mallaig, but for the athletic gentleman there's a more active option. "For the aquatic adventure that finishes with a well deserved pint, there's few things better than taking a kayak," says Oliver Steeds, a journalist and broadcaster who once trekked 1,250km across the Gobi desert. Hey, baby steps.
Sign up for workout ideas, training advice, reviews of the latest gear and more.
From 2008 to 2018, Joel worked for Men's Fitness, which predated, and then shared a website with, Coach. Though he spent years running the hills of Bath, he's since ditched his trainers for a succession of Converse high-tops, since they're better suited to his love of pulling vans, lifting cars, and hefting logs in a succession of strongman competitions.