Try Kayaking and Get Fit With a Paddle
Prepare to make a real splash this summer with National Go Canoeing Week or a London kayaking club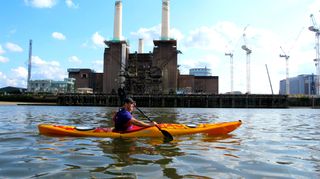 (Image credit: Unknown )
Kayaking is that rarest of fitness beasts – a cardio exercise that focuses on the upper body. This makes it a great aerobic alternative for injury-prone runners and cyclists, and it's an excellent choice for anyone who wants to bulk up their torso but wouldn't be seen dead lifting free weights in the gym.
In its purest form, kayaking is simple. With a double-blade paddle, you make your way downriver, or, if you're feeling up to it, you can go against the flow. It differs from canoeing in that the latter uses a shorter, single-blade paddle and the paddler often kneels.
The muscles in your back, arms and shoulders take the brunt of the work, but your legs don't get off scot-free. The balance and drive required to move the kayak comes from your whole body, so you'll strengthen your core.
It's also an exciting way to perk up your exercise regime, and will take you to parts of London you've never thought to visit. Taking to the water can be a daunting prospect, but there are plenty of clubs and centres in London to help beginners.
"Being in the fresh air and experiencing that new environment, it's a bit more of challenge," says Paskell Blackwell, general manager, Lee Valley White Water Centre. "You're not sitting there watching the clock in a gym or trying to match the pace of someone else on a treadmill."
Where to Try Kayaking and Canoing in London
At Lee Valley White Water Centre in Waltham Cross you can get to grips with the equipment for £5 in an enclosed lake, so you won't float off if it all goes pear-shaped. There are also courses for beginners. £5 for a supervised session, £10 for an instructed session, gowhitewater.co.uk
If you don't fancy heading straight for the river, Putney Bridge Canoe Club run several session a week in a swimming pool. Pool sessions cost £10 for guests, putneybridgecc.co.uk
You can combine your kayaking taster session with a little sightseeing by taking a trip with Kayaking London. £72 for their Discover London tour, kayakinglondon.com
For more information on kayaking and canoe clubs, many of whom offer taster sessions, visit canoelondon.com
National Go Canoeing Week
If working towards a target motivates you, head to a National Go Canoeing Week event. The campaign runs from 28th May to 5th June and the organisers have set a cumulative target of 30,000 miles, the distance to Rio, for all participants. To ensure they reach that goal, there'll be no shortage of events. Novices can enjoy starter sessions or guided tours, while the more experienced can take on a one-, three- or six-mile route. Any miles of water you do, in whatever self-propelled fashion, can be logged on the site to help towards the overall goal. gocanoeingweek.org.uk
Five Kayaking Tips from Instructor Adam Chinery
1. Use your core
"Maintain a good posture with your head straight and use your whole body to paddle," says Chinery, who's the owner of Brighton Watersports. "Power should be generated from your core rather than your arms and shoulders."
2. Punch and pull
"When paddling, imagine you're punching forward and then pulling back with your arm. Focusing on this motion will help to improve your stroke technique."
3. Stroke and glide
"After every stroke, allow the kayak to glide for a second before taking the next one. Doing so will require far less energy and be much more efficient than simply paddling as fast as you can."
4. Regulate your breathing
"Breathe in and out with each stroke and try to get into a consistent rhythm. This will help you to build momentum and increase your stamina."
5. Keep safe
"It's important to know your limits and take the weather conditions into account while kayaking. Personal safety is paramount on the water."
Sign up for workout ideas, training advice, reviews of the latest gear and more.