England at the Euros – Will We Ever Learn?
No. But here's what we should remember from past failures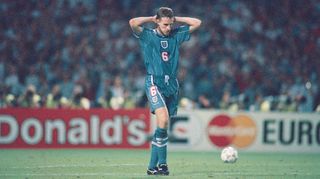 (Image credit: Getty Images)
"We'll learn from this and come back stronger" is one of the more common utterances from England managers in the post-elimination press conference. So, England, here are those lessons again…
1968: Exited in the semi-finals
Sir Alf Ramsey's World Cup winners' semi-final exit (from the four-team finals) had little to do with Alan Mullery receiving England's first ever red card. By then they were already down 1-0 with time almost up, having lacked the cutting edge to break down bloodthirsty adversaries.
Lesson learnt: Don't shoot your bolt pre-tournament. Laurels aren't for resting on.
1980: Exited in the group stage
The England squad boasted just one man previously called up to a major tournament (Emlyn Hughes at the 1970 World Cup). Ron Greenwood's decision to use a total of 19 players over three games hinted that the international tournament naivety stretched beyond those on the pitch.
Lesson learnt: There is no substitute for international tournament experience.
1988: Exited in the group stage
Among the favourites after dropping just two points in qualifying, Bobby Robson's men were out after two group games and went on to lose all three, conceding seven times in the process. Gary Lineker, who did play (albeit in subdued fashion), was later diagnosed with hepatitis B.
Lesson learnt: Squad depth is seldom scrutinised in qualifying.
1992: Exited in the group stage
The Sun "turniped" Graham Taylor for subbing an ageing Gary Lineker, but injuries to John Barnes and Paul Gascoigne offered mitigation for the failure to emulate their Italia '90 heroics. Successive group-stage nil-nils before a 2-1 loss against Sweden hinted at their downfall, a terminal lack of creativity.
Lesson learnt: Being hard to score against isn't enough.
1996: Exited in the semi-finals
Terry Venables was known for meticulous spot-kick preparation, yet when the semi-final against Germany required them, only his first five kickers had been selected in advance. Somehow Gareth Southgate, who had taken one penalty in his entire career previously (and missed), was the one to bite the bullet.
Lesson learnt: Prepare more than five penalty takers.
2000: Exited in the group stage
Kevin Keegan had made his name as manager of the brilliantly gung-ho, but tactically remedial Newcastle. He built a distinctly top-heavy England in their image then watched on powerless as its defensive inadequacies were ruthlessly exposed by Portugal and Romania.
Lesson learned: Old-school motivators don't cut the major-tournament mustard.
2004: Exited in the quarter-finals
England had gone from 1-0 up to 2-1 losers in three injury-time minutes against France and their appetite for self-destruction reappeared against the Portuguese when they fell asleep with seven minutes to go, allowing the hosts to equalise. Penalties ensued, with obvious results.
Lesson learnt: One-goal leads are as fragile as your powers of concentration.
2012: Exited in the quarter-finals
Roy Hodgson's men did better than expected grinding their way to the top of a group featuring Sweden, Ukraine and France. Utterly outclassed by the first half-decent opponents (Italy) they faced, they somehow resisted for 120 minutes before the inevitable shootout loss.
Lesson learnt: Sometimes going out on penalties is more than you deserve.
Sign up for workout ideas, training advice, reviews of the latest gear and more.