Carl Froch: "I'd Jerk Awake Throwing a Jab"
The former world boxing champ on the people who helped him to the top and the perils of falling asleep while visualising the ring walk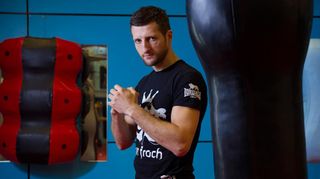 (Image credit: Getty Images)
Who was the biggest influence on your career?
Well, I probably wouldn't have been a boxer at all if not for seeing Prince Naseem Hamed on the telly. He was so entertaining and exciting, very flamboyant and cocksure, and that really appealed to me when I was a young teenager.
Did your parents encourage you to box?
I wasn't a scrapper at school because I was skinny, but my dad had a punchbag hanging in the garage that we used to work out on. Then, when I was about nine, he started taking me and my brother down to our local club, the Phoenix ABC in Gedling. I immediately preferred boxing to other sports because it was indoors, so I didn't have to stand about getting rained on in a muddy field. It was warm, and I thought: "Ooh, it's great in here." I was naturally good at boxing, and that helped me stick with it.
RECOMMENDED: Carl Froch's Boxing Workout
What is the most important lesson boxing taught you?
I was brought up quite stern. My mum and dad taught me all the lessons you need: be respectful to your elders, don't make me ask you twice, have your bedroom tidy, don't backchat, and don't leave the table until you've finished your dinner. Boxing cemented that discipline, because if a kid doesn't show respect at a boxing club, he'll soon get sorted out or be asked to leave. I really think it should be part of the national curriculum.
Who was your best coach?
Rob McCracken. He fought for a world title himself, and he taught me how to defend myself and be more confident.
Which opponent hit you hardest?
Robin Reid threw an overhand right that got me flush on the chin. It didn't put me down, but it hurt. The pain you feel in the boxing ring is more of a thudding sensation than anything to make you go "Ow!" Your brain rattles around in your skull and makes you feel dull, as though you've got no balance, and you can't walk straight because your feet have suddenly got very heavy.
RECOMMENDED: What is Concussion?
Which opponent was best at "the verbals"?
George Groves. Before our first fight, he wound me up into a frenzy. I was very upset, so for the rematch I spoke to Chris Marshall, one of the sports psychologists for the England cricket team. He taught me to be logical, not emotional in my responses. When we met for the press conference at Wembley, Groves was whispering in my ear the whole time, these horrible sweet nothings, and I could feel his breath inside my ear. It was creepy, but I just thought: "I'm not going to get riled." I knew he was trying to get under my skin, and I did shove him, but it was a controlled action. One shove, and the message it sent was, "Keep out of my face, little boy." When he whined, "Don't do that again!" I knew I had him rattled. I replied: "What do you mean, 'again'? I just did it and I don't see you stepping up." He'd bottled it. I could see his bottom lip was quivering, and he'd gone a shade paler, so one-nil to me as far as I was concerned.
What did you learn from defeat?
When I fought Mikkel Kessler in Denmark, my coach Rob warned me not to go. There was that volcanic ash cloud over Iceland, and all the flights were delayed, so I flew in a week late, the day before the weigh-in. I'd missed a few sparring sessions and I had to quickly drop a bit of weight, so I dehydrated by sitting in a hot bath for four hours. It wasn't the greatest preparation – but I blame the volcano for me losing!
What was your best trick when preparing mentally for a fight?
For three weeks before a fight, I used to visualise the ring walk, so that when it actually happened I had experienced it a hundred times already and could be icy calm. I used to fall asleep thinking about it, and sometimes I'd jerk awake throwing a jab under the duvet. That didn't matter from Monday to Friday, when I was sleeping in a single bed at fight camp, but on the weekends it gave my missus, Rachel, a few shocks.
Which boxer do you most admire?
Of the ones I fought, Mikkel Kessler. I still keep in touch with him, and he's a man of my sort of morals, a very proud, honourable warrior. Of the legends, it would have to be Mike Tyson, the ultimate fighting machine. A peak Mike Tyson beats any heavyweight ever.
Carl Froch led a "poker face" masterclass for Jorgie Porter, Carl Fogarty, Melinda Messenger and Adebayo Akinfenwa as part of the partypoker "Big Bluff" campaign. Get involved at partypoker.com/bigbluff
Sign up for workout ideas, training advice, reviews of the latest gear and more.
Grub Smith contributed interviews and features to the print edition of Coach, which ran from 2015 to 2016.