Football Legend Ruud Gullit On Learning To Play the Game
Coach speaks to the Dutch dandy about the people who opened doors for him on the way up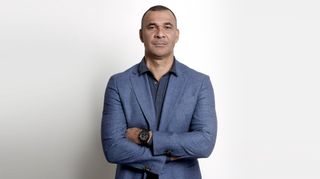 (Image credit: Unknown)
Who taught you to play football?
I grew up playing street football in Holland. There were no coaches, you just did whatever came into your head, you showed off, you improvised… The difference between the youth of now and us is that we had to learn everything from the streets. Picking the teams, for example – which is great practice for being a captain, or a manager, as you get to choose in your head what formation you will play, and where to position your strong and weak players.
Which manager had faith in you?
I got my first break as a professional from a Welshman called Barry Hughes, who managed Haarlem. He was a great motivator, but not by shouting. Instead, he was always telling me about the big stadiums I would play in if I worked hard, about how the crowd would shout my name so loud I would feel my bones shake. I owe him a lot.
Who was your hero?
Johan Cruyff. When I played with him at Feyenoord, he was smoking like a chimney, but was still sensational on the pitch. There were a lot of smokers in those teams, but they could still run.
RECOMMENDED: Zinedine Zidane Interview
Did he give you any guidance?
I learnt that you need to stick up for yourself. People are too nice in the game now. Ronaldo takes 50 free-kicks for Real Madrid, and maybe shoots one in the goal – that's his average. But nobody says to him,"Hey, let someone else do it." Do you think at Milan I could have taken 50 free-kicks, even in the season when I won the Ballon d'Or, without scoring? No! After even six, they would say, "Eh Rudy, fuck off out of the way!"
Who was the best defender you faced?
I remember Daniel Passarella smashing his elbow in my face. He was a mean machine. I met him later in Mexico when we got put into the Hall of Fame, and we laughed about it so much. He said to me, "Rudy, at the first corner you were defended by someone else, and you hit the crossbar. The second time you just missed the post. So I said, 'Let me mark him this time – and I had to elbow you in the face.'"
Nowadays, players are far more protected. If Maradona had the same protection Messi has now, how many would he score? If you watch footage of Maradona, he had to jump the hurdles over flying studs, hands all over him, bashing him like crazy.
What is the best tactic you learnt as a manager?
There are so many little edges that can give you an advantage. It's like in poker. You maybe know that one team likes to play towards its own fans in the second half, so you try to win the toss and stop them. Or, if they have speedy players, you tell the groundsman to let the grass grow, so it will slow the ball down. The best one I saw was at Tranmere Rovers. The advertising hoardings were right next to the pitch, but when they got a throw near our box, one of them opened a secret little gate in the boards so he could take a long run up. I remember thinking, "What the fuck?", but I was laughing so much.
RECOMMENDED: Gary Neville Interview
What do you think you got wrong?
I had a confrontation with Hossam Ghaly when I was managing at Feyenoord. He had everything a player could want to have, fantastic technique, a good header, but he was losing the ball a lot because he tried too many stupid tricks. I followed him with a single camera, and later that week we watched the video. He was begging me to turn it off after only five minutes, he couldn't believe how bad he was. I said, "You are going to watch it all, because that's what I have to see." Look, he did also good things, but it gave me a sense of failure that I never managed to improve his football intelligence. I couldn't turn him into a star.
What was the best goal you scored?
I think the "forgotten goal" in the UEFA Euro 1988 final. It was a good header, but Van Basten's volley was better by far.
What's the most important thing for fans when watching a game?
In Holland we have an expression, "There are different ways to go to Rome." A lot of fans see a player making a mistake, and they start booing him, but they can't see the mistake was born somewhere else on the pitch, three passes earlier.
Sign up for workout ideas, training advice, reviews of the latest gear and more.
Grub Smith contributed interviews and features to the print edition of Coach, which ran from 2015 to 2016.