Chris Robshaw: The Setbacks Hurt
England flanker Chris Robshaw describes the past year as a rollercoaster, but he won't let anything stop him from striving for perfection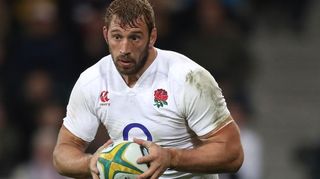 (Image credit: Unknown)
If you were to pick one word to describe Chris Robshaw, it would be "stoical". The 1.88m, 110kg flanker was forced to play the waiting game for a large chunk of his career. When called on, though, he was fully prepared to carry the weight of national expectations on his shoulders. Success followed – but inevitably, things didn't always go according to plan. And when that happened, Robshaw wasn't fazed.
The Harlequins man won his first England cap in 2009 against Argentina having just turned 24, but had to wait until January 2012 for another. His patience paid off and he started only his second game for the national side as captain. He retained the captaincy for four years, becoming England's most experienced skipper in the professional era with 42 caps.
However, the hugely disappointing home World Cup in 2015, when England lost to Wales and Australia to be eliminated at the group stage, proved costly for Robshaw. While the appointment of new head coach Eddie Jones has turned the team's fortunes around – at the time of writing England are unbeaten in 2016, winning the Six Nations Grand Slam followed by an unprecedented 3-0 series win in Australia – it's been bittersweet for the two-time Premiership Player of the Year as he was required to hand over his armband to Dylan Hartley.
Rather than throwing a tantrum, Robshaw chose to focus on how he could improve his game to better help his club and country achieve success. It wasn't a surprise to his team-mates or rugby fans – but, as he admits, it's not been easy.
How did you find out that you'd lost the captaincy after four years? And how did you react at the time?
I met up with Eddie and we had a good chat for an hour or so about the captaincy. We got to know each other a little bit. He decided to go with someone else [as captain], which I completely respected and supported. He told me I was still going to be an important part of the team and that was great to hear.
How do you assess the past 12 months of your career?
It's been a rollercoaster. There was huge disappointment after the World Cup but there's been some huge highs since then. Sport is like life, in that there are low points but all that matters is how you pick yourself up and dust yourself down and move forward. You need the support of the people around you: family, friends, coaches and team-mates. You can't do it all alone.
What has that year taught you?
It's not always going to be smooth. But then that makes the good times so sweet. I think when you have a setback you need to allow yourself that time to sulk or mope and take it all in – because it does hurt and it is a tough time – but once you come out of that, you can prove people wrong. And that's what I wanted to do: go out there every week and perform better than I have ever done before. I still want to improve and be better this week than I was last week.
How do you put that mentality into practice?
There's no secret. If you want to go far or reach the top in your profession then it's about hard work. You don't get anywhere by just assuming things will happen. You have to put in the hours and always be willing to learn and to try to be better. You just have to go out there and be the best you can possibly be.
What is the main thing Eddie Jones has done for the squad?
The confidence he has given us all to go out there and perform and do well. He works us pretty hard – he won't mind me telling you that! – but allows us all to have downtime at the right time, and that allows us all to improve.
How hard is it – mentally and physically – when you're under pressure to perform?
It can be pretty painful and pretty exhausting at times, but do you want to be the guy that lets the rest of his team down? The team at the moment has such unity – the guys all want to work for one another and I think that shows. We all want to go out there and perform. We know we are improving game by game and that requires everyone to put in the effort and do the things no-one ever talks about, like getting back up off the floor quickly. It's easy to run ten metres when you're about to score a try, but who's running hardest on that kick-chase, or to make a tackle, or to make a dummy run? The team right now is outstanding.
Following the Six Nations Grand Slam how did you approach the trip to Australia, where the team has historically struggled?
I think a number of us had fallen short a few times – and there was a hunger to put in as much effort as possible. We went there with an intense mindset and we wanted to take the game to them. We were a laughing stock in Australia when we turned up, mocked on every TV channel and adverts, so we had some points to prove.
You won your 50th cap in the second Test against Australia, a 23-7 win in Melbourne, and were named man of the match. How did it feel to win that landmark cap and clinch a series win?
It was an incredible Test. The whole week was pretty special for me. As soon as I knew I was playing I told all my family and friends, and I got messages of support from so many people. The team had a talk and presentation the night before the game – we'd conceded quite a few tries in the first Test [a 39-28 victory in Brisbane] – so we spoke about being able to look ourselves in the mirror afterwards and it really touched everyone.
And then everyone saw how we went out there and defended. Every single guy was on it and did their job. And in the changing room afterwards my 50th cap, my silver cap, was given to me by Jason Leonard, England's most capped player [Leonard won 114 caps between 1990 and 2004] who was president of the English Rugby Union at the time. He is a person I have always looked up to so it was extremely special.
What does the week leading up to a Test match entail?
A lot of it now – since Eddie came in – is recovery-based. We train very hard but recovery is extremely important. After every session I'm stretching or going in the pool, seeing the physio or having cryotherapy. It depends a bit on what suits you – not every guy has to do the same thing. I personally like an ice bath, and a massage works really well for me, but some of the guys tried an ice bath and it didn't work for them! It's very individualised and specific to each person.
How much do you train during the week?
Monday, Tuesday and Thursday before a Test match we work extremely hard. Wednesday is our skills, pick-up and recovery day. Friday is the final day for preparation and making sure we are all set. For me it's about getting to the Saturday knowing I've done the work, and being confident in myself. I am sure that is the same for most players around the world in the club and international game. Being confident that you've put the hours in and that you've improved from where you were last week – that's what is important.
What do the training sessions focus on?
Tuesday is our heavy day. We do legs in the morning, so heavy squats, deadlifts and lower-limb stuff. The forwards then go and do a unit session: scrums and mauls and breakdown work. In the afternoon it's defence, which as you can imagine is quite tasty! Eddie always wants us working hard, harder than we do in a game, so when we get to the game we know the intensity that we have to work at so we can compete. The guys are fighting for their places and have to impress but we all work together. After training the guys not in the 23 will work with those who are to help us all improve so we are all getting better and stronger as a unit.
What happens after a big match?
On Monday and Tuesday you are still a bit sore from the last game, especially if it's been an intense one. There's a lot of preparation and team meetings and you have to learn from your mistakes of the week before. If I've missed a tackle I look at how and why I've missed it, then speak to the coaches and get a couple of the guys to spend an hour with me on the training ground going over it and correcting it. You don't ever stop learning. I will speak to the coaches a lot and try to help other players, whether that's helping some of the young guys do something or some of the older guys. There will always be areas in which you can improve.
What about right after the final whistle?
I'll have an ice bath for ten minutes after a game, then a protein shake and a couple of litres of water. I'm mainly just trying to get my breath back! The night of a game some of guys won't sleep very well because of the adrenaline and caffeine, and rethinking key moments of the game.
So no beers in the changing room or players' lounge?
We might have a couple of beers in the changing room while we have a bit of a chat about the match. But it depends on the game, or the stage of a tournament. At the end [of a tournament] you can let your hair down a little more than at the start.
How much has the science of training changed since you turned pro?
It's always changing. When I was first involved in the England training squad we used to have 90-minute training sessions. Now with GPS and other technology that measures your speed and impact and many other aspects besides, we train for 45 minutes but much more intensively. So it's more similar to being in a game.
RECOMMENDED: Sean Maitland – New Tech Has Changed Rugby Forever
Nutrition is more important than ever in professional sport. What's your approach?
The day before the game is the important day and that's when I primarily try to eat a lot. Whey protein, eggs, sandwiches. I want to be light on my feet but have enough in the tank to perform during the match.
What about just before kick-off?
We have some jaffa cakes, bananas and some sweets knocking about the changing room before a game. Most people don't want to train or play on a full stomach and I agree with that. You need to have enough fuel in your system to perform but still need to move and operate without feeling sluggish or heavy.
So what is your fighting weight?
It's between 108kg and 110kg – as soon as I go above that I've eaten too much and if I go below I feel too light. Mid-season I am looking to eat 3,000 to 3,500 calories a day but it's about eating enough of the right foods often enough. So on heavy training days I need to increase my carb intake.
What role do supplements play in your nutritional approach?
In the morning I have fish oil. As soon as I finish training I have whey protein. Like a lot of people I don't want to eat a big meal after training but I want to help my muscles recover. On Tuesday, our heavy training day, I'll also have some casein at about 9pm, because it's a slow-release protein [to help my muscles recover overnight].
Throughout the year I'll get knocks and niggles and I may not always be able to eat that well so it's about maintaining my weight throughout the season. I need to get good calories in so I can always perform.
What do you prefer: strength training or cardio work?
When I was younger I had some leg injuries which meant I spent more time in the weights room to put on some of the size I needed, rather than just playing rugby all the time. Now I am always looking to get better and improve and it all depends on finding what works for you.
For an entire year, after training, I'd get on the rower for 150m and aim for under 27 seconds, rest 30 seconds, and then repeat that ten times. It was great anaerobic work that relates to rugby and that didn't take up much time or involve killing yourself too much.
So unlike many players, you don't mind the intense cardio work?
I like to work on my aerobic base. If I have that then everything else falls into place. On a Monday I will get on a Wattbike on a level four resistance for about 15 minutes, which gives me a good session but doesn't take too much out of me for rugby in the afternoon. It's also good for recovery because the resistance isn't too much on my legs but gives me a good sweat.
You've acknowledged the past 12 months were difficult. What does the next year have in store for Chris Robshaw?
I try not to look too far ahead. A lot can happen in sport in a week, let alone a year! I just want to be a better player tomorrow than I was last week. I want to keep on improving so I can go out there and help my team-mates as much as possible, and to be on a winning team to pick up silverware for both club and country.
Chris Robshaw is a Maximuscle ambassador and was speaking following the launch of Maximuscle's new raw ingredient powders, now available at maximuscle.com.
Sign up for workout ideas, training advice, reviews of the latest gear and more.