Sean Maitland: New Tech Has Changed Rugby Forever
Scotland's rugby star on recovery, carb-loading and tracking your progress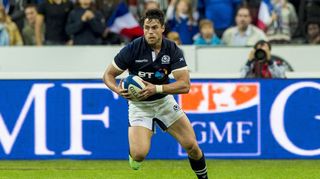 (Image credit: Unknown)
Rugby places physical demands on its players matched by few other sports. You need speed, plus the fitness to sprint around for 80 minutes and you have to pack on enough muscle to tackle 22-stone behemoths. Coach caught up with Scotland back Sean Maitland before the start of the autumn internationals to gain an insight into the work required to stay at the top of the game.
How much have rugby's physical demands changed in recent years?
Everyone's getting bigger, stronger and faster, and the game's always developing – it's getting faster. Technology is becoming a massive part of the game from when I first started playing and now you can't get away with anything on the training pitch. Someone's always watching. There are cameras there, or the GPS is showing what you've been doing. Rugby has evolved massively. I'm 28 now, so I'm focusing far more time on recovery after the game – wearing skins straight after matches, icing and stretching.
RECOMMENDED: Rugby Workout to Get Back in Shape for the Pack
Do you use a lot of stats?
We have GPS, it shows the distances you run in a game. It's specific to you, so it helps you focus on what you need to work on.
What are your metres per minute in a regular game?
A good example for metres per minute is 120 to 130. You also see your high percentage running in that. As a back three player, that's 80 to 90% of your max speed. You can be jogging around for a minute and running 120m, but if 70m of that is at a high intensity, it's different, depending upon the position that you play. The backs might cover 7.5 to 8km in a game, but it can be a kilometre less for the forwards.
What kind of food do you eat to recover?
After a game it's time to eat some greasy food to get the carbs in and help the recovery process. You've just played 80 minutes of rugby, so you don't need to worry so much about what you're putting in. The food is still usually healthy, it's greasy, but it's good.
RECOMMENDED: How to Bulk up Like Wales Rugby Union Captain Sam Warburton
Are there any distinct challenges to playing the teams from the southern hemisphere?
With the Rugby Championship, the southern teams will already have a few games under their belt. They're at the end of their season, while we're at the start and this is our first head out together, so it's always tough. Southern hemisphere teams over the past decade are regarded as the powerhouses of rugby.
Scotland play Australia on November 12 in the first of their autumn internationals, while England take on South Africa the same day. BT is at the heart of Scottish Rugby, supporting them from all four academies, across club, league and cup competitions, right through to the national team jersey and BT Murrayfield.
Sign up for workout ideas, training advice, reviews of the latest gear and more.