The Best Tennis Rackets For Beginners
You'll step onto the court with confidence when you're wielding one of these terrific beginner tennis rackets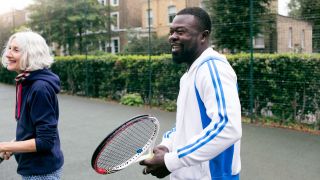 (Image credit: Getty Images / Nick David)
Whether you've been inspired by watching Wimbledon or just fancy playing a fun outdoor sport, you've made a great choice by deciding to play tennis. Charging around the court and swinging your racket will whip you into shape in no time, while the balance of power and skill required to best your opponent makes for an addictive pursuit.
When you first start playing, however, tennis can be quite frustrating, with frequent trudges to the net and trips outside the court to retrieve balls you've mishit low or shanked wildly high.
You'll quickly improve, especially if you heed these beginner tennis tips and use these tennis drills for beginners, but in the meantime choosing the right racket can make the world of difference. Below you'll find a range of the best beginner tennis rackets, and if you care to delve into what makes a good beginner racket, we have advice from an expert that explains all.
You may also be interested in our recommendations of the best tennis balls and best tennis shoes.
The Best Tennis Rackets For Beginners
Head Ti S6
The best beginner tennis racket for most people
Specifications
Head size:
115in² / 742cm²
Unstrung weight:
8.0oz / 225g
Composition:
Titanium graphite composite
Reasons to buy
+
Very lightweight
+
Huge head size
+
Very powerful
Reasons to avoid
-
May be too stiff for some
-
Can be a difficult racket to transition from
Probably the best-known line of beginner rackets has been around for close to 20 years. What makes the Ti S6 such an appealing racket for beginners (especially older players, or those just seeking something with high levels of playability) is its thick beam width. This is how thick the racket is, with measurements done in the throat, lower part of the head and upper part of the head. The thicker the racket the more powerful it tends to be, with most tennis rackets sitting somewhere within the 22mm and 28mm range. The Ti S6's whopping 28.5mm beam width makes it one of the thickest and most beginner-friendly rackets on the market.
And while the Ti S6 is one of the most powerful rackets around, it's also one of the most manoeuvrable, weighing an impressively light 225g unstrung. The titanium in its hybrid construction ensures it's lightweight enough for those just starting out, while the graphite gives the racket a plush feel. The Ti S6 also features a damping system making it a great choice for those who struggle with tennis elbow.
The one criticism of the Ti S6 is that given how unusual it is in its weight, head size and power, many players who start out with this racket struggle to move on to more traditional styles of tennis rackets.
---
Babolat Evoke 105
Best-value beginner tennis racket
Specifications
Head size:
105in² / 680cm²
Unstrung weight:
9.7oz / 275g
Composition:
Fused graphite
Reasons to buy
+
Very flexible so easy on the arm
+
Well built given the price
Reasons to avoid
-
Not much considering the price point
Easily one of the most competitively priced rackets on the market, the Babolat Evoke 105 is made entirely from graphite which is unusual at this price, where you'll find most other rackets are made of titanium or a cheap alloy.
One of the more unusual (but also most exciting) aspects of the Evoke is its flexibility. A racket's stiffness is measured by a machine that holds the tip of the racket and its handle and bends it to see how easily it flexes. A racket with a higher stiffness rating is typically more powerful, but harsher on the arm due to vibrating more, which can aggravate tennis elbow or other arm issues.
Anything with a stiffness rating of 64 and above is classed as a stiff racket, while anything with a rating of 63 and below is considered flexible. With a flex rating of 58 the Evoke is seriously flexible, which makes it very comfortable and easy on the arm.
It also features a comparatively large head and a tapered beam measuring 22mm in the throat and lower half of the head, and 25mm in the upper section of the head, adding power to its list of qualities.
---
Artengo TR100
Best budget tennis racket for beginners
Specifications
Head size:
100in² / 645cm²
Unstrung weight:
8.8oz / 250g
Reasons to avoid
-
Limited grip size
-
Poorer-quality materials used
Decathlon may not be the first name that springs to mind when you think of tennis, but its in-house tennis brand Artengo has been making huge strides over the past few years, culminating in the signing of big-name pro Gaël Monfils.
While this racket isn't what Monfils will play with, this is as cheap as it gets for a solid beginner tennis racket. The Artengo TR100 is made from aluminium but is still fairly lightweight at 265g, and has a neutral balance and a decently-sized head – all features that make it great for new players. It also has a low stiffness rating of 58, which means it's easy on the arm.
Unfortunately the TR100 only comes in a grip size 2, which is the average size most players need, but could be too small for some. The aluminium build makes it harder to tell when you've made good contact with the ball and is likely to warp much quicker than graphite, and players who improve will need to move on to a new racket quite quickly.
---
Tecnifibre T-FIGHT 255 RSX
Best tennis racket for committed beginners
Specifications
Head size:
100in² / 645cm²
Unstrung weight:
9oz / 255g
Reasons to buy
+
Very high-quality construction
+
Remains usable as players improve
+
An easy racket to transition from
One common mistake beginners often make is buying a racket they see pro players use, thinking it will help their game. This often leads to new players struggling to hit the ball properly thanks to the weight of the racket, and the technique required to generate power and control on the ball. But if you're aiming to take tennis seriously, you don't have to stick with limiting beginner rackets – you can choose the Tecnifibre T-FIGHT 255 RSX.
As part of Tecnifibre's flagship T-FIGHT range, the 255 RSX takes all the technology found in advanced rackets and distils it into something that's easy to use and beginner-friendly. Tecnifibre's RSX beam shape, a unique five-sided R shape, helps keep the frame stable through contact while aiding with aerodynamics to keep it easy to swing.
Not only is it easy enough to play with at the start, but its specs and level of playability make it a racket that will extend well into a beginner's tennis career.
If you choose the 255 RSK, with its unstrung weight of 255g and stiffness of 68, you will find it much easier to transition to advanced rackets down the line, given that it's essentially a lighter and slightly more powerful version of the more advanced T-FIGHT models.
How To Pick The Best Beginner's Tennis Racket
When you first start playing tennis, racket specs can feel a bit overwhelming. Swingweights, balance and string patterns are quite technical and hard to follow, but the main factors beginners you should look for are head size (this is how big the head of the racket and string bed are), and also the racket's unstrung weight – how much your tennis racket weighs without strings. So how big and heavy should an ideal beginner's racket be? We asked Jake Whalley of racket maker Babolat UK.
How heavy should a beginner's tennis racket be?
"A racket designed for a beginner should firstly be lightweight, which in racket terms means between 240g-275g (unstrung published weight)," says Whalley. "Newcomers will be learning new techniques as well as absorbing the impact of contact with the ball, and will find they are using new muscles – or at least using their muscles in a different way. A lightweight racket will help them master these new movements while minimising any aches and pains."
How big should the head on a beginner's tennis racket be?
"A beginner racket will often have a slightly oversized head (102-110 square inches) versus a more advanced mid-size racket head (95-100 square inches)," says Whalley. "The bigger head offers a larger sweet spot and helps to ensure a more responsive contact with the ball even if it's not struck dead centre in the middle of the strings."
Which grip size should you choose?
Grip sizes have two measurements, in Europe people tend to use the scale which runs from 0-6, while in the US people tend to measure their grip size in inches.
There are two ways to measure grip size. The first is to measure from the bottom horizontal crease of the palm to the tip of the ring finger, like in the image below, which shows I have a grip size of roughly around 4½ inches which translates to a European grip size 4:
Swipe to scroll horizontally
| US Sizes | European Sizes |
| --- | --- |
| 4 inches | 0 |
| 4⅛ inches | 1 |
| 4¼ inches | 2 |
| 4⅜ inches | 3 |
| 4½ inches | 4 |
| 4⅝ inches | 5 |
| 4¾ inches | 6 |
The second, and slightly less scientific method, is to hold a racket in your hand like a hammer and to see if you can fit your forefinger in between the gap left by your palm and fingers. This will give you a rough measure of whether your racket fits or not.
While there is a degree of flexibility in which size you use, with many pro and amateur tennis players using grips that are a size too big or too small for them (I personally find a grip size 3 to be the one that suits me), when you're just starting out it's best to use the correct size. Then as you progress to a more advanced racket, you can change grip size to suit your playing style.
What are the key differences between a starter racket and a more expensive model?
"The main one will be that a starter racket suited for beginners and infrequent players, as well as for anyone playing with lower-compression balls, will often be made of aluminium, which is more affordable and lightweight," says Whalley.
"A more expensive racket will include carbon graphite, either in composite form or in its entirety. A graphite racket, engineered correctly, offers greater rigidity for increased power and enhanced impact stability for greater control. This is essential when developing your game, especially when progressing to a harder and heavier standard yellow tennis ball.
How should you care for a tennis racket?
"To best maintain your racket, a case or racket bag is advisable," says Whalley. "This will protect your racket from bumps and scrapes, and keep your grip and strings dry. Storing the racket out of direct sunlight and as close to room temperature as possible is also a good move. This will help reduce the tension loss and keep playability consistent.
"One key point is understanding that the strings are the racket's engine – they account for up to 50% of the overall playability of the racket so it's essential to have the right strings and string tension.
"A general rule for any player is that they should change the strings the same number of times each year as the number of times they play tennis each week. Or when they break, of course! So if you are playing roughly three times a week, you should be aiming to refresh the strings in your racket three times a year."
The easiest way to restring your racket is ask at your local tennis shop or club what they recommend for beginners. Many stringers will have reels of suitable strings for people just starting out.
Alternatively, the best strings for beginners are either synthetic gut or multifilament strings. Both are made from nylon, a springy yet soft material that is ideal for beginners, offering a balance of power and comfort. Synthetic gut is made to mimic natural gut, which is what tennis strings were traditionally made of, and tends to be made from a single piece of nylon, which accentuates comfort. Multifilament strings are made from many hundreds strands of nylon woven together, which means the strings are more springy and give greater power than synthetic gut.
Ask the stringer for advice on tension, or follow the suggested tensions written on your racket.
Sign up for workout ideas, training advice, reviews of the latest gear and more.
A former journalist, Will Grice now works in audience development. He is a tennis fanatic, and has played for close to 20 years. He currently plays for two clubs in north London and Hertfordshire, competing in both singles and doubles leagues. Will is also due to begin his LTA Level 1 Assistant Coaching qualification in 2023. He contributes to Coach's coverage of the sport.