The Best Tennis Balls For Different Surfaces, Value For Money And Training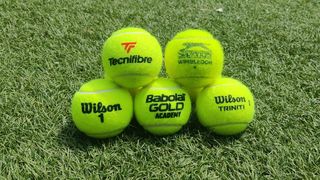 (Image credit: Will Grice / Future)
The best tennis balls for you will depend on the surface you play on, your skill level, and even your style of play. It may seem far-fetched to spend much time debating different brands of these small fuzzy balls, but just as tennis shoes, rackets and strings can have a big impact on your game, tennis balls are another important element of this wonderful sport.
There's a myriad of tennis ball brands, and each make and model of ball is slightly different. The bounce will vary, balls will take on spins differently, and some will feel heavier than others if they have a thicker felt or more pressure in them. If you try enough types of tennis balls, you'll start to feel the differences between them and that can be a great way to improve your game.
How I Tested These Tennis Balls
I put a selection of tennis balls through their paces by using them on a variety of surfaces and tracking their consistency, durability and lifespan. I predominantly use these balls on hard courts but also play on carpet, artificial turf and sometimes, if I'm lucky, artificial or real clay.
I test the way balls feel with serves, returns and volleys, and measure their ability to take on spin by playing with different rackets and spins, something that's easy for me to test since I usually play with a lot of topspin and variation in my shots.
I've tested the first four balls on this list, and while I continue to test more balls for future updates to this guide, I've included another writer's previous top picks to give you as wide a choice as possible.
The Best Tennis Balls
1. Wilson US Open
Best overall
Reasons to buy
+
Excellent bounce for all styles and courts
+
Durable, high-quality felt
Reasons to avoid
-
Can be expensive
-
Can be hard to control straight out of the tube
The Wilson US Open tennis ball is a staple of any club you'll play at. It's a popular choice for lots of players because it's long-lasting and plays consistently well across different court surfaces and play styles.
I often find a new tube of Wilson US Open balls can last two matches at a time on a hard court before really starting to play any differently. If you play on carpet or artificial turf, they'd probably last even longer depending on how hard you slap them around. That durability is great to see from a top-tier brand, and even after their match quality is done, I find I can get a good couple of training sessions in with them before I need to retire them completely.
The balls are lively straight out of the tube, but after playing them in briefly, they have an excellent way of taking on spin, fluffing up just the right amount, and they're controllable whether you play flat or with a lot of spin. Overall, this is the best tennis ball for most players.
---
2. Dunlop Fort All Court Tournament
Best performance balls
Reasons to buy
+
Excellent all-round bounce and feel
+
Great felt
+
Controllable for all styles
+
Suitable for all surfaces
Another ball commonly seen in most tennis clubs is the Dunlop Fort All Court. These balls are on par with Wilson's US Open for their consistent bounce and feel and their high-quality felt. That said, their biggest let-down is their durability. After one, sometimes one and a half matches depending on the surface you play on, these balls are usually pretty knackered, even on softer surfaces like carpet and grass. When they get tired, the bounce becomes very low, the balls a shadow of their former selves.
That said, their control, feel and ability to take on spin is excellent while it lasts. In a lot of team play, leagues and tournaments, you'll often find these as a standard match ball, and for good reason. They're playable by all sorts of skill levels and act consistently on all surfaces. Moreover, they don't break the bank. If you want a match ball, these are usually priced pretty competitively, so they're definitely up there with the best tennis balls on the market.
---
3. Head Team
Best cheap balls
Reasons to avoid
-
Flat, low bounce
-
Can feel heavy
Most players either love or hate Head Team balls, depending on their style of play. If you like to hit low-to-the-ground flat balls and don't use much spin, Head Team is a good pick. If, like me, you like to play with a lot of spin and variation in your shots, this ball won't be your favorite.
Luckily, the low, flat bounce of these balls means that you won't notice much change when they start to age. Their lifespan isn't terrible, but when you do start to notice they're losing pressure, it's time to hit more drop shots, because your opponent won't stand a chance on a carpet, artificial turf or grass court.
The biggest reason to look for these balls is that they're some of the cheapest on the market in a four-ball can.
---
4. Dunlop ATP Championship
Best for hard courts
Reasons to buy
+
Fast, flat ball
+
Still has a good bounce for spin players
+
Doesn't fluff up
+
Decent durability
Reasons to avoid
-
Can be hard to control
-
Feel could be better
Dunlop recently usurped Head's ATP Tour ball as the officially branded orb of the men's championship tour. The stark contrast between the two balls reflects the style of professional game the ATP wants to encourage. This ball plays fast, refuses to fluff up and is designed to be blasted for a winner time and time again.
This is a big change from Head's ATP outing since that ball is excellent for more methodical match players and feels like it's been designed to create spin where a player has imparted none. Dunlop's ATP Championship ball is one of the best balls if you like to hit big and play flat shots. Most of all, it's well balanced. Using this ball against a slower, more defensive player won't give you an unfair advantage, and spins can still throw a real spanner in the works. These are super-consistent for about five hours on carpet and hard court, but when they die, they go extremely flat and they don't bounce—they roll.
If you're looking for one of the best all-round tennis balls, for hard courts in particular, this one is up there.
---
5. Slazenger Wimbledon
Best for grass courts and artificial turf
Reasons to avoid
-
Weight may be tough on the arm for some players
-
Can fluff up quite quickly
It's little surprise that the ball designed for Wimbledon performs well on both real and artificial grass courts. It's one of the heaviest around, which makes it the ideal choice for artificial grass because the weight slows the ball down on the quick surface. Slazenger claims the Hydroguard construction makes the ball 70% more water-repellant than other balls on the market—useful because astro courts tend to feel damp.
---
6. Wilson Roland Garros Clay Court
Best for clay courts
Reasons to buy
+
Felt keeps dirt off the ball
Reasons to avoid
-
Quite a specialist ball, unless you regularly play on clay
Those lucky enough to play on clay courts will be aware of the problem of balls getting coated in dust and dirt, and eventually feeling more like a cricket ball than a tennis ball. However, Wilson's Roland Garros ball uses felt designed to shed grit and moisture, and other elements that help maintain its pressure for as long as possible, helping with the elongated rallies you expect on clay.
---
7. Babolat Gold Academy
Best pressureless tennis balls
Reasons to buy
+
Good bounce
+
High-quality construction
+
Last a long time
Reasons to avoid
-
Felt could be higher quality
-
Better-value pressureless balls available
A word of warning: do not buy pressureless balls if you're planning on using them for anything other than training. Pressureless balls are designed for use in ball machines and for basket drills, so are made to be long-lasting and capable of taking a beating.
One complaint many players have with pressureless balls is that their bounce can feel different from regular balls and they can often appear slow, meaning training doesn't always translate very well to match play. However, Babolat seems to have engineered a nearly perfect training ball with the Gold Academy. It's quick without being too hard for beginners, and the bounce is close to matching that of a pressurised ball, making it a great option for coaches and players alike.
---
How do I choose the right tennis ball?
There are many great balls on the market so to find the one that's right for you, think about your play style, court surface and budget, and whether you want a match ball or a practice ball.
Much like when choosing the best tennis rackets for beginners, juniors and novices would do well to choose a ball that is designed for them. Selecting a ball with less pressure will ensure it's slower and easier to control, and will help the player feel the contact with the racket more. Intermediate and advanced players will want a ball with decent pressure that can maintain its consistency for as long as possible.
While you don't want to overspend on balls, the old adage "buy cheap, buy twice" applies. As a general tip, don't buy tennis balls that are sold in single quantities in sports shops—these often have far too much pressure, can cause injuries and are better suited for your dog.
How long do tennis balls last?
The best tennis balls should last you a few sessions of play, although the lifespan of balls will vary. The most durable tennis balls can last around six hours of pure court time if you play solely on hard courts. If you play on clay or grass, that number will be smaller, but if you play indoors that time could increase. In my experience, the tennis balls with the most durability are the Wilson US Open and the Dunlop ATP Championship.
What do tennis ball numbers mean?
The numbers on tennis balls are not as complicated or as interesting as you might think. While some people believe they represent pressure, durability or something else, they're actually just there for organizational purposes. One tube will have number 1 balls in it, and the second tube you buy in a multipack might have number 2 balls in it. This helps to distinguish them if you use both at once and helps you tell yours from another player's balls.
Improve Your Game With Workouts, Drills And Advice
Sign up for workout ideas, training advice, reviews of the latest gear and more.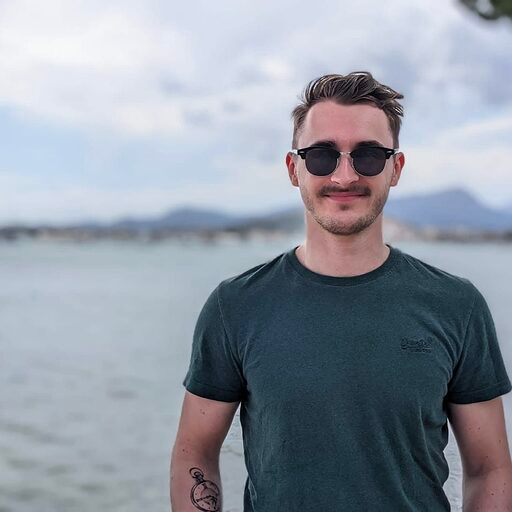 Duncan is the hardware editor at Coach's sister title GamesRadar+, but he spends his spare time on a tennis court. Growing up, Duncan trained to be a professional tennis player, receiving coaching all over the world and competing in junior tournaments. Nowadays, he hits two or three times a week and tests the latest gear—including tennis shoes, rackets and balls—for Coach.