CrossFit 23.2 Standards: How To Nail The Burpee Pull-Up, Shuttle Runs And Thruster
Avoiding no-reps is a no-brainer, here's how to perform every move in Open workout 23.2 according to CrossFit's standards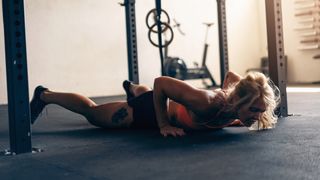 (Image credit: Getty Images)
The second workout of the 2023 CrossFit Open has thrown up a first – the first time in the competition's 13-year history that a workout has included running. The running is paired with a burpee pull-up, while a final element challenges participants to log the heaviest thruster they can muster – not something many athletes train for.
As anyone who has completed a competitive CrossFit workout knows, there is nothing more dispiriting than hearing a judge call out "no rep". To help you avoid this fate, we've read the detailed movement standards on the CrossFit open 23.2 scorecard to distil the essential points for you, as well as sharing some top tips from CrossFit on how to post your best possible score.
Workout 23.2
CrossFit Open workout 23.2 is a two-part workout, split into 23.2A and 23.2B. Go immediately from 23.2A to 23.2B.
23.2A
Complete as many reps as possible in 15 minutes of:
Burpee pull-up x 5 (add an extra five burpee-pull-ups every round)
50ft shuttle run x10
23.2B
Five-minutes to establish a one-rep max thruster from the floor.
23.2 Movement Standards
Burpee pull-up
First things first – make sure the bar is high enough. CrossFit specifies you must not be able to touch the bar when your arms and fingers are fully extended above your head.
To complete the burpee, both your chest and thighs must touch the floor. That's the only stricture so feel free to step in and out of the burpee rather than jump if you need to.
The pull-up is achieved by your chin going above the bar. Jumping and kipping are both allowed.
The final thing which may trip you up is that you are allowed to wrap tape around the pull-up bar or wear hand protection such as gymnastic grips or gloves. You are not allowed to use both.
Shuttle run
Watch out for this one. Both feet and one hand must touch the floor past the line. If you just step on or touch the line, rather than crossing it, your rep won't count.
Thruster
The usual thruster standards apply here, so your hips must drop below parallel at the bottom of the rep and your hips, knees and arms must all be fully extended at the top.
For each rep, the bar must start on the ground, and you can either power clean it before performing a thruster or squat clean it straight into the thruster. However, it all has to be completed in one fluid motion, so you can't perform a front squat and then a jerk.
Burpee Pull-Up Tips
Most CrossFitters will have attempted a burpee pull-up or two, whether that's in a class WOD or as part of a gnarly conditioning piece. However, the move has only ever made infrequent appearances in competition, and this is the first time we're seeing them in the CrossFit Open.
To help you nail your form and improve your score for 23.2A, CrossFit Training has released some top tips for perfecting your burpee pull-ups. Watch the advice below:
There are four takeaways:
Efficiency: Try to minimise the number of steps you take when transitioning between the burpee and pull-up, saving you time and conserving energy.
Burpee technique: There are two methods to performing the burpee: jumping in and out of the bottom position or stepping in and out. The latter may help save your legs, but will take longer.
Pull-up technique: There are two options here, too. Jump into the pull-up position, using your legs to power the initial part of the movement, or start in a dead hang and perform a kipping pull-up. Practise each one beforehand to see which one suits you best.
Pull-up grip: If the pull-up is the limiting factor for you in this workout, you may find you are stronger using an underhand grip (or chin-up). If you are proficient with pull-ups, then an overhand grip is likely to be slightly more efficient.
Sign up for workout ideas, training advice, reviews of the latest gear and more.
Harry covers news, reviews and features for Coach, Fit&Well (opens in new tab) and Live Science (opens in new tab). With over a decade of training experience, he has tried everything from powerlifting to gymnastics, cardio to CrossFit, all in a bid to find fun ways of building a healthy, functional body.