The CrossFit Open Is The World's Biggest Fitness Competition And Anyone Can Give It A Try
The annual online event takes place every February. Here's what you need to know about the CrossFit Open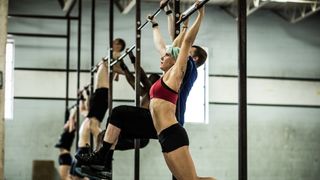 (Image credit: Getty Images)
Hundreds of thousands of CrossFit fans around the world are preparing to put their fitness to the test in the CrossFit Open, but outside of the box it's not so well known. That's a pity, because it's free to take part in and different versions are offered so anyone with experience of the gym can give it a try.
To help first-timers work out what on Earth is going on, we've identified and answered some common queries, based on officially taking part in one CrossFit Open and tagging along using whatever equipment we could muster since 2018.
What is the CrossFit Open?
The CrossFit Open is an annual fitness competition that is held online. Participants who have registered (opens in new tab) submit their scores for a series of workouts. It lasts three weeks and one workout is set every Thursday. Participants have until Monday to perform the workout and submit their scores.
The scoring element may relate to the amount of weight you lift, the number of repetitions you complete or the time it takes you to finish the challenge.
Your score needs to be verified by a judge at your CrossFit box, or if you're training independently and still want to take part, you can film yourself completing the workout and submit the video online for verification by CrossFit.
Then you can see how you stack up on the online leaderboard.
What is the point of the CrossFit Open?
For most people, the Open is a fun way to test their fitness, but it is also the opening act of the CrossFit season. The top 10% of the online leaderboard qualify for the quarter-finals, which operates in a similar way to the Open. The top performers from the quarters are invited to attend in-person semi-final events in one of seven regions: North America West, North America East, South America, Europe, Africa, Asia and Oceania.
Eventually, the hundreds of thousands of Open participants will be whittled down to 40 elite individual men and 40 elite individual women, who have earned the right to compete at the CrossFit Games in Madison, Wisconsin, for the title of fittest man or woman on Earth. There are also team, masters and adaptive divisions represented at the Games.
How fit do you have to be to take part in the CrossFit Open?
Fit, but perhaps not as fit as you may think. CrossFit aims to make it as accessible as possible, and to that end several versions of each workout are released.
We've detailed each below and included the 22.2 CrossFit Open workout, the second 2022 edition, by way of example. The workout involved doing a pyramid workout – going from one rep up to 10 and back down again – of deadlifts and barbell-facing burpees as quickly as possible with a time cap of 10 minutes.
RX: The most difficult version of the workout, this is the category elite individual and team athletes aiming to progress to the quarter-finals and beyond need to do.
22.2 RX: Barbell load 102kg for men or 70kg for women. For the burpee your chest and hips must touch the floor with your head pointing towards the barbell. You must then stand upright and jump over the barbell.
Scaled: This is a slightly easier version of the RX workout. Changes may include lifts being performed with a lighter weight, the target number of reps being lowered, or high-skill movements like muscle-ups being substituted with easier alternatives like a pull-up or ring row.
22.2 scaled: Barbell load 61kg for men or 43kg for women. You may step over the barbell rather than jump.
Foundation: This is the most accessible version of the workout for general gym-goers and newcomers. Again, movements will be altered so more people are able to perform them.
22.2 foundation: Barbell load 35kg for men or 25kg for women. Bar-facing burpees are replaced with standard burpees.
Adaptive: CrossFit has several divisions for people with disabilities. The adaptive athlete policy (opens in new tab) outlines the eligible impairments.
When does the CrossFit Open start?
The 2023 CrossFit Open starts on 16th February. The first workout (named 23.1) will be revealed on a live stream on the CrossFit Games YouTube Channel at 12pm PT/3pm ET/8pm GMT.
Minutes after the workout is revealed, four of Europe's top-ranked athletes from the 2022 season compete in the Caja Mágica (or Magic Box) stadium in Spain. Laura Horvath, the 2022 third fittest woman on Earth, goes up against Gabriela Migala, who finished in the top 10 of last year's Games. CrossFit's Mr Consistent Björgvin Karl Guðmundsson will face rising star Lazar Đukić.
You have until 5pm PT/8pm ET/1am GMT the following Monday to submit your scores. The remaining Open workouts will be revealed on the following two Thursdays (23rd February and 2nd March).
How are CrossFit Open workouts named?
CrossFit Open workouts are named after the year they take place, and the order in which they were announced in the competition. So the first 2023 workout will be known as 23.1, the second will be 23.2, and so on.
How many CrossFit Open workouts are there each year?
When the CrossFit Open launched in 2011, it consisted of five or six workouts until in 2021 when the competition was shortened to three workouts. That said, CrossFit has been known to include a curveball.
The final week of the 2021 Open saw the release of workouts 21.3 and 21.4. CrossFit specified that these two workouts – a combination of front squats, thrusters and pull-up bar skills, alongside a deadlift, clean, hang clean and jerk complex – were to be performed back to back, but they counted as separate scores on the online leaderboard.
Sign up for workout ideas, training advice, reviews of the latest gear and more.
Harry covers news, reviews and features for Coach, Fit&Well (opens in new tab) and Live Science (opens in new tab). With over a decade of training experience, he has tried everything from powerlifting to gymnastics, cardio to CrossFit, all in a bid to find fun ways of building a healthy, functional body.