Pro Tips For CrossFit Open Workout 23.1
Post your best score for CrossFit Open workout 23.1 and climb the leaderboard with this advice from professional athlete Aimee Cringle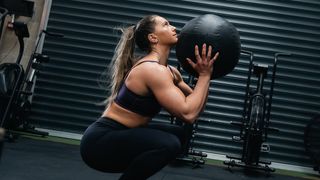 (Image credit: Matt Melling)
CrossFit Open workout 23.1 has been revealed and it's an intimidating prospect.
The first official CrossFit workout of the 2023 season is a repeat of the 14.4 workout from 2014, challenging athletes to complete as many rounds as possible of a 60-calorie row, 50 toes-to-bars, 40 wall balls, 30 cleans and 20 ring muscle-ups in 14 minutes.
The RX weights (the weight prescribed for top-level athletes) for men are a 9kg/20lb medicine ball and a 61kg/135lb barbell, while the RX weights for women are a 6kg/14lb medicine ball and a 43kg/95lb barbell.
To help you boost your score, Coach spoke to Aimee Cringle, a professional CrossFit athlete.
How To Approach 23.1
"This is a brilliant long (for CrossFit) workout which will really test your engine," says Cringle. "It's a really cool old-school chipper-style workout, meaning you want to steadily chip away at the reps as best you can. However, the gymnastics elements – the toes-to-bars and the ring muscle-ups – will be tough to get through."
"If your gymnastics ability is a limiting factor and you want to get a good sweat, consider scaling so you can reduce the complexity and up the intensity. If you're focused on leaderboard rankings and can get through the toes-to-bars in quick small sets, then go RX."
The scaled version of the workout reduces the weights of the medicine ball to 6kg/14lb for men and 4kg/10lb for women. It also lowers the barbell weight to 43kg/95lb for men and 29kg/65lb for women, replaces the tricky ring muscle-ups with chin-over-bar pull-ups, and swaps toes-to-bars for hanging knee raises.
Scaled entries will register below RX attempts on the CrossFit Open worldwide leaderboard, regardless of your score, but they are still a fantastic way to test your fitness.
However, if ring muscle-ups aren't in your locker, it could still be worth performing the RX version of this workout.
"Even if you aren't proficient in muscle-ups, or you've never achieved a muscle-up before, the Open is notorious for seeing people achieve things they never thought they could, so definitely go for it!" says Cringle.
"Think about doing the biggest kip you've ever done, with a decisive turnover, and throwing your head through the rings. As the most challenging and complex movement in the whole workout, every muscle-up rep you get will raise you up hundreds of places on the leaderboard, so make them count."
How To Approach Each Exercise
Here's Cringle's advice on how to tackle each of the five movements.
Row
"This workout will not be won on the row," says Cringle, "so don't go out all guns blazing. You don't want to risk blowing up here to the detriment of the rest of the other movements. Instead, find a steady pace and keep it smooth, keeping your chest and eyes up."
Toes-to-bars
"Ideally, you know where your ability is," says Cringle, so you can set an achievable plan. "Having a plan will help enormously, both mentally and physically. Break the reps up into smaller sets containing a number of reps you know you can stick to, and repeat this without hitting failure. Be strict on your rest periods too. Again, pick a number of seconds between your sets – 10, 20 or 30 – and stick to it. Be controlled and save your grip for the next movements."
Wall ball
"If you can't do all 40 unbroken, break the reps into manageable sets with controlled rest periods between, like with the toes-to-bars," says Cringle. "Get into a rhythm and they'll be over before you know it."
Clean
"I'd recommend doing fast single reps," says Cringle. "Drop the bar once you've completed each rep to save the energy lowering the bar back to the ground. If you do perform single reps, make them fast and be consistent – clean the bar, drop the bar, hands on the bar again, and repeat. If you're better performing touch-and-go reps, again, find a rep range you can sustain without blowing up and be controlled with your rest between sets."
Ring muscle-ups
"This is the most complex movement in this workout," says Cringle. "If you can do muscle-ups, think about managing your workload and capacity – how many reps can you string together without blowing up? Break them down into sets that you can comfortably do."
Aimee Cringle is one of Europe's most promising CrossFit athletes. In 2018, at the age of 19, she placed second in the Isle of Man during the CrossFit Open. Cringle has been rising through the UK ranks since then, placing 25th in the UK in 2019, 20th in 2020 and 15th in 2021.
Cringle also regularly competes in other endurance sports and athletic competitions, taking gold in the 2019 Island Games 400m hurdles, breaking a record that had stood since 1998, and taking first place in the 2020 Isle of Man Triathlon Championship – her first Olympic distance triathlon.
Having recently completed a degree in nursing at University College Isle of Man, Cringle has now become a full-time athlete, focusing on her goal of getting to the CrossFit Games.
Sign up for workout ideas, training advice, the latest gear and more.
Harry covers news, reviews and features for Coach, Fit&Well (opens in new tab) and Live Science (opens in new tab). With over a decade of training experience, he has tried everything from powerlifting to gymnastics, cardio to CrossFit, all in a bid to find fun ways of building a healthy, functional body.