Swimathon Is The Fitness Challenge That Suits All-Comers
To find out more about the world's largest annual fundraising swim, we spoke to a woman who has osteoarthritis in both knees and is planning to swim 30.5km in this year's event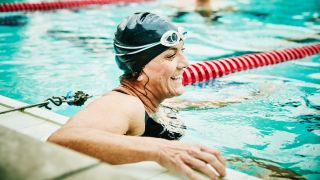 (Image credit: Getty Images / Thomas Barwick)
Committing to a fitness goal in January isn't always about killing it in the gym. If you're looking for a new way to get active without pushing yourself to HIIT-induced burn-out and injury, there are few low-impact sports quite as effective as swimming.
And if signing up to an event to train for will help keep you motivated, you can't do better than Swimathon, the world's largest annual fundraising swim. In 2023, it will take place from May 12th to the 14th May at 450 pools in the UK. The format is simple: find your nearest participating pool, choose a date and pick your distance – 400m, 1.5km, 2.5km or 5km are the four standard options.
There are many benefits of swimming – it's a total-body workout that can leave you not just physically transformed but mentally recharged, too. But perhaps the best thing about it is that it's accessible no matter your age, physical ability or fitness level.
One person who found taking to the water transformational is Louise West, a 61-year-old amateur swimmer who has been taking part in Swimathon since 2020. "I was recently diagnosed with osteoarthritis in both knees, and I had spinal surgery around 20 years ago," says West. "I struggle with stiffness and pain on a daily basis, but swimming helps alleviate the symptoms. The training makes a tremendous difference to my mobility."
"I can push myself in the pool in a way that I can't on the land," says West. "Swimming gives me so much confidence with my fitness and allows me to set goals and personal bests that keep me motivated with training, which I always struggled with before because of my various health issues."
West started swimming as an adult six years ago and completed her first Swimathon in 2020, before pools closed because of COVID-19. "I was looking for a fitness goal to keep me motivated and spotted a Swimathon post on social media. Running a marathon isn't possible for me with my joint issues, so discovering Swimathon kept me on track with regular fitness sessions. I finished my first event about two hours before the first coronavirus lockdown, but I'm back to compete again this year."
While pool swimming is a low-impact activity, that's not to say it's easy. Moving through water uses nearly all the muscles in the body, including often under-worked areas of the arms, making it a killer upper-body workout. "I was a keen swimmer as a teenager, but I'd had a 35-year break before getting back into the pool," says West. "I could do around 20 lengths when I first started, and I'm now doing that distance as a warm-up, before an hour's personal training session. It's addictive to track your progress with regular training."
Any type of exercise can make us feel good, but simply being in the water can have its own restorative benefits too. A YouGov poll commissioned by Swim England found almost half a million adults with an existing mental health issue reduced their visits to their GP or therapist as a result of regular swimming.
"I've found that swimming is a great way to switch off and have some 'me' time," says West. "I've lost a few friends to cancer, so raising money for Swimathon [which benefits Marie Curie and Cancer Research UK] has given me a personal motivation to keep going with my training. It's an incredible feeling once you hit the finish line."
For seasoned swimmers, Swimathon has two advanced challenges: the Triple 5K (a 5km swim every day of the event weekend) and the 30.9 (every Swimathon distance combined). "The first Swimathon, I completed a 5K distance. Last autumn, I did an 'own distance' swim, which was 20km over a month. I'm aiming for 30.5km this year, but my big goal is to swim 63km in 2024 – 1km for every year of my life."
West trains around five times per week, which she says has been crucial for pushing her progress over the years. "I take a weekly Swim Fit class, group interval training in the pool. We build our endurance by doing swim sprint lengths with recovery periods. It's a bit like a gym class but in water.
"As well as those group sessions, I have a personal training session and at least three other solo swimming sessions in the pool each week. Utilising these different types of training has given me structure and variety. Plus, the group element is a good motivator when you're low on energy."
"The other great thing is that all of my sessions are indoors in a heated pool, so I'm not training in the cold and rain. I really look forward to my sessions in the winter months, especially now that I'm not always putting the heating on at home."
If you're new to swimming, West says it's a good idea to start small and build up your swimming at a pace that works for you. Even a 15-minute gentle breaststroke session can help build strength over time. "If you're not confident in the water, sign up for an adult swim lesson," she advises. Participating pool operators such as Better and Everyone Active offer adult swimming lessons nationwide.
In contrast to the limit-pushing strength and HIIT classes that are popular at gyms right now, swimming can feel like a less intimidating way to bring movement into your life. If you're already a regular in the weights room or a keen sportsperson, its low-impact nature makes it an excellent choice for cross-training too.
Community pools are also having a tough time making it through the energy crisis so making regular visits right now is invaluable to keeping local leisure centres going. "If you're thinking of signing up to Swimathon, it's not too late to start your training for this year's event," West adds. "Find a friend and sign up together." It'll keep you motivated to stay active long past the New Year training buzz.
Swimathon is the world's largest annual fundraising swim in support of Cancer Research UK and Marie Curie. This year Swimathon takes place at over 450 venues across the UK. Select your challenge and join at swimathon.org
Sign up for workout ideas, training advice, reviews of the latest gear and more.
Liz Connor is an experienced journalist based in London, UK. She writes features on various aspects of health, nutrition, fitness and wellbeing. Her career has spanned working as the health and wellbeing editor at news and features agency PA Media, and has written for titles including The Independent, National Geographic Traveller, British GQ, ELLE, Yahoo, MSN and Stylist magazine.