New Men's Grooming Tech (Featuring Lasers, Finally)
We were promised hoverboards by now – but we'll make do with laser razors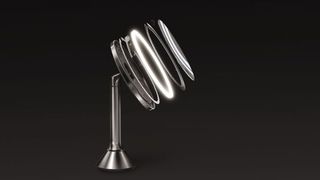 (Image credit: Unknown)
Dental Care
Philips Sonicare FlexCare Platinum Connected
A lot of people aren't cleaning their teeth properly. You should be brushing for at least two minutes, but due to the tedious nature of scrubbing your pegs, and the more enticing prospect of getting into bed to watch Netflix, that time is often more like 50 seconds. Cleaning-coverage is an even greater problem, but this smart toothbrush will make sure you're doing the job thoroughly.
It does this by mapping your mouth using sensors, and relaying your brushing habits to an app in real-time using Bluetooth (if you're away from your phone, the brush will sync your data to the phone app later), which shows you where you're going wrong. It displays a 3D image of your lovely pie-hole and lets you know which areas you're neglecting. The app will then give you tips on how to improve, or instruct you to go back and try again – it's a strict business, is teeth. Price £TBA. Available in the UK from September, philips.co.uk
Oral-B Pro 6500 SmartSeries
What happens when oral hygiene and tech start dating? Your toothbrush has its own app. Oral-B has upped the competition with the new SmartSeries, which claims to strip 100% more plaque than a regular toothbrush. Bluetooth helps you track results and customise your brushing, all while providing some light entertainment. It's probably the only toothbrush that could single-handedly put your dentist out of a job. From £112.49, oralb.co.uk, buy on boots.com
Philips Sonicare Airfloss Pro
Bid farewell to floss stings and old-school dental care routines. The AirFloss Pro uses air and micro-droplet technology to jet-blast mouthwash (or any liquid of your choosing) between your teeth. The nozzle acts as a guide and helps to target teeth at the front and back of your mouth, removing plaque build-up as well as food debris from those hard-to-reach spots you may have missed brushing. £100, philips.co.uk, buy on Amazon
RECOMMENDE: 8 Products To Use For Whiter Teeth
Razors
Skarp Laser Razor
The Skarp Laser Razor first found fame on the Kickstarter website, where the Skarp founders raised $4 million from over 25,000 potential buyers. Then Kickstarter pulled the plug on the initial prototype. Following this little setback, Skarp relaunched the project and although it hasn't reached the heights of the original total, this time it's managed to raise over $440,000. Although the Skarp looks like a traditional razor, it's actually powered by small lasers and promises to give the closest shave possible without irritating or damaging the skin. £196.79, indiegogo.com
Braun CoolTec CT2S-W
Most shavers allow heat to build up in the head, which can often lead to redness, burning and irritation. The Braun CoolTec shaver is one of the first of its kind to use "active cooling technology" with an aluminium cooling bar integrated into its design. The blades capture hair growing in different directions, it's waterproof to a depth of 5m and it only needs a five-minute charge to get to work. £200, braun.com, buy on Amazon
RECOMMENDED: 6 Electric Shavers to Tackle Your Beard
Hair Care
Hairmax Ultima 12 Lasercomb
Few men welcome the idea of going bald with open arms, especially when the bald patch becomes trickier to disguise. But help is at hand: whether you're facing hereditary hair loss, alopecia or stress-related balding, there is a way to save what you have left. The LaserComb uses something called laser phototherapy, which gently stimulates the hair follicles and promotes new growth. £338.50, hairmax.com, buy on Amazon
No! No! Hair Pro 5
You no longer need to subject yourself to excruciating treatments in uppity salons. This No! No! gadget removes coarse hair using pulsed thermicon technology, which claims to remove hair instantly and provide lasting results – painlessly. Up the heat, glide the gizmo over the offending area and watch the hairs retreat. £205.25, mynono.co.uk, buy on harrods.com
BaByliss Pro Italia Brava Dryer
A hair dryer with as much horsepower as a Ferrari? Well, almost. Not only does this Italia Brava look the part, its Ferrari-designed motor lasts up to ten times longer than most dryers', providing a claimed 10,000 hours of use as it dries your hair at record speed. Short styles can be set in seconds with the "cool shot" feature, while its light weight allows easy portability and low noise means you can blow your hair out at ungodly hours. £120, babylisspro.co.uk, buy on Amazon
Wahl Lithium 9818-800Y Stainless Steel Grooming Station
Don't have a specific reason for buying a grooming device? The Wahl 4 in 1 Grooming Station, with its four cutting heads, is for you. Lithium-ion tech provides more power and a better battery life compared to other NiMH-powered tools, so it cuts rigid hair easily. This grooming station is one for all your manscaping needs, keeping your eyebrows, nose and ear hair in check. £64.99, wahlglobal.com, buy on Amazon
RECOMMENDED: How To Style Your Hair Like A Pro Barber
Skin Care
Foreo Luna for Men
Silicone bristles are what separate the Foreo brand from other cleansing tools – that and the fact each product looks like something out of Star Trek. The cleansing brush gently opens pores, sheds dead cells and tackles a build-up of dirt and oil, making it less likely your skin will go to war with itself. The waterproof gadget boasts up to eight speeds and 450 uses from a full charge. £149, foreo.com, buy on boots.com
StriVectinLabs Facial Toner
As you age, you may notice things start to droop and lines begin to form. StriVectin's Facial Toner stimulates nerves surrounding the facial muscles by transmitting electrotherapy technology. Without the use of a single needle or a drop of harsh chemicals, it aims to restore muscle mass in the face, as well as tone, lift skin and preserve your boyish good looks. £185, buy on harveynichols.com
Geneu DNA Skin Serum
Professor Christofer Toumazou is the inventor of medical breakthroughs like the artificial pancreas and hearing implants, but he's now turned his hand to a greater cause – skin care. The two main genetic factors that cause skin to wrinkle, blotch and sag are an imbalance of antioxidant and collagen levels, so the serums are developed according to your DNA and lifestyle habits. From £260 (for DNA test and serums), geneu.com
Simplehuman 20cm Sensor Mirror
Some may find the thought of ogling yourself in this mirror slightly disturbing, but this little guy can perform a number of clever tricks, including 10x magnification, automatically lighting up as your face approaches, and a "tru-lux" LED light system that simulates natural sunlight to reveal the true colour-correct reflection of your face. £149.99, simplehuman.com, buy on Amazon
RECOMMENDED: 6 Essential Products to Save Your Face This Winter
Er, Air Care?
Dyson Humidifier
Dominating the British fan and vacuum industry wasn't enough for Dyson – it had to find new ways to move air around. The humidifier hails from a "new" (Japan might have done it first) wave of tech released by the groundbreaking British brand. Praised for its multi-purpose use, this gadget claims to combat health problems from allergies to eczema. Low humidity can cause wrinkles, puffiness and reduced skin elasticity. £500, dyson.com, buy on Amazon
RECOMMENDED: 7 Best Apps for Stylish Men
Sign up for workout ideas, training advice, reviews of the latest gear and more.