5 Grooming Treatments You Should Have Tried By Now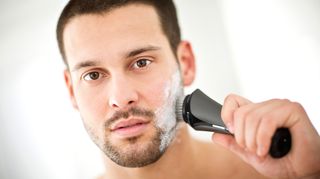 (Image credit: Unknown)
As a gender, the stubborn old male has historically been a tad reticent when it comes to grooming and "beauty" treatments. For years, a quick shave, a liberal spritz of Sex Panther and a wad of hair product pretty much met the needs. But eventually spring came, and men warmed to the concept of taking a little more care in their appearance. Then, in search of grooming greatness, some of the bolder individuals headed off to explore truly uncharted territory – treatments for women. Here are five expert processes that are slowly gaining traction with men – and for good reason, too.
RECOMMENDED: Men's Grooming Tech
Face Peels
The white face-mask with eye-cucumber is an image that the words "beauty treatment" summon instantly, and an experience many men are now seeking. A peel can come in many different guises, including "fruity" peels, which use fruits like mango, blueberry or pomegranate. They're mixed with acids and enzymes, then painted onto the skin, left for up to 10 minutes, and finally washed off. Afterwards, your skin is left refreshed and blemishes will disappear – you'll see a small result straight away, but the real difference will show about a week later. It's great for those with acne, scarring or just on a quest for skin perfection. The effects supposedly last six months, too, which means you don't have to shell out on a regular basis. And whatever Hollywood says, the results are the same with or without a towel turban. From £95, aestheticslab.co.uk
Facial cleansing brushes
These electronic gadgets are a great way of exfoliating and keeping the skin healthy and soft, by removing dry and dead skin. It's not solely the remit of the girls though, and it's possible to obtain electric brushes specifically designed for those with stubble. A minute of buzzing is all that's needed, and the brush head is very slight so it won't irritate your skin. When you're done, your facial hair will feel softer and cleaner, and the skin underneath will be nicely refreshed. You can use it in the shower, or before bed, and it comes with a pre-shave head, too, to prepare yourself for the traumatic pastime of shaving. If you have sensitive skin, this will do the same job as a face scrub, but better, and without the abrasion. Remington FC2000 Recharge Facial Cleansing Brush, £79.99, buy on boots.com
The Menpen
Concealer is an essential part of the make-up arsenal of women, who have known since time began that if your skin is prone to unsightly spots or blemishes (stop picking at them), then a quick dab of concealer is just what's needed to cover everything up. Pick the shade that suits your skin tone, and it'll smooth out your skin, making it look clean and vibrant. Most come in a form much like a lipstick – simply twist the bottom, and dab a bit on your skin before delicately rubbing it in with a finger. If you're worried about your extreme masculinity being called into question, then you can always grab one from Men Pen, which has the word "men" on it, so everyone will know you're still hard. £13.95, themenpen.com
Below The Belt Grooming
As they are discussed in hushed circles (stop eavesdropping, weirdo) you may not be aware of feminine sprays. It's lovely and considerate of the female sex to want to keep their private areas fresh, but what of the boorish and inconsiderate male oaf? To prevent yourself becoming one, there are a number of downstairs grooming products at your disposal. Below The Belt Grooming offers a "waterless shower", which is a quick-fix spruce-up for down there – perfect for when you can't shower, like when you're going straight out after work, or you haven't paid your water bill. It also sells a cream which, once applied, will dry to a fine talc-like powder, and keep you dry throughout the day. Waterless Shower, £6.95, Fresh And Dry Balls, £6.95, btbgrooming.co.uk
Pedicures
The male manicure isn't too new or unusual – men have been taking care of their nails for a while now. Their feet, however, are still quite often grotesque slabs of gnarly and crusty despair – many flip-flop and sandal wearers happily parade their ignorance of just how essential their need for a pedicure is. Most female-focused "pedis" include clearing out your cuticles, shaping your nails, exfoliating the skin, buffing the nails, scrubbing away dry, hard or callused skin on the sole and heel, and moisturising – you might even get a foot massage, too. A male pedicure differs slightly, in that less fragrance is used, the nails are shaped slightly differently to women's, and no varnish is applied afterwards. If you're heading off on holiday, ask yourself this: will my feet impress or appal my travel companions? From £31, genco-uk.com
But let's not go crazy…
Four new treatments that can probably remain "optional" for now
GoateeSaver
If your goal is to arrange your facial hair in a "Lineker", this incredibly weird contraption – which provides a template around which to shave – adds a worrying amount of Bane into the mix. Weird. £12.99, buy on amazon.co.uk
RECOMMENDED: How to Trim a Beard
Weener Kleener
Showering at least once a day means your private areas should already be clean enough, so there's no need for this specially created soap ring to do the business. One size fits all, supposedly… £6.29, buy on amazon.co.uk
Otostick Cosmetic Ear Correctors
If you're a tad conscious of the amount your ears stick out; firstly, don't be, and secondly, definitely don't use these. They're "silicone prostheses" that stick the back of your ear to your head – from the front, they're invisible; from the back, they're massively not. £15.99, zurego.com, buy on amazon.co.uk
Man-groomer Back Hair Shaver
Back hair isn't everyone's cup of tea, so if you want to remove it, your best bet is to wax it. This shaver, with giant "easy-to-use" handle, allows you to do it yourself, presumably turning your back into a vandalised, divot-filled golf course in the process. £48.50, buy on amazon.co.uk
Sign up for workout ideas, training advice, reviews of the latest gear and more.
Gary Ogden wrote for the print edition of Coach between 2015 and 2016, writing features, interviewing celebrities and covering entertainment. He has also written for ShortList.